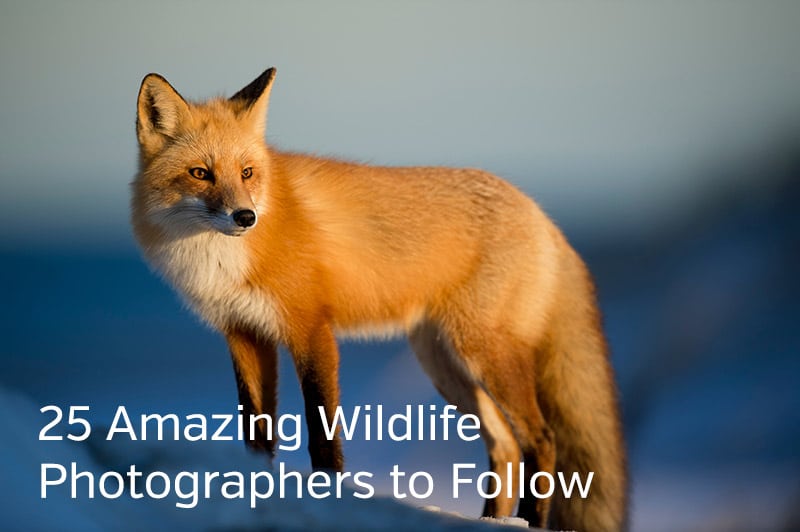 A few weeks ago we published a list of 40 landscape photographers to follow, with the goal of helping to expose readers to many photographers who are doing great work. That collection has drawn a lot of interest, so we decided to do the same thing with wildlife photography.
On this page, you'll find brief information and links to the websites of 25 wildlife photographers from around the world (listed in no particular order). If you enjoy wildlife photography we encourage you to visit the sites of these photographers and we're sure you will find several that you want to follow more closely.
Sebastian Kennerknecht
Wildlife and conservation photographer with a special interest in wild cats. He uses his photography as a tool to help with conservation efforts and also captures the effects of environmental threats such as deforestation and pollution. His aim is to raise awareness of these issues and help to improve and rally conversation efforts.
Jake Davis
Wildlife photographer focusing on the Greater Yellowstone Ecosystem. He was a semi-finalist for BBC Wildlife Photographer of the Year in 2015 and also leads workshops and photography tours around Yellowstone Park. He has a collection of animal-themed ambrotypes called 'The Wild Remembered', which has been shown on exhibition in Wyoming. This is unique because ambrotypes were traditionally used for portraits or still life images, so Davis had to create a new method of shooting to use the medium.
Mark Picard
Photographs wildlife in Maine and leads workshops in Maine's North Woods. He focuses on moose and the surrounding mountainous areas. He was named the 2012 Maine Sportsman Artist of the year and one of his images is even used on a postal stamp in Maine. His best-selling product is a wall calendar that he produces every year, full of images of moose.
Suzi Eszterhas
Wildlife photographer, known for her work documenting newborn animals and family life in the wild. From newborn cubs sticking their heads up above tall grass, to a loving mother cradling two gorilla babies, she works hard to earn the trust of her subjects over time.
Steve Gettle
An award-winning photographer who leads workshops and photo tours in various parts of the world. His images are bright and colorful, often using close-up and macro compositions for the best effect. He also does lectures and presentations about wildlife photography.
Carl Bovis
UK-based photographer with a special passion for photographing birds. He considers himself an amateur, though his work has attracted plenty of attention – Feedspot puts him in the top ten list for their UK Wildlife Photography Blog award.
Kerri Martin
Canadian wildlife photographer and teacher. Her goal when photographing is to cause as little disturbance to the animals as possible, preferring rather appreciate them from a distance. This means waiting for the animal to move or look around naturally, rather than trying to get its attention or bait it into a certain action.
Esther Beaton
An Australia-based photographer originally from the United States. She creates animal-themed fine art and stock and also leads workshops for those who would like to learn a similar trade. She considers Australia to be the best possible place to photograph the natural world.
Ron Day
Wildlife and nature photographer with a nice portfolio of bird, butterfly, and mammal photos. He has been photographing for fifteen years and prefers to use the images as a way to understand each species within its natural environment.
Clement Francis
Wildlife photographer mostly specializing in birds. He feels strongly about protecting birds and ensuring that the act of photography does not harm or upset the subject. He also recommends that photographers should practice visiting locations time and time again in order to get the shot.
Sparky Stensaas
Photographer, naturalist, and author living in Minnesota's North Woods. He has put out a couple of DVDs of his work, and also takes questions from visitors to his website about nature and photography. He also provides a breakdown of his settings, allowing amateurs to try for similar results.
Irene Hinke-Sacilotto
Wildlife photographer who has led workshops for 30 years, and lectures at Johns Hopkins University. Her tours are particularly popular, as they allow photographers the chance to get up close and personal with wildlife.
Tom Dyring
Norway-based nature photographer with an impressive photoblog. He has a focus on showing the great biological diversity of our planet, and the sad fact that this diversity is steadily disappearing thanks to the effects of pollution, global warming, and habitat destruction.
Mark Ollett
English landscape and wildlife photographer with an extensive portfolio. He uses tight framing and macro techniques to produce impressive and colorful shots of animals in action.
Gábor Ruff
Wildlife biologist and natural history photographer with a passion for conservation. He mainly photographs in North America and has a wide collection of images available to view or purchase which demonstrates animals from all around this region.
John Pennoyer
Minnesota-based nature photographer originally from Montana. His images feature not just animals, but also landscapes and skyscapes without animals present. These collectively give an impressive idea of the nature and wildlife of Minnesota, and the beautiful vistas that can be found there.
Octavio Campos Salles
Brazilian photographer who leads wildlife photo tours. His images are often full of action – such as birds in flight, an otter eating a fish, or even a big cat dragging its prey back to its lair.
Dawn Monrose
UK-based wildlife photographer who mostly works in the areas around Norfolk. Her subjects include wild rabbits, birds, insects, and deer, all within their natural wild habitats. Her images have a real rustic charm to them that reminds us of summer days.
Gary Gulash
Veterinarian and wildlife photographer in the Canadian Rockies. He is simply motivated by the beauty of nature, both to preserve it and to help save it in medical terms.
Tom Samuelson
Minnesota-based nature and wildlife photographer. His subjects include otters and birds in frozen landscapes during the winter time, amongst other animals.
Marc Mol
Nature photographer with a passion for African wildlife. He has reached the final round of the Wildlife Photographer of the Year Award seven times.
Monte Comeau
Canadian (British Columbia) wild bird photographer. He also posts images of his running targets and goals, so he is a great follow for anyone who is also a fitness enthusiast and wants to keep up their motivation with beautiful images in-between.
Sandra Lee Zelasko
Nature and wildlife photographer who leads workshops in many different locations. She is also involved in philanthropy, with the intention of aiding conservation efforts for many animals and areas of land which are at risk.
Jim Braswell
Nature and wildlife photographer and teacher based in Missouri. He worked in a pharmaceutical company for 31 years, before retiring to focus on photography instead. He now also leads workshops for those who want to take up a new hobby or get more serious.
Martin Bailey
Tokyo-based landscape and wildlife photographer. He is a blogger and podcaster, and also leads photography tours and workshops for those who want to learn more about the natural world. His work has been shown in both group and solo exhibitions. He is a member of the X-Rite Coloratti as well as a Capture One ambassador.
All Photos used in this blog post are copyright protected by the photographers and used with permission.
Convincing Reasons to Photograph a National Wildlife Refuge
National Parks get plenty of attention from tourists and photographers, but National Wildlife Refuges are mostly overlooked. While the National Parks are ideal locations for photographing natural beauty, wildlife refuges have plenty to offer as well.
→ See our list of the best places to photograph in every state.
1. They're Everywhere
The first National Wildlife Refuge, Pelican Island, was established in 1903. Now there are 562 of them throughout the United States, with about 500 being open to the public. There is at least one refuge in every state and U.S. territory.
There are currently 61 U.S. National Parks, and there are a few large sections of the country that are not very well represented. Acadia National Park in Maine, for example, is the only National Park in the northeast.
With so many National Wildlife Refuges, and with the refuges being spread throughout the country, most Americans can visit a refuge with a reasonably short drive.
2. Smaller Crowds
Although National Wildlife Refuges have a lot to offer, the crowds are generally small. One of the biggest challenges of photographing at National Parks is dealing with thousands of other visitors who are in the same area.
If you enjoy some solitude, visiting a refuge may be a good idea.
→ Related reading: 10 Underrated National Parks for Landscape Photographers
3. Photograph Wildlife and Landscapes
While many visitors will head to a refuge to see animals and wildlife, most of the refuges also feature a beautiful landscape. While you're at the refuge, you'll find opportunities to photograph wildlife and landscapes.
Some of the refuges have incredibly beautiful landscapes that don't get very much attention, while other popular National Parks and State Parks may be more crowded with photographers.
→ Related reading: Tips for Capturing Wildlife in Landscape Photography
4. Friendly Towards Photographs
While there are several different things to do at a wildlife refuge, observation and photography are popular choices. The U.S. Fish & Wildlife Service recognizes the opportunity for photographing the refuges, and in general, they are friendly towards photographers.
Observation towers or platforms are common at many National Wildlife Refuges, providing an ideal place to set up. The websites of many of the refuges have some information especially for photographers, and in some cases, there are special events catered towards photographers.
5. They're Free or Cheap
The vast majority of National Wildlife Refuges charge no entrance fee. There are about 30 out of the 500 that you will have to pay to enter, but the fees range from just $3 – $8 per vehicle.
At that price, refuges offer incredible value. Whether you're heading to a refuge for photography or planning a family outing, it's a very inexpensive experience. And when you consider the fact that you won't have to travel very far to reach a refuge, and the trip is both easy and affordable.
6. Come Home with Unique Photos
Because National Wildlife Refuges attracted only a fraction of the crowds that flock to popular National Parks, getting unique photos is much easier. The popular National Parks, and other popular natural landmarks for that matter, have been photographed so many times that it's hard to capture photos that will truly stand out.
Most of the people who view your photos of a National Wildlife Refuge probably have never seen other photos from that location aside from yours.
7. Variety
Although every wildlife refuge exists to protect the wildlife of some kind, there is a great deal of variety. Some are excellent locations for seeing and photographing migratory birds. Others may be home to bison, or a swamp, or any other type of wildlife or plant life.
With 500 to choose from, you could spend a lifetime visiting and photographing the unique wildlife and landscapes that are managed by the USFWS.
5 Noteworthy U.S. National Wildlife Refuges
Now that we've looked at some convincing reasons why you should consider a trip to a refuge, let's take a look at a few of the standouts.
Keep in mind, this list is mentioning only 5 refuges or less than 1% of the total throughout the country. There are plenty of others that are worthy of being mentioned here, but these five are great examples of what the USFWS has to offer.
Wichita Mountains Wildlife Refuge
Wichita Mountains Wildlife Refuge covers almost 60,000 acres of southwestern Oklahoma. This area features an incredible landscape that includes mountains and mixed-grass prairies. There is a herd of about 650 bison living here, as well as other wildlife like elk and white-tailed deer. More than half of the refuge is closed to the public, although guided tours do cover some of this land.
Rock climbing is extremely popular, and the refuge also has more than 15 miles of official trails and many more unofficial trails.
St. Marks National Wildlife Refuge
St. Marks National Wildlife Refuge covers almost 70,000 acres along Florida's panhandle. The refuge includes several different areas that are coastal habitats on the Gulf of Mexico. The refuge is a winter home for many migratory birds, but it is also home to black bear, bobcat, coyote, fox, and alligators.
The refuge is also home to the St. Marks Lighthouse.
Chincoteague National Wildlife Refuge
Chicoteague National Wildlife Refuge is well-known for the feral ponies that live on Assateauge Island. The northern part of the island is part of Maryland, and the southern part of the island is in Virginia. Most of the refuge's 14,000 acres lie within Virginia.
Although the ponies are the main attraction, other wildlife and marshes are well worth your attention as well.
Bosque del Apache National Wildlife Refuge
Bosque del Apache National Wildlife Refuge is located in New Mexico. While it is primarily known for the migration of sandhill cranes in the fall, it also features a beautiful landscape that is perfect for photography. The refuge includes floodplain, wetlands, and grasslands.
A twelve-mile loop road provides access and plenty of great views.
J.N. "Ding" Darling National Wildlife Refuge
J.N. "Ding" Darling National Wildlife Refuge is located on Sanibel Island, Florida, in the Gulf of Mexico. This 5,000+ acre refuge protects mangrove ecosystems and is known for the migratory birds that pass through. Wildlife Drive (closed Fridays) provides plenty of great views.
7 Epic Locations for Wildlife Photography Outside of the U.S.
1. South Georgia Island
Located in the southern Atlantic Ocean, South Georgia Island is more than 100 miles long and more than 30 miles wide. It features a ruggedly-beautiful landscape and some of the best wildlife photography opportunities you will find anywhere.
The island is home to huge populations of king penguins and seals. The snow-covered mountains of the island provide the perfect backdrop.
With no permanent population, the island has plenty of untouched beauty.
A visit to South Georgia Island will be unlike anything else you will ever experience, and very few people actually make the journey to this island that doesn't get very much attention.
Part of the reason that South Georgia Island attracts very few visitors is that it takes some effort (and expense) to reach the island. With no airport, the only way to access the island is by sea. Most visitors stop at South Georgia Island as part of a tour that includes the Falkland Islands and Antarctica.
2. Masai Mara National Reserve (Kenya)
The Masai Mara (or Maasai Mara) National Reserve is well-known for its abundant and amazing wildlife including cheetah, lion, leopard, elephant, wildebeest, zebra, buffalo, and black rhino. It truly is a paradise for wildlife photographers.
It is located in Kenya, right next to Serengeti National Park in Tanzania. Encompassing nearly 600 square miles, it's a large area to explore.
A huge population of wildebeest migrates (The Great Migration) every year from July through October.
There are many lodges and campgrounds throughout the reserve and a few different airports that provide transportation in and out.
3. Etosha National Park (Namibia)
Etosha National Park in Namibia covers more than 8,000 square miles, and the Etosha Pan covers more than 20% of the park. It is a salt pan that is essentially a dry lake bed that gets a thin layer of water after a rain.
The park also includes desert, grasslands, woodlands, and savanna. It is also home to an amazing amount of wildlife, including elephant, zebra, wildebeest, rhino, lion, leopard, cheetah, giraffe, hyena, mongoose, and more.
There are several lodges and camping facilities within the park, all managed by Namibia Wildlife Resorts.
4. Kruger National Park (South Africa)
Kruger National Park is located in the northeastern part of South Africa and is well-known for its natural beauty. At more than 7,500 square miles, it is one of the largest game reserves in Africa, although not as large as Etosha National Park.
This park is noteworthy because it has more species of large mammals than any other game reserve in Africa. It is home to lion, wildebeest, zebra, rhino, elephant, buffalo, impala, hippo, giraffe, cheetah, leopard, hyena, and more.
There are lodges, tented lodges, and plenty of commercial tour packages available.
5. Galapagos Islands (Ecuador)
The Galapagos Islands are an archipelago of volcanic islands more than 500 miles off the coast of Ecuador in the Pacific Ocean. No list of top wildlife locations would be complete without including the Galapagos Islands.
The largest of the islands, Isabela, covers more than 2,00 square miles. There are a total of 18 main islands, as well as several smaller islands.
The islands are rich with wildlife, including some rare species. A visit to the Galapagos Islands may provide opportunities to photograph iguana, sea lion, tortoise, blue-footed booby, penguin, and more. There are two airports on the islands but only a total of 116 visitor sites among the islands (with only 54 of them being on land). All groups must be accompanied by local guides.
As a result, there are a lot of tours and packages available.
6. Skomer Island (Wales)
Skomer Island is located off the western coast of Wales (United Kingdom). It's a small island at just over 1 square mile in size, but a beautiful place to visit and photograph.
The Atlantic puffin colony is the main attraction at Skomer Island, although many other types of seabird also breed on the island. The population of Atlantic puffin on this small island is estimated to be higher than 20,000. They are mostly unbothered by tourists, so photographing them is fairly easy.
The only way to access the island is a short boat ride from the mainland. Only 250 visitors are allowed on the island per day to prevent overcrowding, and parts of the island are inaccessible to visitors.
7. Ranthambore National Park (India)
Ranthambore National Park covers about 150 square miles in northern India. The landscape of the park includes forests and grassy meadows, and it is most noteworthy as home to Bengal tigers (there are more than 50 tigers living in the park).
Aside from the tigers, the park is also home to leopard, hyena, jackal, boar, and many reptiles.
The nearest airport is about 100 miles away in Jaipur. A train station is about 5 miles from the park. Like the other locations featured here, you can find many guided tours at Ranthambore.
Tips for Capturing Wildlife in Landscape Photography
How Can I Find Wild Animals for My Landscape Photos?
Wide-open spaces are your best bet for securing great landscape photos that also include wildlife. But how to ensure a bison or lion crosses your path? First, it depends on what sort of wildlife you're hunting for.
Birds such as hawks and eagles can become a part of your landscape image even in the bounds of major cities, so long as sizable preserves exist for them to hunt and nest on. Deer are incredibly common even in urban parks. Contacting your local Department of Environmental Conservation for tips on where and when to shoot is a great place to start.
Park Rangers catalog events like bird migrations, nesting habits of raptors, and other facts that will help you create landscapes that focus on the animal side of nature.
But these guidelines change if you want shots of large mammals, like bison, lions, or whales. Most large mammals are not only incredibly shy but sparsely populated. National parks and refuges are your best bet if you want a decent shot of an elk bellowing into the chill morning air.
As an added bonus the animals are somewhat habituated to the sight and scent of nearby humans which makes getting incredible photography that much easier. And of course, parks like Yellowstone and the Serengeti have stunning scenery to frame your targets.
How Does Composition Change in a Landscape with Wildlife?
This depends entirely on the subject and scene in question. If I'm shooting a sunset I still want to use a 12-16mm wide-angle field of view. If I decide to include a flock of migrating geese in that same photo I don't really need to change a thing.
I may decide to shoot a landscape without animals using the same field of view. But if there is a mother bison and her calf 100 meters away I want to put more emphasis on them as they're now a foreground point of interest.
For especially shy creatures, I'll need a telephoto lens with more reach if I want a good capture. Anything in the 150-200mm+ focal length works well but it can also mess up your composition if you're trying to combine a landscape background with your animal subject. Thus, telephoto zoom lenses work better over prime lenses here because you have flexibility in composition.
With a prime 200mm lens, you'd be forced to move or count on your subject moving to ensure you have the background AND foreground points of interest in exactly the right places. And if the cost is a factor, even a relatively slow changeable aperture telephoto zoom like a 50-150mm f/3.5-5.6+ will allow you to save some money since the depth of field is what we're after in this type of photography. So long as you keep an eye on your overall exposure you'll be fine.
Of course, if you can afford an f/2.8 or less constant aperture telephoto zoom, then so much the better!
I also want to consider the direction and target of the animal's vision. If the bison is looking to my left then I want to include more space in that direction. If the animal happens to be looking at something in particular, like a stream or clump of grass, include that in the image.
And centering a portrait of an animal looking directly at you often has an incredible impact.
How Do Camera Settings Change in a Landscape with Wildlife?
One major consideration is shutter speed. Landscapes don't move much but animals usually do. Let's say I'm using f/11 to create a large depth of field for my landscape and relatively slow shutter speed, like 1/60ths of a second, to ensure my image is well exposed on a cloudy day. If I try shooting a fast-moving hawk as it unexpectedly swoops in to take a rabbit the movement of the bird will cause blur to form.
I'd need to use a shutter speed closer to 1/500ths of a second — which would make my overall exposure unacceptably dark. I'd need to then adjust either my ISO, my aperture, to compensate. 
Or possibly not if everything's well lit already. These settings shift on a scene by scene basis, but it is certainly something to be aware of. Don't get too used to your Manual camera settings having been calibrated for a scene without any motion in them if you intend to hunt for moving targets.
Use a Longer Lens
When it comes to capturing wildlife images, a telephoto lens is usually your best option. A longer lens will enable you to keep some space between you and your subject, allowing you to capture them in their natural environment, in their element –doing what they normally do, without disturbing them, distracting them, or scaring them away.
Zooming in on the animal's eyes, for example, or part of the creature can help to draw out beautiful, minute details that could easily be overlooked. This is something that's vital for smaller creatures and bigger animals as well, where keeping your distance is not only practical but wise.
Turn Off the Flash
Of course, this should go without saying, but make sure you turn off your flash! A sudden burst of light will frighten the animal, and from the distance, you'll be shooting from, the flash won't usually help much anyways. Instead, try adjusting your camera's settings –a large aperture or slower shutter speed can help to allow more light in, without running the risk of scaring off the creature.
Be Cautious
Wild animals are very intuitive. They can hear and smell you coming. To enhance your chances of seeing any wildlife, you will need to go stealthily.
Many photographers wear camouflage to blend with their surroundings, and you may also consider wrapping your camera in fabric to help muffle the sounds of your camera's shutter. While stealth mode is the way to go when it comes to smaller, more timid creatures, it's important to keep safety in mind as well.
When it comes to potentially dangerous animals, never sneak up on them, or attempt to photograph them from too close.
A bear, for instance, that suddenly spots you shooting with your camera, could become spooked and suddenly charge. You'll also want to keep seasonality in mind, and the animal's habits and patterns. For instance, many creatures –such as deer tend to become more aggressive during certain times of the year, and you'll want to plan your shoot accordingly.
Be Ready
To get the best shot possible, you should be ready to take your image as soon as the moment arrives. This means having your settings adjusted and ready to go. In some cases, like when photographing birds, it may be an idea to set up your shot and let the wildlife come to you.
For birds, you could position yourself near a birdfeeder –composing your image so the background is ideal, and then waiting for a bird to arrive on your scene. For other animals, though, this could prove to be more tricky –unless of course, you're familiar with the animal in question and its habits.
Look to Include Some Context
When shooting wild animals, adding some of the natural surroundings can help to set the stage for your images, giving the viewer some information on the type of environment the animal is in. It can also help to make for a more varied, and interesting composition.
Try to Familiarize Yourself With the Animal
The more familiar you are with the animal you're looking to photograph, and its habits, the better your images will be! While animals are often unpredictable, having an idea about the times that they are most active, where their habitat is, and what their habits are can help to increase your chances of seeing them. Additionally, even observing an animal for a few minutes, watching the way it moves, how it eats, and what it does can help you to better predict their actions, enabling you to better time your shots.
Photograph Your Surroundings
Finally, don't go home emptyhanded! Even if no wildlife crosses your path, you can still capture some amazing landscape images. You are walking through the home of the animals you are trying to capture, so why not take some photographs while you are there? Look to create striking images with a strong focal point, great lighting, and excellent composition –even if there are no animals to be seen.
While photographing wildlife can be a challenge, there's nothing quite like that rewarding feeling that you get when the animal happens to look up for a second, and you capture a successful image! With time and practice, and a whole lot of patience, you'll be rewarded with your own spectacular images –ones that you'll be pleased to call your own!
Conclusion
Wildlife and landscape photos both have an incredible impact on the right subjects. And combining the two types can tell very powerful stories. There's a slight luck factor involved here as well since wildlife by definition doesn't always do what we want and where.
The full trinity is the place, subjects, and timing, which is a matter of both luck and skill. Will the elk turn its head towards you as you finally get the perfect Manual focus or turn away? It's high stakes photography and it shows with every stunning gallery image. Good luck out there in the woods!
Do you enjoy photographing wildlife? What are your best tips for capturing amazing images?
Photo license link: CC0, CC By 2.0, Unsplash license, Pixabay license