Many photographers enjoyed using Adobe Lightroom for photo editing and organization. But when Adobe introduced a monthly subscription fee for Lightroom, some photographers were willing to invest, while others searched for Lightroom alternatives.
If you belong to the other half that is in search of an alternative, then you came to the right place. It's time to try other Lightroom alternatives that may have similar features or maybe even better.
Why Look for Lightroom Alternatives?
Why do other photographers look for Lightroom alternatives? The answer is simple: the $9.99 basic monthly subscription just doesn't fit the budget. That is only the base price, and this may increase depending on your cloud storage. Are you willing to pay $120 or more a year for a subscription? Why pay for a service that you can get free, or for some, pay less?
Even though Lightroom is popular in editing and organizing vast photo libraries, there are many other options with useful vital features that will meet your needs. Will you find a photo editing software as good as Lightroom? YES. Will you find a photo editing software that's free? YES. Keep reading this post to find user-friendly and cost-efficient Lightroom alternatives.
Why Is Lightroom So Popular?
Lightroom was released in July of 2008. It is one of the widely used tools for photo editing and organizing for a long time now. No doubt, it's seamless software, easy to navigate, and has nifty features. It is considered an all-in-one tool for basic image manipulation and management.
What Is the Difference Between Photoshop and Lightroom?
If you're uncertain about the difference between Adobe Lightroom and Photoshop, the answer is simple. Adobe Lightroom covers basic image editing, plus importing, rating, sorting, and organizing batches of photos. For some photographers, the basic features of Lightroom are enough.
On the other hand, Adobe Photoshop is an advanced photo editing tool that is more detailed in image manipulation. Lightroom is generally for beginners and those who only need basic editing tools. If you want more advanced software for retouching or retouching purposes, you're going to need Adobe Photoshop.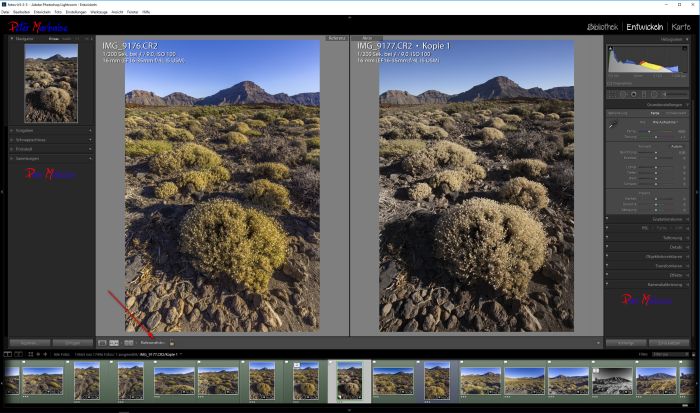 Lightroom vs Camera Raw
It's no surprise that some people get confused with Adobe Camera Raw and Lightroom. They are similar, but they are not the same. Adobe Camera Raw was released five years before Lightroom. Adobe Camera Raw can be called the 'old school version' for Lightroom.
Adobe Lightroom Features
Lightroom includes Adobe Camera Raw, uses a database, can store images in folders, has a search tool and keyword tag. The feature called catalog stores information about every photo; this includes location and adjustments made. It's a no-brainer editing software that serves as reliable storage for non-destructive edits.
Since Lightroom comes with Adobe Camera Raw, the photos automatically go through it. You don't need to spend time editing each image on Adobe Camera Raw before you get to open them in Lightroom. Everything you can do with Adobe Camera Raw, Lightroom has it. But Adobe Camera Raw has limited features and can't do what Lightroom can.
With Lightroom, you can work on multiple images at a time. The downside of bulk photo management of Lightroom is the LRCAT. This is when file(s) are accidentally deleted, moved or corrupt; then, you have to say goodbye to your edits. You have to start from scratch because you'll have an empty interface.
Adobe Camera Raw Features
On the other hand, Adobe Camera Raw is just a browser where you can work on an image one at a time. For every raw image you edit, Adobe Camera Raw provides a sidecar file. If you want to lose each edit, you'll have to delete each XML file.
Adobe Camera Raw lets you make adjustments to images even when they're not uploaded on your computer. This Smart Preview is perfect if you don't like bringing many external hard drives with you.
If it's still unclear which is better than the two, the answer is Lightroom. It can do all the features of Adobe Camera Raw, so it's basically better.
What Are the 10 Lightroom Alternatives?
Let us cut the chase and take a look at the 10 Lightroom alternatives you'll love. These are the top 10 picks that are worth checking out. These are not direct replacements and would not possess each feature of Lightroom, but it has its own strengths.
Make sure to check out the key features and monthly subscriptions (if applicable) to find the best Lightroom alternative for you.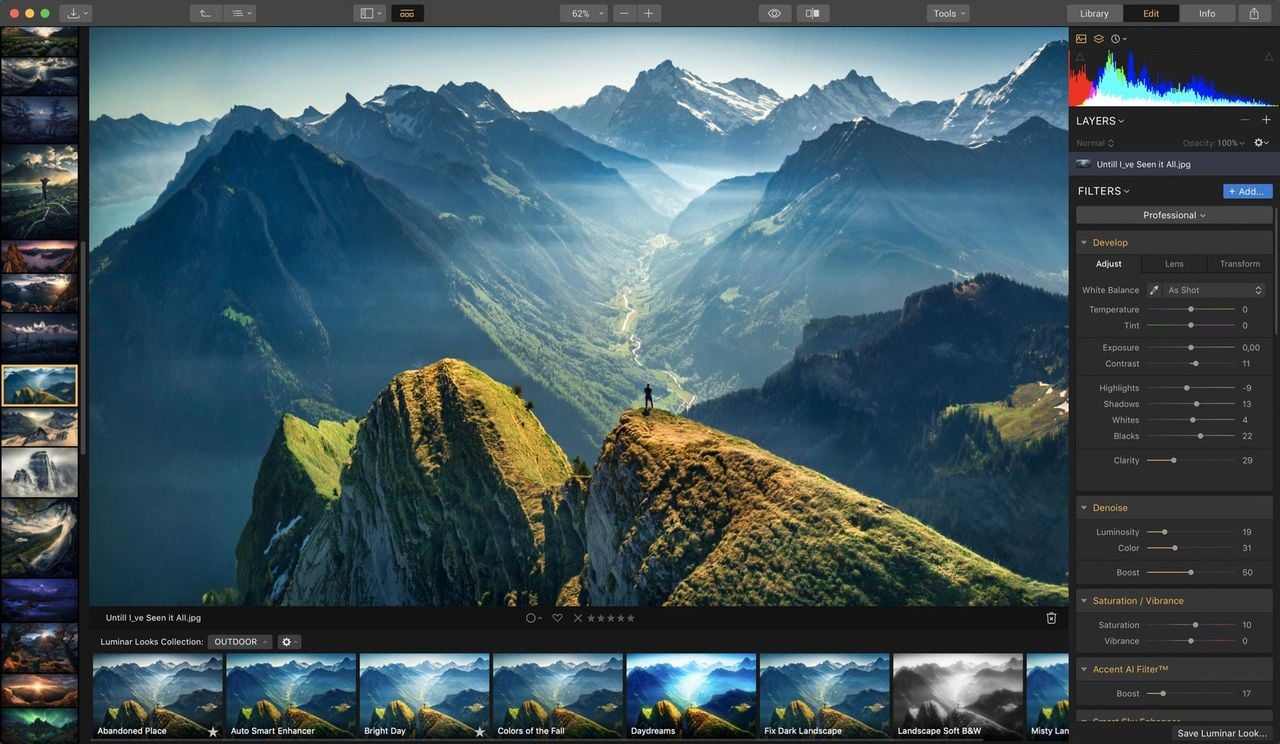 1. Skylum Luminar 4
First on the list is the editing software and image processing called Skylum Luminar 4, or Luminar in short. If you're in search of a minimal fuss yet mind-blowing alternative for Lightroom, Luminar is an excellent choice. Here are some features of Luminar 4 that might spark your interest.
Key Features:
Structure Artificial Intelligence: The A.I. structure can boost the details with Structure tools and Clarity to address the common problems causing a photo to look horrible. The software can automatically identify objects, faces, clouds, bodies of water, buildings, and more. When the system of Luminar detects a common problem in these photo subjects, it automatically works.
Skin Enhancer Artificial Intelligence: This feature of Luminar 4 has a human-aware technology. It can detect the skin on the photo (skin of the whole body, no just the face). With only one click, it can smooth out the skin, remove blemishes and preserve the pores, hair, and texture. Regardless of the skin type, color, and age of the subject's skin, the skin enhancer artificial intelligence works well.
Portrait Enhancer: Another main key feature of Luminar 4 is its Portrait Enhancer technology. This revolutionary feature helps create a perfect portrait in less than 60 seconds. The portrait enhancer will make the eyes, face, mouth, and nose picture-perfect. It can help whiten the teeth, make a face look slimmer, or remove eye bags while preserving the other photo parts.
Sky Replacement Artificial Intelligence: If you're into landscape photography and like to play around with the sky color, you will find this feature of Luminar 4 somewhat helpful. It can relight the entire sky of the photo and change colors with just one lick through its intelligent selection algorithms. Not only does it work perfectly for the sky, but for tiny details as well, such as the leaves, birds, and grasses too.
Smart Contrast: This is not your usual Contrast feature; instead, it aims to preserve details and colors so the image will look as realistic as possible. When using this feature, make sure to try the negative and positive values to enhance the image.
Sunrays: This is one of the buying points of Luminar 4, the Sunray feature. With just one click, you can add a whole new drama to the photo and see the sunbeams change.
Digital Asset Manager (DAM): Like Lightroom, the Luminar 4 also has a feature for photo organizing and folder creation to manage those bulk photos. The library feature of Luminar 4 can mirror your hard drive. In case you need to rename or move your folders or images outside of Luminar, its catalog will just automatically adjust.
Atmospheric Haze: The atmospheric haze is another excellent feature of Luminar 4. This can help make a photo look like an atmospheric phenomenon such as smoke, god, dust, and other particulates that conceal the sky's clarity. If you need to remove or add the atmospheric haze, Luminar 4 is a great choice.
Speed-Wise: If you need to edit bulk RAW files, Luminar 4 is speed-wise. It will take only a few seconds to cache and load files. Of course, the speed and performance depend on the file's size and your computer's hardware.
Paid or Free?
Overall, Luminar 4 is an excellent alternative for Lightroom. But Lightroom doesn't come for free, but it's cheaper. Lightroom costs at least $9.99 per month, which totals to $120 per year. As for Luminar 4, the one-time fee is $69.99, which can give you significant savings.
With the 45 filter choices, 67 presets, and a range of tools, the simple interface of Luminar 4 is a worthy $69.99 investment. If you're lucky, you can purchase Lumonar 4 for a discounted price; unfortunately, you cannot avail of the future upgrades.
2. Capture One Pro
Another popular alternative of Lightroom to consider is Capture One Pro. It's a more complicated software compared to Lightroom; that's why it's designed for professional photographers. It has a steep learning curve and is geared towards collaborative workflow.
Key Features:
Color Balance Tool: The feature of Capture One Pro that makes it stand out from Lightroom is its Color Balance Tool. It can easily manipulate color, make shadows, color changes, skin tones, mid-tone, and highlights. It is more like a color grading with no limits to the 8-color HSL panel. It has a Pick Color Tool allowing you to pick any color or color range that you want. You can easily adjust the hue, color range, lightness, and saturation.
Tethering: Capture One Pro has a tethering feature using Firewire or USB. Tethering is a photography technique where you can connect your camera to a laptop, desktop, or tablet, so you can view your digital photos on your computer after it's capture on your camera. Instead of the capture photos stored on the camera, it's directly stored on your computer.
Edit in Layers: Just like Lightroom, Capture One Pro also allows you to edit in layers. With this, you can edit with targeted local adjustments while using the majority of editing tools. This will benefit those who prefer to have a more accurate level of control when manipulating photos.
Other Features: It also has an Integrated Movie Import, Live View, Tailor-Mode Profiles, and Duplicate Checker.
Paid or Free?
The Capture One Pro has a 30-day trial period so you can take a feel. But expect that the free trial version does not have the full features like the paid version. The paid version is for as low as $9.99 for a monthly subscription, with perpetual upgrades.
It has specific versions for Sony, Nikon, and Fuji Film and other types of cameras, and the subscription plan may vary. It comes with a price, but at least you can cancel the 30-day trial period without being charged if you feel like it's not the photo editing software for you.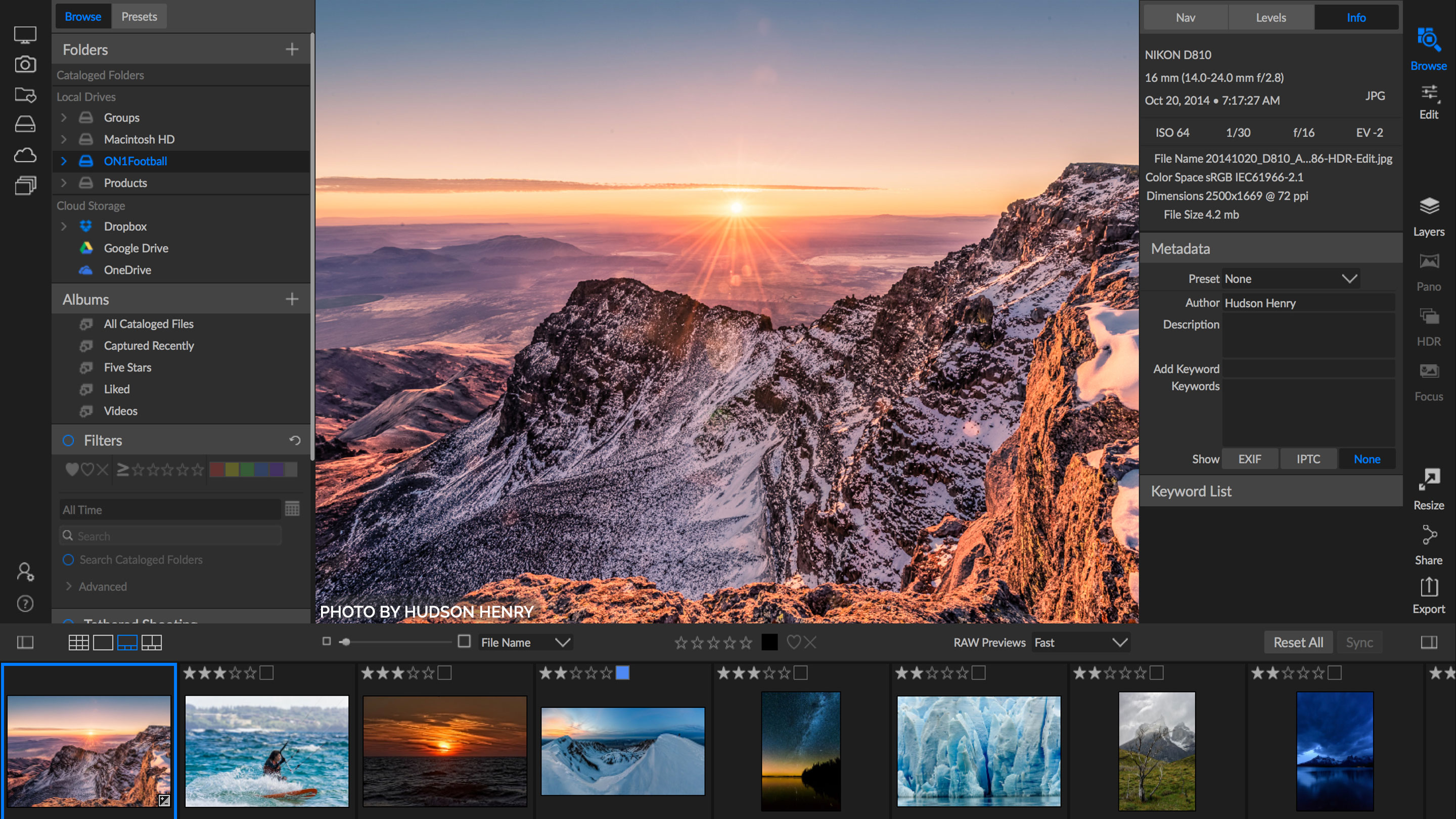 3. ON1 Photo Raw 2020
The latest version and new features of ON1 Photo Raw 2020 have become another favorite as a Lightroom alternative. It also has a photo organizer, layered editor, RAW processor and, filters, many effects to choose from.
The editing tool has a high learning curve and advanced features most photographers will appreciate. Check out the features of ON1 Photo Raw 2020 that you might like.
Key Features:
Browser-based Library System: The photo management of ON1 Photo Raw 2020 is excellent, and its library system is browser-based. It means you don't need to import the images for you to view on your computer.
Filters and Effects: ON1 has excellent choices of filters, effects, many adjustments, and presets. Presets are pre-saved settings that you can use for the future. If you need to modify the settings in the Effects or Develop module, you can save the settings as a preset. This helps you plan to edit multiple images that look similar, and when you want to have a signature look for your shots. You can save time in mixing and combining filters and effects in the future.
Develop Module: The command center for fine-tuning and image editing on ON1 a remarkable feature. There's the tone, color, exposure, shadow, contrast, highlights, color temperature, sharpening, split tone, color adjustment, curves, glow, noise reduction, transform, vignette, and local adjustments.
Extensive Search Futures: With ON1 Photo Raw 2020, you will save time and effort searching images because of its extensive search features. You can search for images by date, time, metadata, and keyword. This is a crucial feature to those who most depend on metadata in searching and managing for images.
X-Rite Camera Profiler: This feature is a profiling software that can support different kinds of digital camera profiling. The target will depend on the product and version used.
Catalog System: This feature works by allowing users to import images into the database, which contains the preview of a photo and link to its original file. This means that there is no need to move the images to import them in the catalog. The catalog system is convenient so that you can keep your original filing system still in place.
Artificial Intelligence Match: This feature will help in custom settings in taking a photo in a camera, and it will help in matching them to RAW conversion in which the program renders.
Weather Filter: This is one of the unique features of ON1 Photo Raw 2020, where you can add snow or rain to an image.
SmugMug Integration: For improved noise reduction, updated timeline albums, intelligent map view mode, and new focus masks.
Portrait Enhancement: Easy individual adjustment on skin, mouth, and eyes. The portrait filter of ON1 is also something to look forward to; it's completely integrated into a Develop module. It can automatically find the subject's face; then, it creates an adjustment panel and a separate mask for each face. Then you can adjust different elements on the eyes, skin, and mouth.
Layer Editing: ON1 allows multiple layer editing, just like Photoshop, as it aims to become an all-in-one editing program. What's interesting is the result files are saved in Photoshop file formats. The previous versions of ON1 have a separate panel for layers and are not included in the non-destructive workflow. With the recent update, the layer editing is now part of the Develop module, gets saved, so you can always go back and make some adjustments.
Text Addition: Just like other photo editing apps, you can add text to your images. But the edge is of ON1 are the cool collections of unique fonts.
Other Artificial Intelligence Features: Auto Tone, Match, Quick Mask, Color, and Tone perfection.
Similar Features to Lightroom: Layer Functionality, Masks, Blend Modes, Merging Layers, HDR Panorama, Focus Staking
Updated Features: Newly added 100 new looks, backgrounds, skies, and textures. Print modules with contact sheets, individual prints, tiled package prints, and watermarks. Speed updates that are of professional-grade, new mobile ecosystem, golden hour power.
Paid or Free?
ON1 Photo RAW 2020 is considered a one-stop-shop program for photo editing that makes an excellent alternative to Lightroom. It's known to be faster than Lightroom, has better search power, photo merging, print options, and addition of text.
You can play around with the free 30-day trial version before investing in the full pack at $99.99. This is a one-time payment with lifetime access compared to Lightroom, which will cost you $120 annually. When you think of it, this is a win-win and smart find for a Lightroom alternative.
4. DxO Photolab 4
Another popular option for Lightroom is DxO Photolab 4. It has made its mark in the photo industry thanks to its outstanding RAW processing engine. DxO Photolab 4 is available in two versions: Essentials and Elite.
If you're a pro photographer, you'll definitely appreciate the Elite version. Its features stand-out thanks to its ClearView, noise reduction RAW tool, presets editor, and anti-moire tool. These features will make you appreciate DxO Photolab 4 and will make you forget about Lightroom.
Key Features:
DeepPrime: This technology utilizes artificial intelligence to perform advanced denoising and to demosaic features with just a few clicks. It uses machine learning technology to read millions of photos so it can train the DeepPrime algorithm.
Enhance RAW Processing: DxO Photolab 4 brings new technologies for optical corrections, a new and improved toolbox for RAW photo processing. This includes mask retouching, faster and more accurate selections, better filters, the latest graphic effects, and more. The lens sharpness was improved so users can have more control over the noise level. The repair tool was rebuilt to have a faster algorithm in removing unwanted elements in the image.
Photo Management: DxO Photolab 4 has improved its photo management features. Whether you're a beginner or an expert, you'll find this photo editor efficient photo management feature. It has a tree-view like the Windows Explorer and a reel where you can see the contents of the folder. It also has a search function, project management, compare the before and after look of an image, zoom in and out while in preview mode, and reset everything.
Functional Content Menu: With DxO Photolab 4, you can set your desired functions with a simple right-click on your loaded image. This is called the context menu, where you can export your file quickly on your computer or upload it online. You can also create and apply presets in the current settings, create projects, rename a file, set a tag, create a virtual copy, rotate images, and more.
Smart Workspace: The Smart Workspace feature of DxO 4 is an added convenience for a simple workflow. With this advanced feature, you can select the favorite tools you want to display to have a customized workspace.
DxO Advanced History: This feature also stores your history of used tools, previous layers, or effects. It's simply keeping a tab of your edits so you won't have to start all over again, and you can have that 'signature look' on all your modifications.
Selective Copy Paste: With the selective copy-paste feature, it can synchronize the settings of similar images to apply the individual edits from one photo to the other. This is also called Intuitive Image Synchronization; in short, the system has the intuition to sync the images with similar content.
Advanced Watermark Features: The advanced watermark features can customize and preview the watermark before exporting the image. You can embed watermarks on the images and check on the results right after. It also has the preview feature of Instant Watermarking.
7 Blend Modes: The DxO 4 stands out because of its seven blend modes that help accommodate the lighting in its background. This can help in ensuring the text signature or image is visible.
Other Features: Clone, stamp, healing brush and erase, masking, refine edge, transform, and local adjustment panel.
Paid or Free?
The most affordable version of DxO 4 is $99.99 and can go up as much as $149.99. If you're lucky, you can avail of the package at a launch promotional price. If you have a licensed copy of the previous DxO versions, you can upgrade for $49.99 only.
If you're contemplating if DxO 4 is a good Lightroom alternative for you, there is a 30-day free trial period. Other than that, there is a DxO FilmPack and DxO Viewpoint. The older versions of DxO are cheaper alternatives.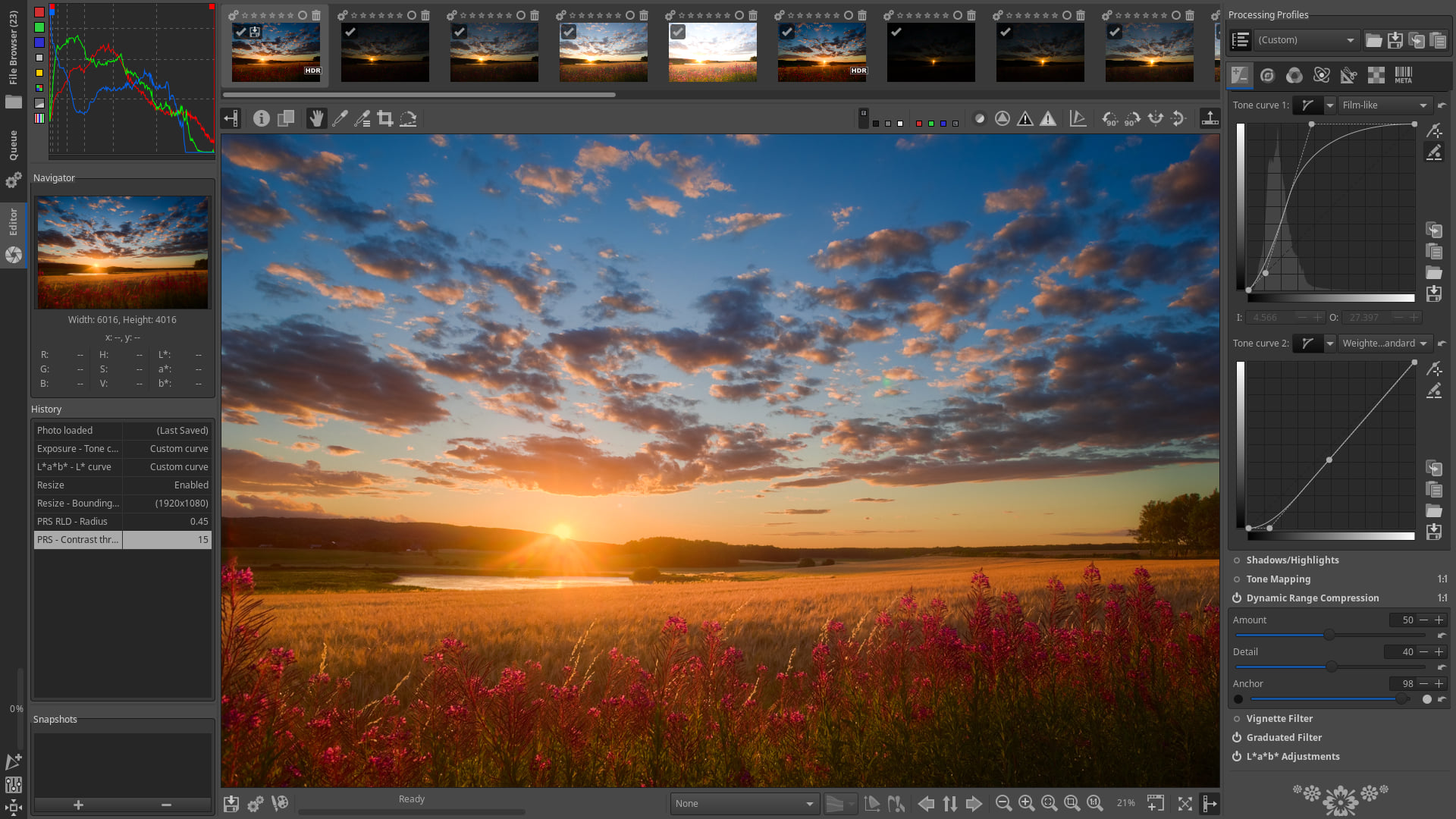 5. RawTherapee
Good news for those searching for a Lightroom alternative that is free, you can try RawTherapee. It is available for Windows, Mach, and Linux users. It has the standard editing features for Raw editors, plus color corrections and advanced color controls.
The stand-out features of RawTherapee are also multiple denoising methods, batch processing, and demosaicing. It is a spectacular free app that advantages Fujifilm users. RawTherapee is the most preferred free alternative to Lightroom, and here's why.
Key Features:
Infinite Fine-Tune Adjustments: RawTherapee can make infinite fine-tune adjustments to have full control, which is way better than Lightroom.
25 Languages: As compared to other photo editing software, RawTherapee is a worldwide known app that has 25 language options. Considering that RawTherapee is a free app, it is impressive to be available in 25 different languages. This is something not offered by Lightroom.
High Image Quality: RawTherapee has a high image quality with a 96-bit processing engine, non-destructive editing, advanced technology in color handling for white balance to hue, saturation, and value curves. It has color toning and management with enhanced tonality and exposure tools. It has an HDR-like effect thanks to its tone and lab curves, shadow tools, highlights, and tone mapping.
Efficiency: RawTherapee has a modern processor that has a high-performance thanks to its multi-threaded algorithms. It has a quick thumbnail, batch processing, and basic copy and paste parameters.
Versatility: It can support a wide variety of camera products and brands, and almost all DSLRs. It can upload any Raw files in different formats like JPEG or PNG. It has advanced control over its algorithms with fine-tuning curves and parameters.
Paid or Free?
RawTherapee is a free photo editing app for Linux, Windows, and macOS. It is an excellent photo processing system even newbies and expert photographers will appreciate.
6. Darktable
Darktable is another free Lightroom alternative with a full-featured photo adjustment and has superb library management features. It has a look-up table, tethered-shooting support, and raw processing for more than 400 cameras. For a free app, the Darktable is pretty impressive, plus it's compatible with macOS, Windows, and Linux.
Many users attest that it looks like Lightroom, so if you're looking for an alternative without the need for too many adjustments, this makes a great choice. Their interface may look the same, but do not expect the tabs to be in the same places. If you are used to editing with Lightroom, it can be a bit of a challenge, but it will be an easy learning curve unless otherwise.
Key Features:
Customize Interface: To have a smooth workflow, you can fully customize the interface of Darktable. You can set it up just how you like it and place the most used tools in an accessible manner. Doing repetitive tasks is more efficient with the customized interface of Darktable.
Easy to Follow Tutorial: Unlike other photo editing apps, it has a free tutorial and excellent documentation. There are many forums of actual users and video tutorials. Talented programmers are continually updating instructional videos and tutorials for Darktable.
Professional Color Management: The photo editing software has an automatic display for profile detection on its systems, full-color management, and linear RGB.
Sorting and Filtering: With Darktable, you can search your photo library using image rating of stars, tags, color labels, and all the metadata of the photos.
Other Features: Zoom in and zoom out the user interface, tethered shooting, repetitive task features, and 21 available languages.
7. Irfanview
Irfanview is another Lightroom alternative but is limited to Windows users only. It has an excellent catalog feature but may not be as sleek as the other Lightroom alternatives. It does everything from image editing, Raw conversion, image creating, and painting.
It can handle video, music, and other graphic file formats too. As expected, it has the standard photo tools, filters, effects, and even Raw image rendering. Irfanview does not have such features as the other photo editing apps mentioned above, but it's a useful tool for all types of photographers.
Key Features:
Less Memory Space: Irfanview takes up a few memory spaces, so it operates phenomena ally fast. Even when you're working with large photo sizes, it still works quickly and efficiently with lesser loading and lag time. Even for batch editing, Irfanview is speedy and can process hundreds of photos in less than one hour.
Plug-ins: Irfanview has plug-ins that can handle additional photos, videos, and sound formats. These plug-ins promote functionality like filter processing, viewing different photo formats, or corrupted files (which other editing software cannot process).
User-Friendly: It's easy to use Irfanview when it comes to filters and effects. You won't have to go through a complicated combination of filters just to get that dramatic effect. What's nice about Irfanview is the presence of the quick menu selection that allows users to choose from a wide range of effects and filters easily. Its user-friendly interface made it one of the top downloaded photo editor app.
Slideshow Creation: Other than being a photo editor, it's also an easy to use slideshow creator. With Irfanview, you can combine multiple images and play a slideshow. Users can also send the slideshow file to other people because it's an independent application.
Watermarking: One of the features we look for when watermarking our images is speed and convenience. With Irfanview, all you need is to define the watermark, and it can be added one be one, or to multiple photos with just a couple of clicks.
Supports many file formats: For a free photo editing software, Irfanview is pretty impressive because it can read 100+ graphic formats and video files. Plus, the file conversion from one format to another by a single file or batches is an easy task with Irfanview.
Image Creation: For image creation, Irfanview was various ways to create images. You can split an image into many dimensions; you can combine images, collages and create a panorama. If you want to draw and write, there are available paint tools with lines, brushes, fills tools, and shapes.
Scanning: If you need a photo editor to manipulate your photos directly from scanning, you will find Irfanview a helpful tool. Not all photo editors have this feature; that is why this one of its outstanding features. You don't need to open another scanning application or transfer files; you can directly edit the photo with Irfanview.
Open Other Photo Editors: If you're stuck in a situation where your desired photo editing feature is not available with Irfanview, you can open the photo you are viewing into another photo editor that you wish to open. It is easier to switch from one editor to another, so your creativity is not limited by what Irfanview has to offer.
Paid or Free?
Irfanview is freeware for private and non-commercial use. It means it is free for home use and even for hobbyist photographers, school use, museums, libraries, charity, and universities. For the program's further development, home users can send a donation for Irfanview.
If you plan to use Irfanview for commercial and business purposes, you'll need to purchase the registered version. The one-time payment for Irfanview is $12.00 for a perpetual license and valid for 32 and 64-bit versions.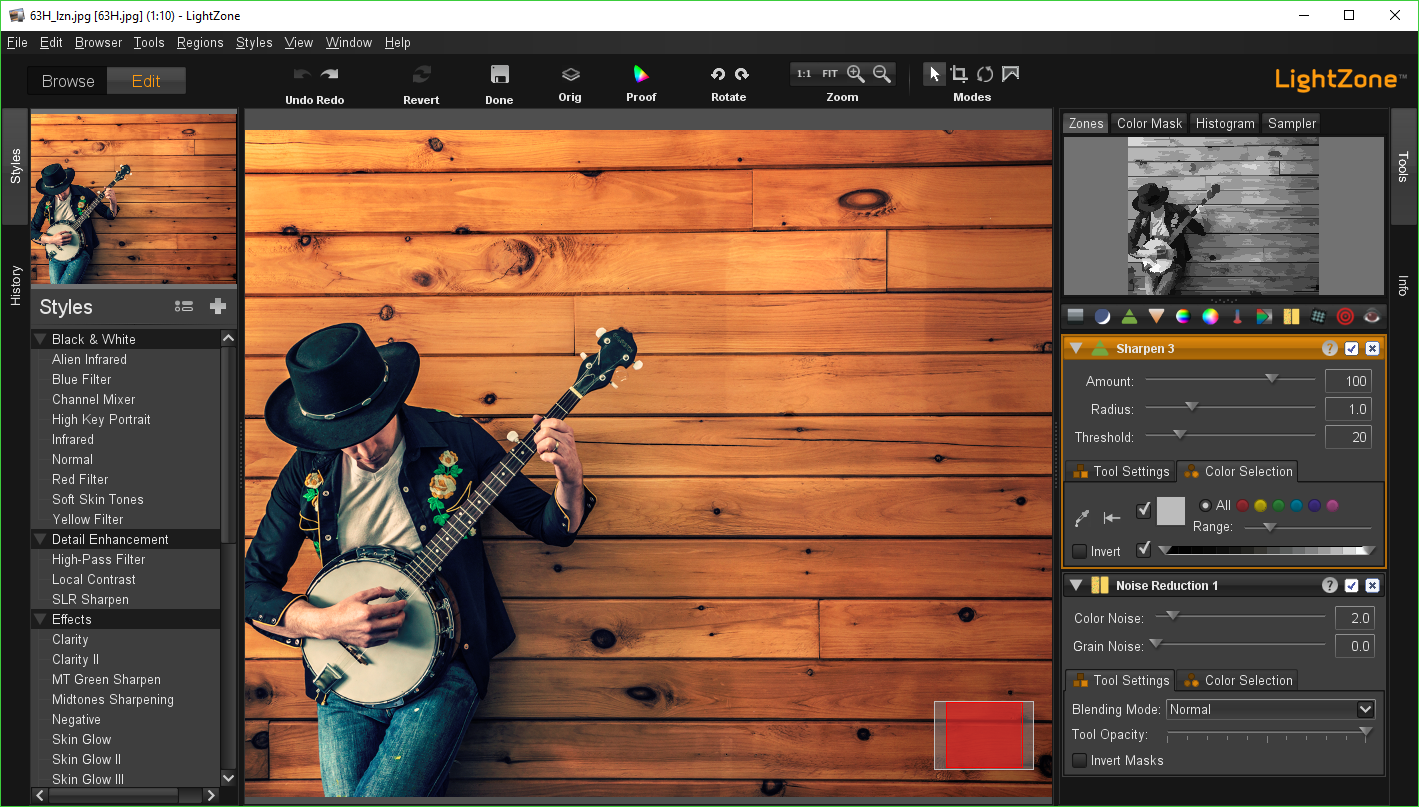 8. Lightzone
Another free Lightroom alternative is Lightzone. It is available for Windows, Mac, and Linux. It was originally developed as commercial software, and it was taken as free software in 2013. Lightroom and Lightzone have conceptual differences, but it's one of the best alternatives.
Lightzone is a professional-level digital editor that includes RAW processing. Instead of using layers like other photo editors, the users can build a stack of tools that can be rearranged later on. If the user is not contented, they can readjust, turn it off, and remove it entirely from the stack.
It's a non-destructive editor where you can readjust and modify the tools even with a different session. The tool stack can be copied batch photos one at a time, and it operates in a 16-bit linear color space. Lightzone has a lot to offer, including unusual tools for brightness, shadows, contrast, and highlights. To know more about Lightzone, here are the key features that photographers should get familiar with.
Some are inspired by the Zone System, and some are inspired by HDR tone-mapping. These tools put LightZone in a class by itself for working with black-and-white imagery. They're very useful for color photos, too, especially in mixed lighting situations.
Key Features:
Zone Mapping: Zone mapping or zone system is a feature of Lightzone that allows selective adjustments using one a kind layer-based system. It is originally inspired by bu HDR tone-mapping while working on black and white images. That is why Lightzone is known for its black and white photo processing thanks to its unusual tone adjustments that create that dramatic effect.
Relight Tool: Another popular feature of Lightzone is the Relight Tool. When you have an image open in the Lightzone, press the relight tool, so the system automatically analyzes the enhancements needed. The relight tool will help you save time working on photos with common lighting or blemish problems. Lightzone is a non-destructive software, so you can access the original fule anytime for the image you're editing.
RAW File Support: Lightzone will not require you to convert your file formats into JPEG, PNG, or other common photo formats. It has a RAW file support feature that can read the file format directly from any digital camera. This helps in maintaining the quality of your photo and save work time in the long run.
Unlimited Layers: With the unlimited layers of Lightzone, photographers or graphic designers love to play around with their work on this software. You can't do this with other photo editing software that has a limit on the number of layers. You also get full control over each layer as compare to using pixel layers. Lightzone has a non-destructive operational layer that allows you to turn on and off the layers.
Paid or Free?
Lightzone is an open-source digital image editing software that is free for Windows, macOS, and Linux. It is 100% free for personal and commercial use.
9. Capture One Express
One of the most professional alternatives for Lightroom is to Capture One Express. It has different versions available depending on the brand of your camera. Some versions require payment, and other versions are free. Take note that the Capture One Express for Fuji and Sony users are free; all the others have a charge. If you're a Fuji or Sony photographer, then it's safe to say that Capture One Express is the best alternative you can find for Lightroom.
Capture One Express is the simplified version of the main software Capture One Pro. It has a similar workflow to the Pro version, offers basic editing tools, and somehow has many similarities with Lightroom.
Capture One Express has one of the best RAW image renderings in the industry. However, do not expect all features of the Pro version available in the Express. The advanced features like color edit, luminosity masks, HDR support, vignette tool, color balance tool, and local adjustments are not available in the Express version.
When it comes to color rendition, the accuracy of the Express version is as good as the pro. For years, there were arguments that the color rendition of Capture One is always better than the Lightroom. But this issue is subjective to the user, and it's up to you to find out. To give you an idea, here are the key features you should expect in Capture One Express.
Key Features:
Performance: The performance of Capture One Express when it comes to noise control and fine details is one the best in the industry. This photo editing software has a one of a kind shadow and highlight detail.
Auto Adjustments: The Capture One Express can automatically adjust the brightness and colors of your images. Just simply applying a single automatic adjust command, future auto adjustments will be easier in the future. The auto adjustment feature is available in the importer dialog; in short, your images can be automatically adjusted while still in the import process. The auto-adjust feature addresses the following parameters: exposure, white balance, brightness, contrast, HDR, RGB mode, individual channel, and rotation. If you want, you can only apply the parameters that you need to be auto-adjusted. Not all parameters need to be changed.
Editing and Styles: Photographers and graphic designers can apply instant looks using easy to use tools of Capture One Express. You can instantly transform the looks of your photos with a few simple clicks, a layer of preset colors, or adjustments. Even though Capture One Express is not as advanced as the Pro version, it still comes with built-in styles. You can scroll through the choices to see which one you prefer the most.
Paid or Free?
As mentioned earlier, the Capture One Express for Fuji and Sony users are free. If you want to invest in the Capture One Pro version, the monthly subscription starts at $20. The Capture One Express is available for Windows, macOS, and Linux.
10. Chasys Draw Ies
Last but not least of Lightroom alternatives is the Chasys Draw IES. The program is formerly known as the Chasys Draw Artist. The photo editing software includes layer-based graphic designing, animation, super-resolution using image stacking, and vista-style icon support.
It also has a multi-threaded image file converter and speedy image viewer, all designed to take advantage of the multi-core processors. Here are the other key features you should expect to find in Chasys Draw IES if you plan to use this software as a Lightroom alternative.
Key Features:
Artist: Layer-based image editor, complete layer adjustments, image stacking, and icon editing. It has an image creation tool, extensive photo adjustment, and some editing tools similar to Lightroom. Healing, clone stamp options, noise reduction, and HDR is also available. The multi-frame super-resolution is available for single and bulk image stacking. The freestyle layering of Chasys enables the artist to draw with desired control using a tablet, pen, or stylus.
Converter: Multi-threaded and fast image converter.
Viewer: RAW conversion is available. Chasys has extensive support for RAW files. It comes fully integrated with a camera RAW plug-in with a lot of options for high-speed processing.
UAC aware: Works with touch-screens, pen-input devices, and multi-core processors.
Tutorials and Community: Chasys may have a different radical approach to image editing, but with its professional features, there is a community behind the program that shares their personal experience and tutorial videos.
Other Features: Advance scaling, image resizing, scaling, metadata transfer, automatic rotation, animation conversion, auto-leveling, and noise reduction.
Paid or Free?
It now runs as freeware and is available for Microsoft Windows computer only.
What Is the Best Lightroom Alternative?
As our team gathered user reviews, here's what we came up as the best Lightroom alternatives:
Skylum Luminar 4: Ranked as the best Lightroom alternative with payment.
RawTherapee: Ranked as the best Lightroom alternative without payment.
On1 Photo RAW: Ranked as the top all-in-one Lightroom alternative.
DxO Photo Lab: Rankes as the best alternative for Lightroom for local editsonly.What Is the Best Lightroom Alternative for You?
These are the top 10 suggested Lightroom alternative you'll love, but which one is for you? The only way to find out is to try it yourself. Since half of the options are free and have a trial version, it's always best to experience the program first-hand and see which fits your needs best.