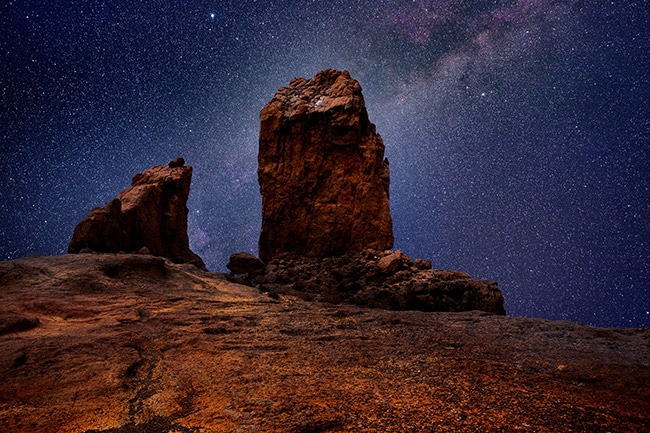 Landscape photos taken at night can have a completely different feel as compared to a photo of the same scene taken during daylight hours. Night photography also presents plenty of opportunities to capture beautiful images of the moon and stars.
Night photography has some specific gear requirements, and there are also a number of apps and resources that can prove to be invaluable. Here you'll find a description of  resources, gear, and accessories that can help to take your night landscape and night sky photography to the next level.
→ Related reading: How to Photograph the Night Sky
If you want to learn to master night photography I highly recommend Collier's Guide to Night Photography in the Great Outdoors. You can read my review of the book here.
Apps and Resources for Night Photography
The International Dark Sky Places Program promotes the preservation of night skies around the world. If you are looking for a great location to photograph the night sky, visit their website to find locations of parks, reserves, and communities that are a part of the program.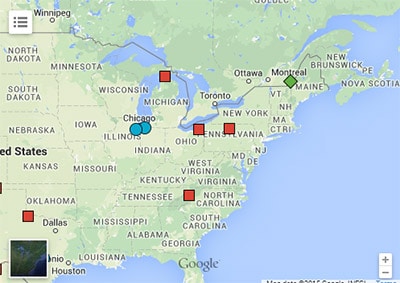 Clear Sky Chart will show you when, in the next 48 hours, you can expect a clear, dark sky. There are charts available for thousands of locations in the USA, Canada, and Mexico.
Stellarium is free, open source planetarium software. You'll see a realistic sky in 3D, which can be very helpful for planning your photographs of the night sky.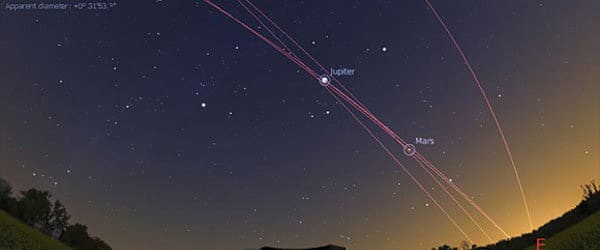 The Photographer's Ephemeris is free app that will help you to plan your outdoor shoots with a map-centric sun and moon calculator. It is available for the desktop as well as for iOS and Android. The website has a number of tutorials that will help you to get started the desktop web app or the mobile apps. It is not a tool exclusively for night photography, so you may also find it to be very helpful for your daytime photography.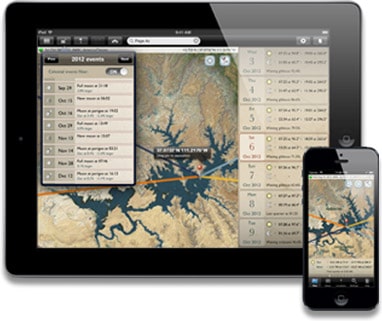 StarDate is an easy-to-use moon phase calendar. Just select the month and year that you would like to research (by default it shows the current month) and it will show a visual representation of the approximate moon phases.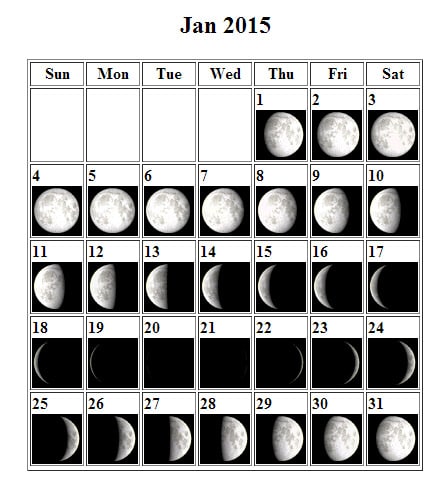 StarDate also provides star gazing information and tips for the current month. Use this page to find dates and events that you may want to photograph.
The website of the United States Navy allows you to enter a location, select a day, and get a report of the times of sun and moon rise and set, as civil twilight, nautical twilight, and astronomical twilight.
GoSkyWatch Planetarium ($3.99) helps you to quickly identify and locate stars, planets, comets, constellations, galaxies and more by simply pointing to the sky.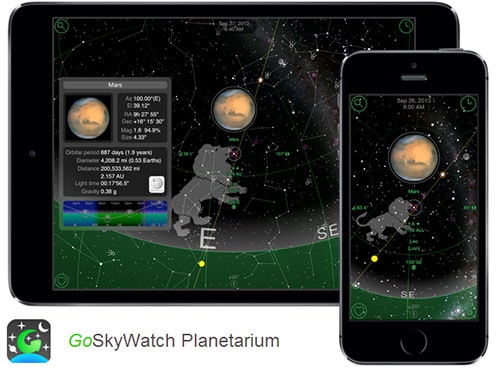 Deluxe Moon ($2.99 for the full version with a limited free version also available) includes features like a moon phase calendar, a moon compass, sun and moon rise and set time table, and more.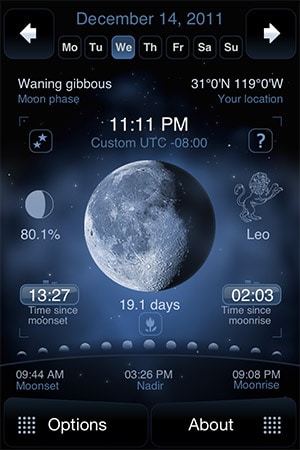 The Moon Seeker app ($3.99) provides a list of lunar phases, a calendar view, a flat-view compass, and an augmented reality 3D view of the lunar path with hourly intervals.
Night Sky ($0.99) includes a number of useful features like a 3D globe view for information on the sky from any location, stargazing weather, live sky information, and a search and locate feature that helps you to find constellations, planets, stars, and satellites. A Free lite version is also available.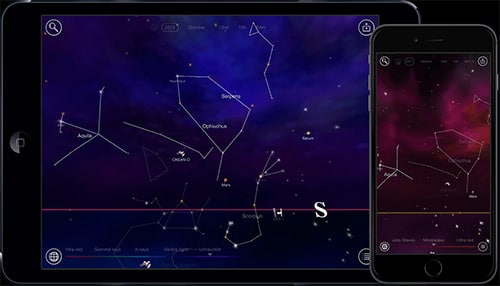 Star Walk 2 ($2.99) is a "guide to the sky day and night". Point your iPhone of iPad at the sky. The app provides 3D models of celestial bodies and plenty of information that can help you to be familiar with the sky that you are photographing.
If you hope to capture outstanding night shots of lightning you will either need a lot of luck or some assistance from a tool like Lightning Bug. Lightning Bug ($179) works by sensing the infrared burst that happens just before lightning and that trips the shutter to capture the lightning that will follow. Lightning Bug mounts to your camera's hot shoe and it gives you full control over the sensitivity settings. You can also set it to capture 1-10 exposures per second.
StarStaX is free software for image stacking and blending, which is developed primarily for star trail photography. With its help you can merge a series of photos to create a single image with star trails. It is available for Mac OS X, Windows, and Linux.
→ Related reading: How to Photograph Landscapes at Night
Gear for Night Photography
While apps and resources can be extremely helpful, you'll also need the right gear to make night photography possible.
Tripod
Night photography will require slow shutter speeds and sturdy tripod is a must-have. Ideally, your tripod will be both light and sturdy. Carbon Fiber tends to be a strong and lightweight material, and carbon fiber tripods also do not transit cold like aluminum tripods well, which is something you will appreciate on a cold night.
There are several different brands for getting a quality tripod, and there are options at all different price ranges. Some of the quality brands include Manfrotto, Oben, Really Right Stuff, Gitzo, Slik, and Vanguard. If you are just getting started you certainly don't need to buy one of the more expensive models. But don't go for a cheap option if you can afford a little more. A quality tripod should last you for a long time. It will make your life easier, and will help you to get the best quality photos.
Locking Cable Release
A cable release is a handy tool any time you are using a tripod. It can help you to eliminate even the smallest of movements caused by pressing the shutter button. With night photography you will want to have a cable release or remote that will lock, allowing you to take long exposures without holding the button down. You can lock it to leave the shutter open, and then remove the lock when you are ready to close the shutter. Most camera manufacturers offer cable releases that you can purchase. Or you can get one made by a third-party, just be sure that it is compatible with your camera.
Penlight or Small Flashlight
One of the challenges of shooting at night is  simply seeing what you are doing. Always have at least one penlight or flashlight with you. A backup, or at least spare batteries is also a good idea. The flashlight can help you to see where you're going, allow you to get set up, find items in your camera bag, and see controls on your camera if needed.
LED Flashlight or Night Vision Flashlight
You may also want a more powerful LED flashlight to help with light painting. During a long exposure you can shine the light on an object that you want to highlight or lighten it in the shot. A few good options include the Coast HP7, Coast G50, and Coast PX20. The red LED of a night vision flashlight won't impact your night vision once your eyes have adjusted to the dark. An inexpensive option like the Celestron 93588 Astro Night Vision Flashlight can be a great addition to your camera bag.
Digital Watch or Timer
Keeping track of long exposures can also become a challenge. Having a digital watch or timer specifically for the purpose of timing your exposures is a good idea. You don't need anything fancy or expense, just something that is easy to use.
Extra Camera Batteries
The long exposures of night photography can drain your battery very quickly. Make sure you have a fully charged backup, and possibly several backups if you will be doing extremely long exposures.