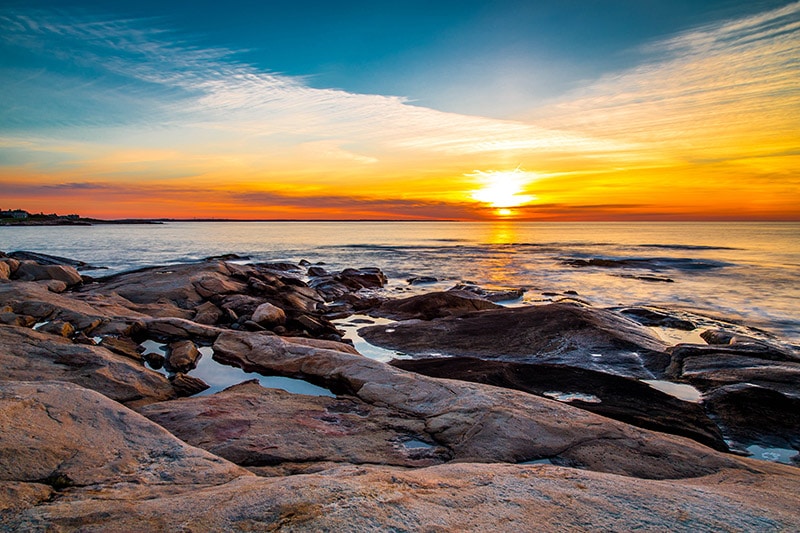 The New England coast is filled with great locations for photography, and Black Point in Narragansett, Rhode Island is one of them. At Black Point you'll find a rocky, rugged coast that is fairly easy to access and ideal for photography.
→ See More of the Best Places to Photograph in Rhode Island
Getting to Black Point
Black Point is in Narragansett, just north of the Scarborough State Beach. You'll need to take a short trail to reach Black Point, but it is an easy walk. There is a parking lot at the trailhead. The GPS coordinates of the parking lot are 41.399955, -71.464709. The parking lot is easy to find, right along Ocean Road, and it is marked as the Black Point Trailhead.
From the parking lot you can follow the dirt trail that heads into the woods. Very soon you will see the water and rocks. The trail continues on for a while and leads along the shore until it eventually reaches Scarborough State Beach. At the end of the trail you'll find the ruins of an old building, if you continue that far.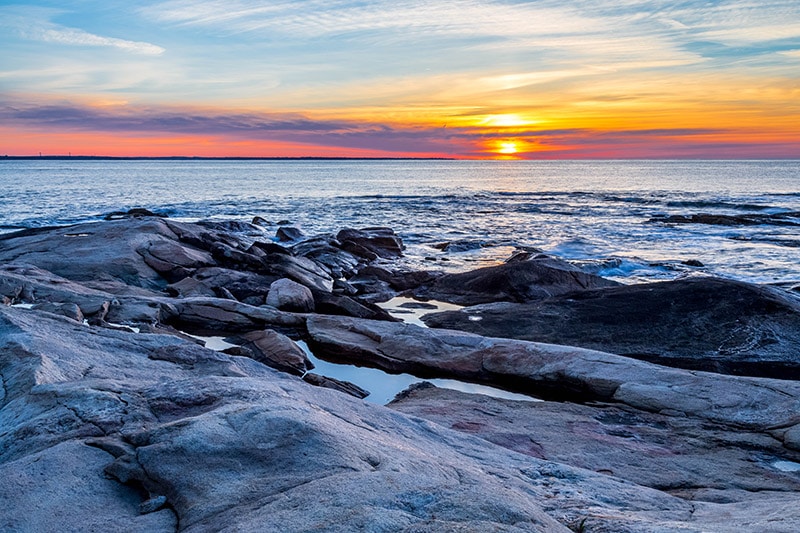 All photos in this post were processed with the Landscape Legend Lightroom Presets. Learn more about how Landscape Legend can help you to save time and process your photos more effectively.
Along the trail there are many places where you can access the rocks along the shore. Walk out wherever you like and look for things to photograph. Be careful on the rocks as they can be quite slippery.
Photographing Sunrise at Black Point
Facing east, Black Point is a great place to photograph the sunrise. I recommend getting to the parking lot at least 30 minutes before sunrise so you can walk a little ways down the trail and find an ideal spot. Before sunrise you'll often get the best colors in the sky.
Tips for Photographing Black Point
Bring a tripod. With a sturdy tripod you'll have the option to shoot long exposures that will blur the crashing waves. You can also bracket exposures to create an HDR image, which may be necessary if you are photographing at sunrise.
Look for interesting details. If you explore a little at Black Point you can find plenty of interesting details like puddles and small pools of water on the rocks. Use these details to add to your compositions.
Bring the right filters. You may need a circular polarizer to help reduce the glare coming from wet rocks. Neutral density filters can be helpful for creating long exposures.
→ Related reading: Essential Seascape Photography Tips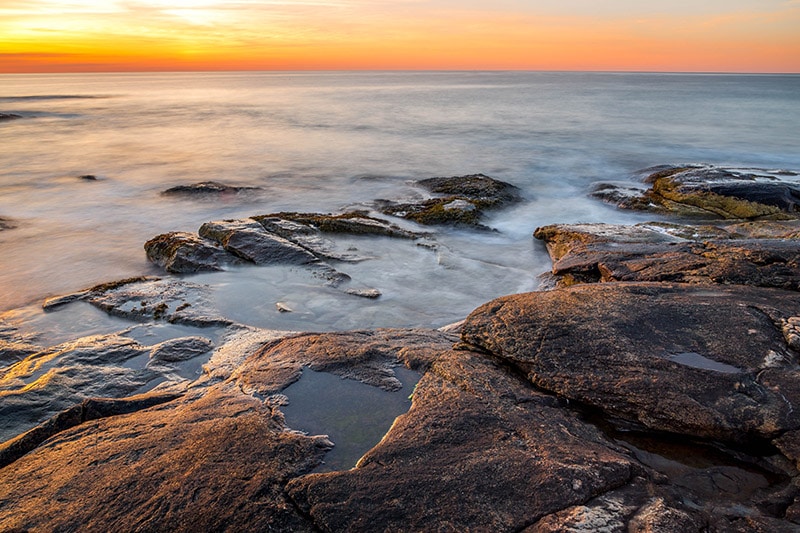 Also in the Area
After you are done at Black Point, head to one of several locations in the area worth photographing. The Point Judith Lighthouse is just a few miles south of Black Point.
If you head across the bridge to Jamestown you can photograph at Beavertail State Park, which is one of the best locations in Rhode Island. Also, Fort Wetherill State Park has some nice rocky coastal areas and is just a few miles from Beavertail.
From Jamestown you can take the Claiborne Pell Bridge to Newport and reach some excellent locations like Brenton Point State Park and the Castle Hill Lighthouse.
Please see our other articles: