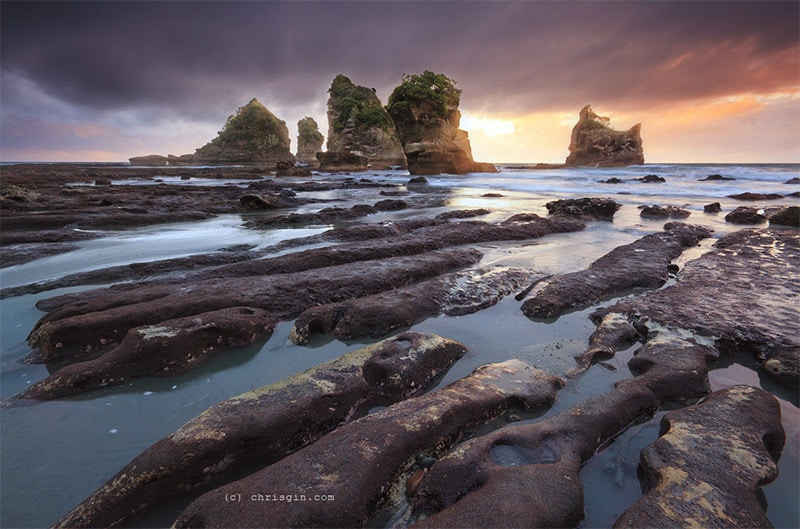 Chris Gin is a landscape photographer based in Auckland, New Zealand. If you enjoy seascapes you will definitely want to check out Chris's portfolio. He has many amazing photos of New Zealand seascapes, especially at and around sunrise and sunset.
When asked about his favorite locations for seascape photos, Chris responded, "I love Auckland's west coach beaches (e.g. Muriwai, Piha) as they are less than an hour's drive from home, and they are very photogenic. However New Zealand is blessed with a great coastline and there are many places around the country that are very accessible and amazing for seascapes."
Tips from Chris for your own seascape photography: "As with all photos, composition and light are the most important things. It's important to have some sort of foreground interest, so for seascapes I try and find some interesting rock formations or similar to include in my shots. Having water flowing around them can also look great, and you can use different shutter speeds to produce different looks. For example, a longer shutter speed (e.g. 30 seconds) will smooth out the water and give a milky effect, while a shorter shutter speed (e.g. 1/2 sec) will capture more detail."
As far as gear is concerned, Chris typically uses graduated neutral density filers for seascapes, as well as for landscapes in general. "These help balance the exposure between the sky and foreground, meaning I can capture the scene in one shot rather than blending multiple exposures." In some situations he will also use neutral density filters to lengthen exposure times.
Chris's essential gear includes:
Canon 7D
Sigma 10-20mm f/4.5
Tamron 17-50mm f/2.8
Hitech Graduated Neutral Density Filters
New Zealand Seascape Photography
Connect with Chris
To see more work from Chris Gin, or to get in touch with him, please use the following links:
All photos are © Chris Gin, used with permission.