If you're looking to gain exposure for your work and progress into a career as a photographer, your portfolio website will be a key part of the process. Your portfolio site will showcase your best work, provide biographical information about yourself, describe the products and services that you offer, and give people an easy way to get in touch with you.
However, your portfolio website won't be very effective if no one is visiting it. Many photographers find it to be a real challenge to get traffic to their portfolio site. With that in mind, let's take a look at some of the specific things you can do to start to get traffic and more visibility for your work.
You won't necessarily need to do all of the things covered in this article, but the more you can do, the better chance you'll have of driving traffic that will make a difference.
→ Related reading: How to Grow Your Profile as a Landscape Photographer
1. Add a Blog to Your Portfolio
If you want to increase the traffic to your portfolio website, one of the best things you can do is add a blog to the site. All of the common platforms that you could use for your portfolio site (WordPress, SmugMug, ZenFolio, and Squarespace) make it easy for you to add a blog to your site. Blogs are great for:
Search engine optimization and attracting search traffic
Attracting links to your articles
Increasing traffic from social media through sharing of your posts
Increasing repeat traffic
Building your reputation
But you can't simply add a blog to your site and consider the job done. In order for the blog to be effective, you'll need to dedicate time to writing blog posts, and preferably on a regular basis.
Of course, starting a blog is a time commitment that will add a lot of work, but it's one of the best things you can do if you want to increase traffic. Growing traffic to your site will take either money (advertisements and paid traffic) or time and effort. So unless you want to spend thousands of dollars on ads, blogging is one of the most efficient ways to improve traffic to your site.
2. Keyword Research
While blogs can be ideal for getting more search engine traffic, you can't simply write about whatever you want and expect that you'll start getting more traffic from Google.
To get search traffic, people must be looking and searching for the content that you're writing, and that's where keyword research comes in.
The goal of keyword research is to find words and phrases that people are actively searching for, and that you have a realistic chance to rank on the first page of Google.
There are a number of different tools that you can use for keyword research, some are free and others will require a subscription. I'm going to show how to use a free tool, Ubersuggest. There are also several different approaches that you can use for keyword research, and I'll quickly share one that is both easy and effective. This approach involves checking up on other blogs that cover similar topics (i.e., your competitors) to see what content on their site is generating search traffic.
There are a few things to point out first:
This works best if you are researching and checking up on smaller sites that you have a chance to outrank in a Google search. The most popular sites/blogs will be difficult to outrank, so just because they are getting traffic to certain content on their site doesn't mean that the same content on your site would generate traffic. But other small blogs may be possible to outrank, so if they are getting traffic to a particular page or post on their site, you might be able to do the same.
This technique will show you which keywords the other site is ranking for and what content on their site is attracting traffic. Based on the findings from your research, you can create your own content to target similar keywords and phrases.
I'm definitely not suggesting that you copy anyone else's content. Once you've found the topics and keywords that are attracting traffic, you'll work to create your own original blog content based around the same topics or keywords.
Let's take a look at a real world example. You want to research sites that are very similar to yours, in terms of the topics that they cover. So if you are an astrophotographer, you would want to research other blogs and websites that publish content related to astrophotography. If you were really doing this, ideally you'd want to find some smaller blogs that you could research. But since I don't want to "out" any small blogs and their keywords in this article, I'm going to be using one of the more popular astrophotography blogs as an example.
Go to Ubersuggest and enter the URL of the site that you want to research, in this case https://astrobackyard.com, and click "search".

You should now see the domain overview for the site that you are researching. If you scroll down you'll see a section called "Top Traffic Pages."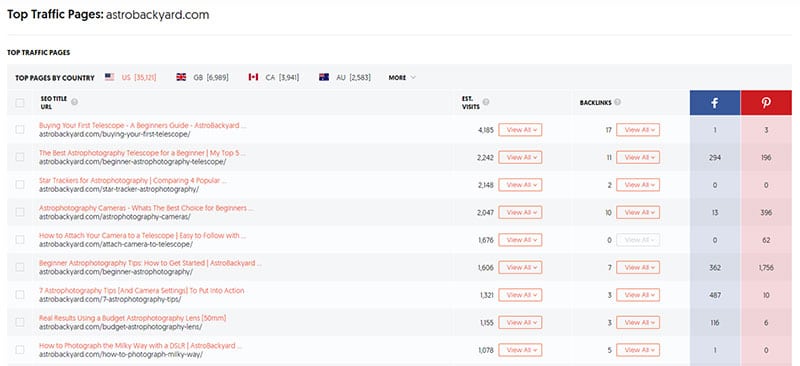 This section lists the pages on the site you're researching that get the most traffic. You'll want to browse through the list and get ideas for content that you could create on your own site. Again, I'm not suggesting that you copy the content of these pages. You want to create your own content on these topics with similar keywords and phrases in the titles. So in this example, I might decide to create blog posts on topics like:
how to buy your first telescope
the best astrophotography telescopes for beginners
how to attach a camera to a telescope
astrophotography tips
A little further down in the domain overview, you'll find "SEO keywords". This is an extremely useful section because it shows you the keywords and search phrases that are sending the most traffic to the site you're researching.
For example, I can see that this site is ranking in the 2nd position on Google for "stars tracker" and that this search phrase gets about 12,100 searches per month. Based on this research, you could create a blog post on your site to target the phrase "stars tracker".
Doing a little bit of competitive research can show you some ideal content that you can create for your blog.
3. Grow an Email List
An email list can be extremely valuable because it will help you to get repeat traffic to your site, and it can also help you to promote any products and services that you offer. As far as repeat traffic is concerned, your email subscribers will be extremely likely to come back to your site again at some point in the future. You can send an email to your list when you have a new blog post that you'd like to share.
There are a lot of different tools that you can use to grow an email list. If you're working with a tight budget, I'd recommend MailerLite. They have a free plan so you won't need to pay anything until you reach 1,000 email subscribers on your list. MailerLight also makes it easy to create optin forms that you can place on your site/blog so visitors can sign up for your list.
In order to grow your list quickly, it's best to give visitors some incentive to sign up. For example, here at Loaded Landscapes, we offer a collection of 5 free Lightroom presets to anyone who signs up for our email list.
When you're deciding what you can offer to subscribers, think about the type of audience that you want to attract. The target audience at Loaded Landscapes is photographers, so the Lightroom presets are a good fit. But if you're looking to target art lovers who may be interested in buying your photo prints, Lightroom presets might be a bad fit. Instead, you could hold a monthly drawing for a free photo print and new subscribers will be automatically entered into the drawing. That's just one idea, there are plenty of other things you could do.
4. Focus on One Social Network
Social media is one of the best ways to get traffic to a blog and there are several social networks that are excellent options for photographers. I'd recommend focusing primarily on one social network because your time is limited and it takes time and patience to grow a following at any social network. I believe you'll have better results if you focus your efforts mostly on one platform. Here are the best options:
Instagram – Great for quickly building a large following and gaining a lot of exposure for your work. Getting traffic from Instagram can be a little harder than some of the other social platforms because most people don't click through the link in your profile, but the amount of exposure you can get is huge.
Pinterest – A highly-visual platform that has the power to send loads of traffic to your blog posts. Pinterest is better for traffic but not as good for overall exposure, as compared to Instagram.
Facebook – Starting a Facebook page for your business is an easy way to promote your new blog content as you publish it. The biggest challenge with Facebook is the fact that most of your posts won't be shown to your followers, but still the massive reach of Facebook offers potential.
5. Write for Other Blogs
One of the best ways to start getting traffic to your new photography blog is to write guest posts for other photography blogs. Your guest posts will typically include a brief author bio and a link back to your own site, and your articles may also include a link back to your site within the body of the article if the host blogger allows it. The links from your guests posts can lead to some clickthrough traffic and the links can also help your content to rank better in Google search results.
Finding guest posting opportunities can take some time, but it is well worth the effort. It's a good idea to start with any other bloggers that you may know already and ask if they would be willing to accept a guest post submission from you. You can also reach out to other photo bloggers that you follow or do a Google search for photo blogs and "write for us". A number of blogs have information on their site about how you can submit an article, so this may help you to find some of those blogs that are open to guest post submissions.
6. Give Away Some of Your Photos
This is completely optional and something you may or may not want to do, but it has been an effective approach for some photographers. You could release some of your photos under a Creative Commons license that allows other people to use the photos for free.
The reason you might want to consider giving some of your work away for free is that it can lead to more traffic for your site. You could add the photos to your own site with a link for visitors to download the files, or you could upload the photos to other sites that distribute free photos (or both). Sites like Pixabay, Pexels, Unsplash, and others allow you to upload your photos and release them under a Creative Commons license. The links back to your site can lead to clickthrough traffic and they also help to improve the SEO for your site.
7. Give Away Other Free Resources
Photos aren't the only free resources you can use to attract traffic and links. Here at Loaded Landscapes we offer some free Lightroom presets and free Photoshop actions. These freebies are effective for attracting traffic and links to the site.
8. Interviews and Podcasts
Another way to gain exposure and increase traffic to your site is to participate in interviews and to appear as a guest on podcasts. There are a growing number of photography podcasts and many of them are in need of guests to come on the show for discussion. You could reach out to podcasts and pitch an idea for an episode that involves an interview with you. Not only will the podcast provide great exposure, but you'll probably also get a link back to your site from the page that hosts the podcast episode.
Getting interviewed can take some work, but there are opportunities out there. Search for other blogs and websites that are publishing interviews with others in your field and reach out to see if they would be interested in interviewing you.
Final Word
While growing traffic to your portfolio site does take some time and effort, it can be one of the best investments you make for your business. Go back through the ideas covered in this article and see which ones might be a good fit for you.
Photo license links: Unsplash license