Last summer I was interested in buying the Canon 70-200mm f/4L USM lens, but I didn't really want to spend $600 for it. I kept an eye on several different sites for a while to see if I could catch it on sale, but didn't have any luck with that.
Eventually, I decided to look into buying a used lens to save some money. After looking at a few different sites I ultimately wound up getting a great deal at mpb.com. I'll share all of the details of my personal experience in a moment, but first let's take an overview of mpb.com.
Please note, this article has been sponsored by mpb.com. However, the details of the review are based on my own personal experience buying and selling through their site a year ago, just like any other customer. The details and opinions shared in this article are my own, and have not been impacted by their sponsorship.
What is mpb.com?
mpb.com buys, sells, and trades used camera equipment, and they focus on making the process simple and painless (they also sell new accessories). They have offices in Brighton (UK) and New York, and their marketplace is available to customers throughout the US and Europe.
Photography equipment can be quite expensive, and buying used gear is a great way to make it more affordable. mpb.com offers an excellent selection, so you're likely to find the exact item that you're looking for. All items that are sold on their marketplace have been personally and carefully inspected for quality. When you're looking at items available to purchase, each one will have a rating for the condition, along with a detailed description of any wear or damage. It also tells what is included, such as front and rear lens caps.
When you buy from mpb.com you'll benefit from a 6-month warranty, which helps to ease concerns that you may have about buying a used camera or lens. You also have 7 days from the time you receive an item to initiate a return (return shipping is at your cost) if you decide you don't want the item. If the item is faulty you won't need to pay for the return shipping.
Selling Your Used Gear to mpb.com
If you have some gear that you're looking to sell, mpb.com is a great resource as well. The process of selling is pretty simple and straightforward. You can get a quote for your gear without making any commitment, and then you can decide if you want to move forward. All you have to do is go to their sell or trade page, enter some basic info (name, email, location), then list the item that you want to sell and select the condition that it's in. That's it. You'll get the quote by email very quickly.
If you're happy with the quote and you want to sell the item to mpb.com you can move forward with the process. All you need to do is pack it securely and use the shipping label that mpb.com will give you. When they receive the item they'll confirm the condition and pay you or send the item that you're trading for.
mpb.com buys most types of photo and video equipment, although they specialize in cameras and lenses. They also have accessories like tripods, bags, filters, memory cards, and more. mpb.com does not buy film cameras unless they are Leicas or certain medium-format cameras.
They offer very competitive prices for both buying and selling.
My Experience with mpb.com
Getting back to my own experience, I found a used Canon 70-200mm F/4L USM lens available at mpb.com for what I felt was a pretty good price.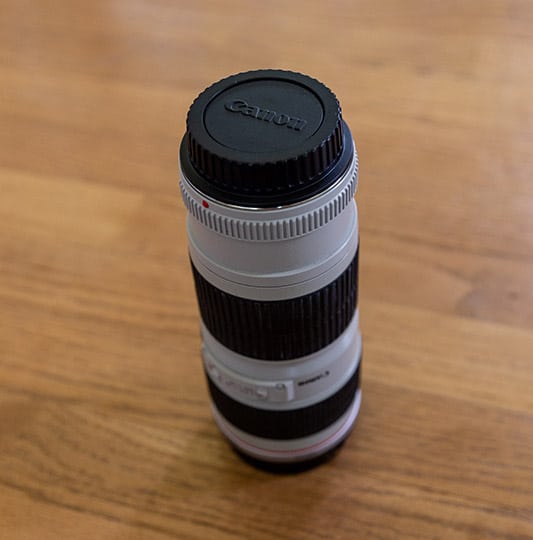 At the same time I also had a 15mm Sigma fisheye lens that I almost never used. I liked the lens. It was good quality, I just found that I rarely opted to go with the fisheye instead of a regular wide angle lens. A lot of times I wouldn't even take the lens with me. Rather than let it sit on my shelf, I thought maybe I should sell it and use that money towards the 70-200mm lens, which I knew I would use more often.
I considered listing it on sites like Ebay or Craigslist and trying to sell it myself. There were a bunch of Ebay listings for this lens at the time. None of them had much activity, so I thought it would be hard to sell that way.
I went to a few marketplaces that buy used gear. The first one I tried (I don't remember which one it was) wasn't buying that particular lens at the time. But when I tried mpb.com I entered my information and within a few minutes I got a quote of $280 for the Sigma fisheye lens. I thought that was pretty fair, and at that price I'd only need to pay $164 to get the Canon 70-200m f/4 (they offer free shipping on trades).
I was a little hesitant because I had never bought or sold used gear, and honestly I was a little skeptical of sending off my lens to someone else. I listed it in excellent condition because it hadn't been used much, and it was in great shape. Although I was a little skeptical I decided to go ahead. I reserved the 70-200mm lens that I wanted and the next step was to send them my old lens. Not long after I sent it, I got an email saying that it had been inspected and everything checked out.
At that time I paid the difference of $164 and they immediately shipped out the lens that I was buying. That lens arrived pretty quickly. I tested it out and everything worked fine. The lens had some wear and marks on the outside, but that was accurately disclosed in the listing. Despite a few minor marks, it seemed to be well cared for, and everything internally works great. The end result is I got a quality L series lens for a great price, and I gave up a lens that I really didn't use anyway.
Although I was hesitant to buy and sell used gear, it wound up being a great experience. It took very little of my time, and the item I got was exactly as it was described.
Based on my experience I would definitely recommend buying, selling, or trading through mpb.com. I thought the pricing for both buying and selling was very good. The process was fast and easy, and there was good communication throughout the process. In the future when I'm looking for gear, especially if I want to save some money, I'll definitely check mpb.com.
If you have some gear that you don't use very much, why not visit the sell and trade page on mpb.com and see what you could get for it?
If you're like me and a little hesitant to buy or sell used gear online, here is a recap of things that mpb.com does to ease your concerns:
For sellers, you can get a quote before deciding if you want to sell the item.
The condition of items for sale is rated, and a description gives the details of any marks or flaws on the item.
You have 7 days to initiate a return if you decide you don't want the item.
You don't have to pay return shipping on faulty items.
Each purchase comes with a 6-month warranty.
Their phone number is listed on their site, so you can reach them if needed.