Landscape photography can involve a lot of different gear. Whether it's camera bodies, lenses, filters, tripods, cable releases, protective gear, or something else, it seems like there is always something new to have on your wishlist.
While having quality gear is nice (see our list of recommended gear), having the right clothing is also important. Clothing and accessories are important for keeping you comfortable, safe and protected from the elements, and for allowing you to go places that you might not be able to go if you weren't properly equipped.
In this article, we'll take a look at ten items that you should consider for your landscape and nature photography needs.
Hiking Boots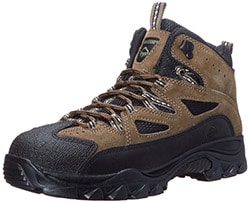 Landscape photography often involves a lot of hiking, and taking care of your feet is extremely important. A comfortable pair of hiking boots is a must-have if you'll be spending a lot of time hiking to the best spots for photos. If you'll be out in the winter or at night when the temperature drops, a good pair of boots can also help to keep your feet warm and dry.
There are a few different factors to consider when deciding which type of hiking boots are right for you, and REI has a nice guide that will help to explain your options and the things that you should consider.
There are plenty of options when it comes to hiking boots/shoes. Wolverine and Merrell both make high-quality products.
Waders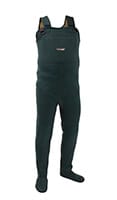 You don't need to spend much time photographing nature or wildlife before you'll come across a situation where it would be extremely helpful to have waders. Much landscape photography involves water, and there will certainly be times when it would be helpful to be able to wade in the water, even when it is cold. Waders can also come in handy in mud and other conditions where you want or need to protect your clothes.
Neoprene waders are generally the best option because it's easier to move in neoprene as compared to rubber. You can get chest waders that will give you a lot of protection, or the ones that will just cover your legs.
Socks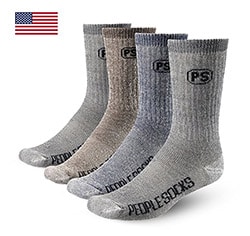 While not the first thing you would think of being essential, a good, comfortable pair of socks is important. This is especially important if you are doing a lot of hiking or out in cold weather. There are a lot of different hiking socks that are available.
Quality socks will keep your feet warm in cold weather, but can also be worn comfortably in warm weather. I have been very happy with People Socks, but there are plenty of other good brands as well.
Rain Jacket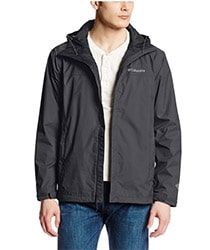 There will undoubtedly be times when you will be out in the rain, whether intentionally or unintentionally. Photographing in bad weather can be challenging, but often it will lead to unique photos. Having a good raincoat/jacket will be important for keeping you dry and warm.
There are a few different types of rain jackets. Many, like this one from Columbia, are lightweight shells. This will be useful in most weather, but in cold weather, you will need something thicker and warmer.
Gloves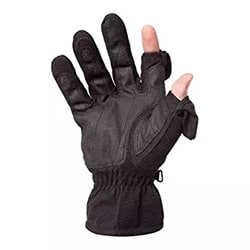 Any time you will be out in cold weather for extended periods it is important to keep your hands warm. This is true for landscape and nature photographers in winter, but it can also be challenging to find gloves that will keep your hands warm and still allow you to use your hands and fingers as needed. Photography gloves that allow access for your thumb and index finger are a good option. Vallerret recently ran a successful Kickstarter campaign for winter sports gloves made with photography in mind.
Head Lamp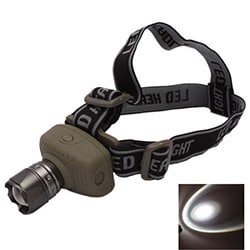 Much landscape photography is done around the time of sunrise and sunset. That often requires hiking before sunrise or after sunset to reach your destination or to return to your vehicle. A flashlight is a must-have, but a headlamp can prove to be an even better option. With a headlamp, you can keep your hands free.
Shirts for Layering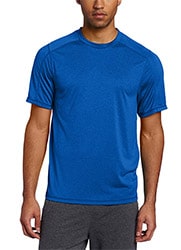 While you are out, the weather and temperature can change pretty quickly. The best approach in these situations is to have multiple layers so you can add or remove layers to stay comfortable.
Cotton t-shirts are usually not ideal because if you are hiking and sweating the cotton shirt will get, and stay, soaked. Performance tees that are made of some sort of moisture-wicking material are better. These types of shirts are available in both short sleeve and long sleeve.
There are a lot of different brands to choose from. Champion makes affordable shirts that are pretty good quality.
Hiking Pants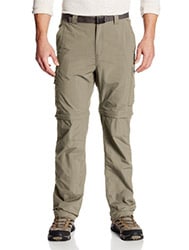 If you're going to be outside in the elements and exposed to potentially harsh weather it is best to have pants that are made for this. Jeans are not ideal. There are a lot of brands that make hiking pants. Much like rain jackets, different weights and thicknesses are available. Lightweight pants are great for warmer weather but you will need something thicker (or thermals underneath) in cold weather.
Some hiking pants are also convertible, meaning you can unzip or unsnap them and they'll become shorts. I have the most experience with Columbia's hiking pants, and I have been pleased with them
Hats
Hats can be important for protecting you from the elements. If you're out in the anywhere in the summer, or a very hot climate like a desert, a hat for shade is very important. In the winter, of course, you'll want a hat to keep your head warm and dry.
Vest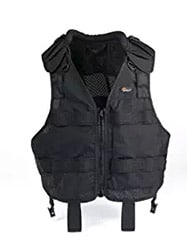 Sometimes a photographer's vest can be as helpful as a bag or backpack for carrying your gear. Bags and backpacks are better for large lenses and other big items, but vests are great for carrying filters and other small accessories. You may find that a vest is a nice supplement to your bag/backpack, or that it can carry everything you need.
Tripod
Having a tripod with you will allow you to get the sharpest photos possible, to photograph in low light situations, to bracket exposures for HDR merging/blending, and to photograph long exposures.
It's important to keep your gear as light as possible when you are traveling, and a heavy tripod is something you will often choose to leave behind. A lightweight tripod is likely to get used a lot more frequently, and it will also make your life easier. Carbon fiber tripods tend to be durable and lightweight.
There are many tripods created specifically for travel photography, but all you need is something that is lightweight and compact (and of course, capable of holding the weight of your camera and lens). Brands like Benro, Vanguard, Manfrotto, and Gitzo all make tripods specifically for travel. I use a Sirui T-024X tripod, which is a compact and lightweight carbon fiber tripod.
Depending on the camera that you are using, you may also want to consider a GorillaPod or another flexible tripod. These tripods are not intended to hold as much weight, but because they are small and flexible they are ideal for travel.
Camera Bag or Backpack
Of course, you'll need a bag or backpack to carry all of your gear and accessories. There are several different types and styles, so be sure to choose one that works well for you.
If you will be doing a lot of hiking, a backpack is ideal. If you will be mostly in urban areas, you may prefer a messenger style bag.
Lowepro backpacks are a popular choice. They make a variety of different sizes and styles and are available at different price points. Before you make a purchase, be sure to consider if you will need room for a laptop, tablet, or other devices in addition to your photography gear.
If your bag is large you may also want to consider bringing a smaller bag with you as well. For situations where you don't need to carry everything, you can put just the essentials in the smaller bag and save yourself a lot of bulk and weight.
For messenger or sling style, the bags from Peak Design are a top choice.
Remote shutter release (cable or radiofrequency)
A remote shutter release will press the shutter without touching the camera. This eliminates even the smallest camera shake. This is useful when shooting with longer shutter speeds where the tiniest camera movement can potentially impact image sharpness.
Polarizing Filter
A polarizer helps reduce glare off of water and other surfaces. If you're photographing waterfalls, streams, lakes, or other bodies of water, a polarizer can have a big impact on your photos. Thread the polarizer onto your lens and then turn it until the glare is reduced or eliminated.
Polarizers can also increase contrast and saturation in the sky.
There are several different brands that you can choose from. Hoya is a popular brand. I have used a Tiffen circular polarizer for several years and I've always found it to be very good. Tiffen polarizers are priced very well.
Recently I've upgraded to a B+W polarizer that is more expensive than the Tiffen filter.
Neutral Density Filters
Neutral density filters will reduce the amount of light that reaches the sensor of the camera, allowing you to use a slower shutter speed. ND filters are often used for long exposures, and they come in different strengths. I would say neutral density filters are not as essential as many of the other items on this list, but they are good to have. There are many different brands available. I have been using B+W neutral density filters for a few years and have always been happy with them. Cheap filters can often cause color casts or reduce the quality of your photos.
Extra Batteries and Charger
You won't want a dead camera battery to stop your photography in its tracks, so be sure you travel with some fully-charged spare batteries and a charger. You can buy spare batteries from the maker of your camera, or buy third-party batteries that will be considerably cheaper. The third-party batteries often won't last as long as the batteries made by your camera maker, but for extra batteries, the savings may be justified.
I travel with two Canon brand batteries (one came with my camera and the other was purchased as a spare), and two Wasabi batteries. The Wasabi batteries also came with a charger and adapter that can be charged in the car.
Whenever you are purchasing a spare battery be sure that it is compatible with your camera.
Memory Cards
Depending on how long you will be traveling, you may take enough photos to fill up a few memory cards. How much storage you will need will depend on how many photos you will take, and the size of the files. As megapixel counts continue to rise, so do the size of the files created by the camera. SanDisk, Lexar, and PNY are popular choices.
It's also a good idea to have some kind of case or protection for your memory cards. You won't want a card full of your photos to be damaged.
Card Reader
A memory card reader can transfer files faster, as compared to using a USB cable. A card reader can also be used without your camera being turned on.
USB Charger, Solar Charger
USB chargers and solar chargers can help to ensure that you are always able to keep your devices charged and usable. You may be away from outlets for long periods, so be prepared.
Travel Power Adapter
If you will be traveling internationally you should be prepared for different types of electrical outlets. If the outlets are different, you'll need an adapter to be able to use your chargers and devices. A simple travel power adapter will usually do the job.
Portable Backup
After you've taken some photos you will want to create a backup. When you are traveling, one of the best options is to have a portable drive with you. This could be an external hard drive that you can hook up to your laptop, and there are many different brands and options available.
I use external drives by Seagate and LaCie. The LaCie rugged portable drive is an excellent choice.
Lens Cleaning Kit
As you travel, you will inevitably need to clean your gear. Lens cleaning kits typically come with a blower, a brush, a cloth, and some cleaning solution. Some also come with a lens pen, or you can buy a lens pen separately. Although the microfiber cloth is very useful, I also recommend having some lens wipes on hand.
I always have the Zeiss lens wipes in my camera bag.
Whenever possible, I also prefer to take some dry towels along with me. If space is limited this may not be possible. I usually leave them in my car and then if needed I can use them to dry or clean my gear or myself.
Flashlight
As you're traveling, a flashlight is a good accessory to have for safety. Of course, something small and lightweight will be ideal for carrying in your camera bag. Something like the J5 Tactical flashlight is a great option.
Rain Gear
Being prepared for rain is important if you want to protect your gear. Simple rain sleeves or jackets can be purchased to protect your camera and lens. A rain cover like this one by Altura can be great for protecting your gear and still allowing you to photograph in the rain.