Who doesn't love to have their pictures taken? Pictures are very precious because it preserves and immortalizes special memories. Behind all the amazing pictures, a very reliable camera creates the magic.
Cameras that are uncared for may not produce quality photos and videos. Without proper care and maintenance, invisible dust may build up over time which could leave irreversible damage to your camera.
Cleaning your camera is a fragile task. Thus, a professional and reliable cleaning kit can help you maintain your camera. This article will guide you in choosing the best lens cleaning kit that is perfect for you. With a professional cleaning kit, you can give your camera the finest pampering care it deserves!
The Top 8 Camera Lens Cleaning Kit You Should Consider
Cleaning your camera is easy when you are using the best cleaning toolset available. With professional cleaning kits, you are certain that your lenses are exposed to safe and quality-tested materials.
Never allow your camera exposure to rough cloths and industrial cleaners that can greatly affect its performance and cause irreparable damage. To help you in choosing your partner in caring for your camera, the list below shows the best camera lens cleaning kits available in the market today.
The Delkin SensorScope System DSLR & Mirrorless Camera Travel Kit is the safest and most effective DSLR and Mirrorless Image Sensor cleaning system on the market. The set is designed to eliminate all types of debris (dry or wet) for guaranteed clear and contaminated-free images and videos.
You don't have to worry when moisture has chemically bonded to your camera's sensor. With the Delkin kit, you are assured of a safe and effective moisture removal solution. This is perfect for photographers and videographers that are always on the go. The set includes the following:
Sensor scope inspection device
Sensor bulb air blower
Sensor solution 0.25 oz
16mm sensor safe wands
Cleaning cloth
Pros
Comes in a compact and travel-friendly bag
Batteries are included in the set
Supported by warranty
Comes with a cleaning guide
Cons
Electrical plugs for use in the US only
An adaptor or converter is needed when used in other countries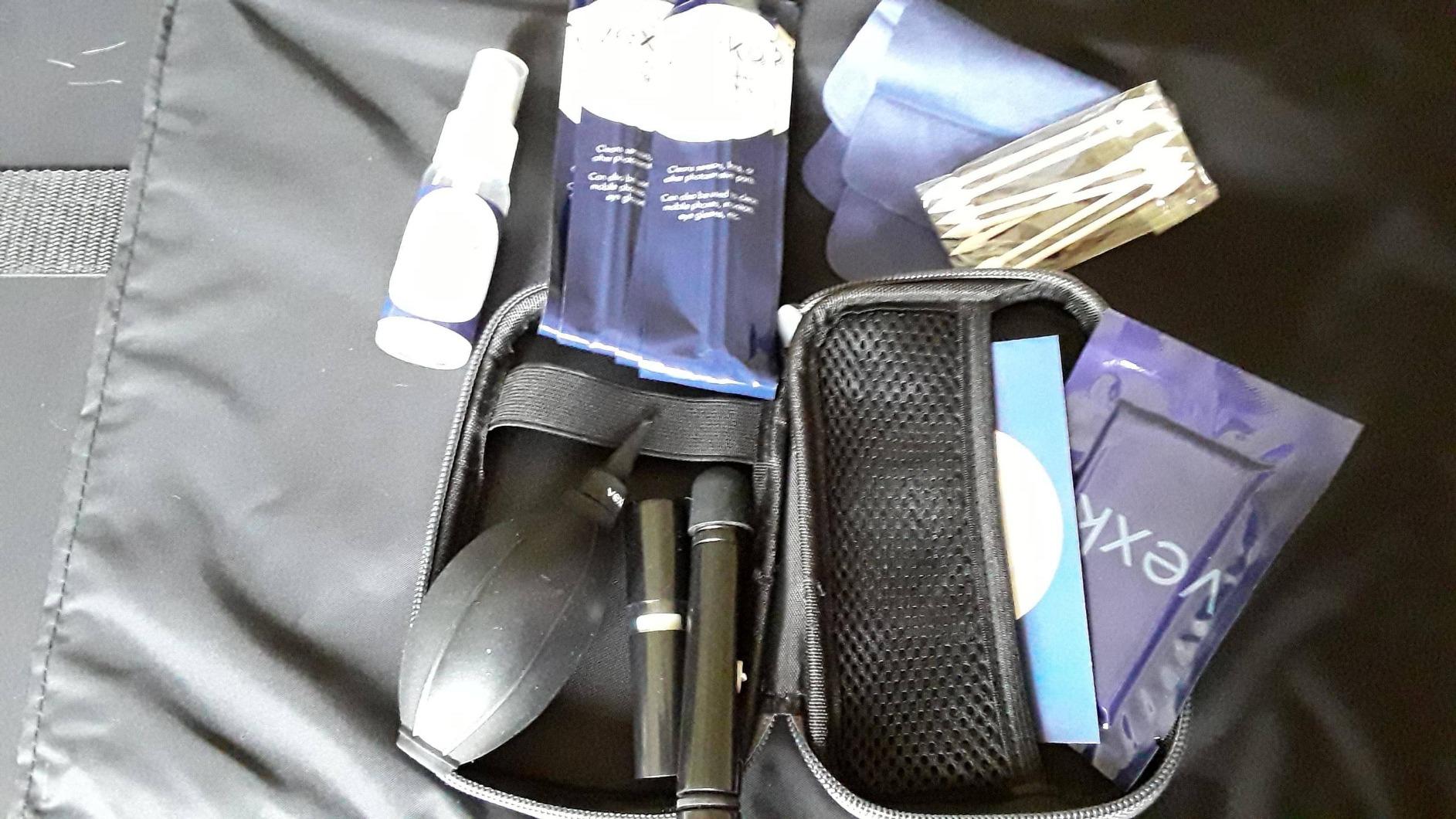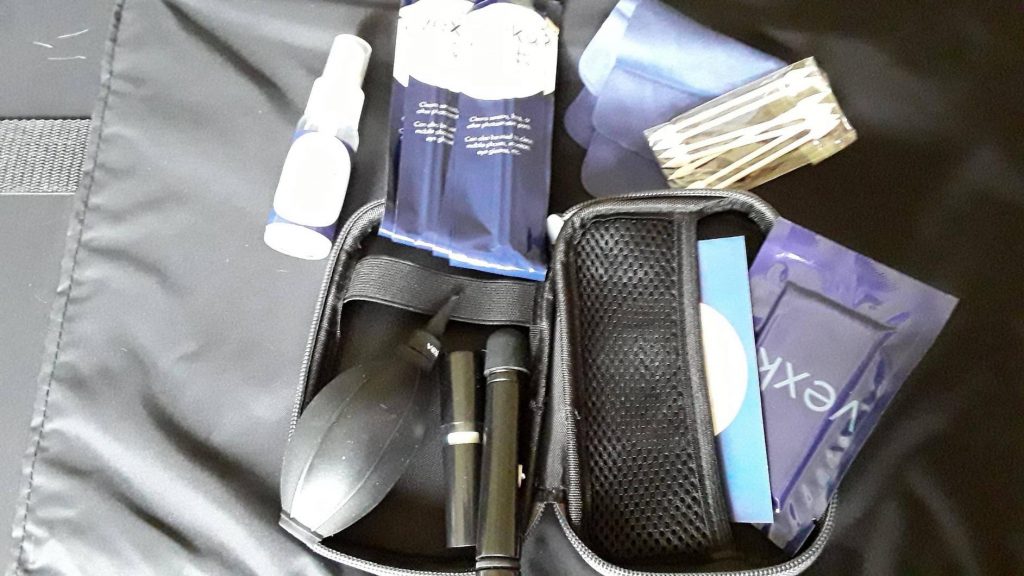 This 9-item professional camera cleaning lens set provides a safe and thorough cleaning of DSLR camera lens and camera electronics. The set includes a camera lens cleaner solution, cotton swabs, sensor cleaning swabs, microfiber cleaning cloth, air blower cleaner, camera lens cleaner wipes, cleaning pen, lens brush, and a traveling pouch.
Vexko's cleaning solution is made from natural ingredients, alcohol-free, ammonia-free, and fragrance-free. This cleaning set comes with a lens cleaning pen that has a soft dust-removal brush on one end and a soft cleaning pad on the other. These are specially designed to remove tiny particles between hard-to-reach spaces.
Pros
Compatible with most camera brands
Reusable cleaning spray bottle
Comes with a compact and waterproof traveling pouch
Cons
Electrical plugs for use in the US only
The lens pen needs structural improvement
The Digital Survival Kit is a travel-sized pack that allows you to store your camera lenses, filters, and camera sensors when you are doing fieldwork. This kit combines two professional sensor cleaning components – Sensor swab ULTRA wands and ECLIPSE cleaning solution.
The Digital Survival Kit is safe for critical optics with its non-abrasive PEC PAD lint-free cloth that is very soft when used with the Eclipse cleaning solution. The set includes Type-2 sensor swabs, Eclipse optic cleaner, PEC PAD photo wipes, and an E-wipe packet for cleaning lenses.
Pros
 Labeled as a  "guaranteed safe" product by the Photographic Solutions
Comes in a zip-up carry case
Responsive customer service
Cons
Electrical plugs for use in the US only
The cleaning solution may leave streak marks on the lens
The LensPen SKLK-1 Camera cleaning kit is popular and comprehensive. The set contains three popular camera cleaning products: MicroKlear cloth, Hurricane blower, and the LensPen. For 25 years, the LensPen has been a trusted brand by many professional photographers.
The MicroKlear cloth is made of suede microfiber, which can safely remove particles on all surface types. The Hurricane blower can remove dust from the sensors, while the tips of the LensPen can remove fingerprints and grease from camera lenses.
Pros
Safe to use for all-optical lenses, coatings, LCD, plasma, CCD, and CMOS sensors
Pocket-sized
Can withstand temperature changes
Cons
Electrical plugs for use in the US only
The battery slot is too wide
Product quality may deteriorate over time
The Pro-Optic Complete lens & glasses cleaning kit is a universal lens cleaning accessory kit. It is useful for all photo-optics, display screens, and eyeglasses. This 14-piece cleaning kit contains a microfiber lens cloth, lipstick style fine brush, lens cleaning wipes, lens cleaning spray pump bottle, and a Rubber Bulb air blower.
The Pro-optics microfiber cloths are non-abrasive and washable. The Pro-Optic air blower, which is included in the set, is a hand-powered air blower releasing a gentle form of pressure to remove dust particles.
Pros
Comes in a sturdy carrying case with a belt loop and velcro closure
It can also be used for cleaning eyeglasses, display screens, and other photo-optic materials
Good quality kit
Cons
Electrical plugs for use in the US only
The kit may not fit inside the carry bag
Pre-moistened wipes could be dry
The Nikon 8228 Lens Pen Pro kit includes the lens pen, LENSPEN micro, dry anti-fog cloth, microfiber cleaning cloth, and a zippered carrying case with a belt loop. The kit is made of quality material. The Nikon Lens Pen Pro Kit is recommended to be used for DSLR cameras.
Pros
An all-inclusive kit
Comes with two kinds of cloth – cleaning cloth and anti-fog cloth
Comes with an instruction manual
Cons
The zipped carrying case is not durable
Poor quality microfiber cloth
The Movo Deluxe Essentials DSLR Camera cleaning kit contains everything you need to maintain your camera and keep it in working condition. The kit includes a Rocket air blower, Tin-oxide camera sensor cleaner liquid, APS-C sensor cleaning swab, lens pen, plush cleaning brush, and microfiber cleaning cloths.
The Movo camera cleaning kit is very useful for cleaning oil, fingerprints, smudges, and dirt found in camera lenses, glasses, microscopes, telescopes, and other precision optical lenses. The Movo cleaning kit offers gentle cleaning not just for camera lenses and sensors but also for electronic parts.
Pros
Ideal for regular lens maintenance
Can remove tough smudges
A professional-level cleaning kit
Cons
Electrical plugs for use in the US only
Bristles of the lens brush may fall out
The bottle of cleaning solution is not filled to the brim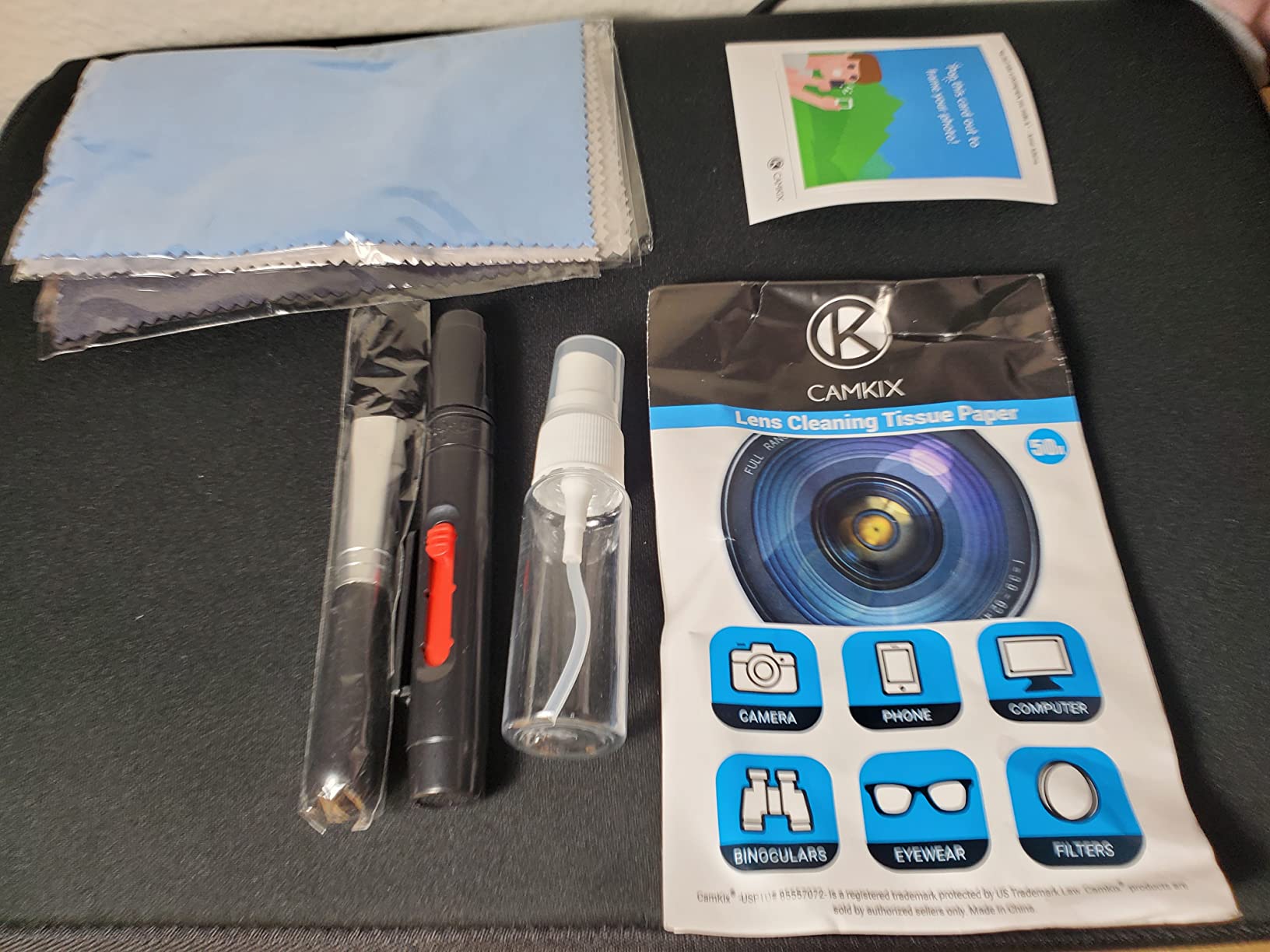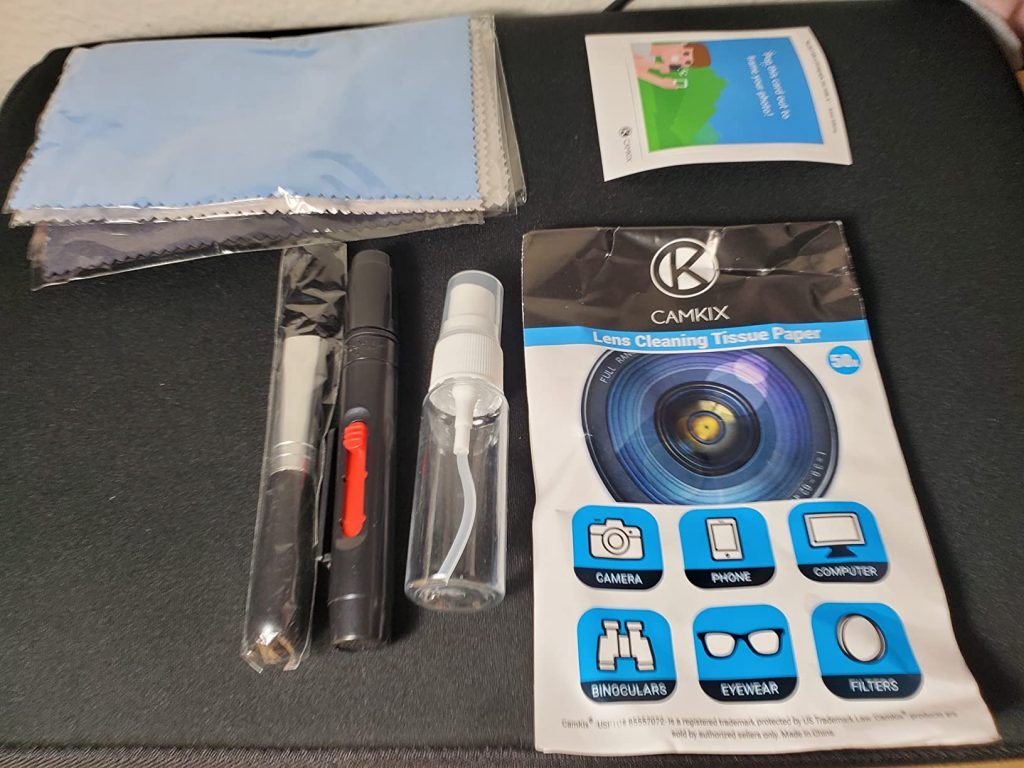 The Professional Camera Cleaning Kit offers you an assortment of tools that help keep your camera and lenses clean and functional. The kit includes a double-sided cleaning pen, reusable spray bottle, air blower, lens brush, and microfiber cleaning cloths.
The great thing about this camera cleaning kit is that the manufacturer takes full accountability and responsibility for the quality of its products. The Professional camera cleaning set is protected by the US Trademark Law.
Pros
One year warranty guaranteed
Compatible with most DSLR cameras
Reasonably priced for beginners
Cons
Electrical plugs for use in the US only
A cleaning solution is not provided
Poor quality lens brush
Why Is It Important to Clean Your Camera Lens?
Cameras, whether expensive or not, are considered investments. As investments, cameras should be taken care of and maintained properly. To preserve your cameras and ensure their longevity, cleaning both the camera and lenses are very crucial maintenance procedure.
With constant use, exposure to external elements, and to some extent, storage conditions, moisture, dust, and other particles begin to accumulate into the lens' housing. This could result in obstruction of the gears to operate properly and permanent blemishing could occur making them useless.
If this happens, you would need to bring your lens to a specialist who will dismantle and clean it. This could cost you a lot of money, and you wouldn't want that to happen. To avoid this, you have to regularly maintain your lenses.
You can protect your lenses by always covering them with front and rear caps when not in use. Regularly check your photography equipment for fingerprints, oil smears, dust, or any particle that could cause permanent and expensive damage to your camera and lens.
How to Clean Your Camera Lens Properly
Cleaning your camera is as important as using it. You want your camera to be in the best shape and always in action when you use it. If your camera is not properly maintained, it may not work well and may not produce high-quality pictures and videos.
It is possible you can overclean your camera lenses. This can result in a worn-down optical coating that can affect their performance. Modern lenses have chemical coatings that aid in the reduction of flare, diffraction, and other optical issues which may affect the quality of the pictures or videos.
When you pull out a lens, use the air blower to remove dust and other loose particles. Inspect your lens for fingerprints or smudges. If you see any, use the cleaning solution and a microfiber cloth towel. Don't apply the cleaning solution directly to your lens to avoid running the risk of letting the solution seep through the lens housing.
Wipe your lens with a microfiber cloth and start cleaning the center of the lens, working outward. Do not apply too much pressure so as not to scratch the glass or coating. In storing your microfiber cloth, place it in a clean and dry place.
Aside from the actual lens, don't forget to clean the back portion of your lens as well. It would also be good to clean the lens' mount, which has grooves. Use your air blower and microfiber cloth to remove loose dust.
What to Look For in a Camera Lens Cleaning Kit
When choosing the best camera lens cleaning kit for DSLR Cameras, you need to consider its versatility, portability, and whether it is economical. The cleaning kit should also contain the essentials, such as the following:
Cleaning Cloth
The best lens cleaning kits should provide soft and absorbent microfiber cleaning cloths. When in use, your camera is exposed to dust, mud, fingerprints, or other particles. It is best to use microfiber cleaning cloths instead of your shirt to wipe them off.
Cleaning Solution
Camera lenses are expensive and should only be maintained with a cleaning solution that is specifically designed for camera lenses. You can choose a kit that provides a reusable squeeze bottle for storing your cleaning solution.
As much as possible do not clean your camera lens with eyeglass lens cleaning fluid, window cleaner, or any glass cleaner to avoid damaging your lenses. Other kits may provide wipes for quick and easy disposal. However, a spray solution is better because it is economical.'
Air Blower
A versatile cleaning lens kit should include an air blower. An air blower can help get rid of dust and unwanted particles.
Lens Brush
New and improved cleaning kits include lens pens. Lens pens have two special tips. There is an end that collects oil and another end which has a soft and retractable brush for removing dust and lose debris.
Your cleaning kit must be kept organized in a compact and sturdy carry case. When your things are organized, you can easily juggle all your equipment – camera, lights, filters, and other special gear. If everything is within reach, you won't miss out on getting that perfect shot.
Frequently Asked Questions
Is a Lens Cleaning Kit Necessary?
Yes, a lens cleaning kit is necessary. You need to protect your investment from particles that could cause long-term damage to it. Cameras and lenses are special equipment that needs special care.
Can I Clean My Camera Lens With Glasses Cleaner?
As much as possible, use a cleaning solution specially formulated for lens cleaning. Never expose your lenses to ordinary industrial cleaners or over-the-counter glass cleaners.
Can I Use Wet Wipes to Clean Camera Lens?
There are wipes specifically designed for lens and camera cleaning. You may use them to clean your camera and lenses. However, avoid using ordinary wet wipes to clean your camera lens, for this could cause irreparable damage to your gear.
Can a Beginner Photographer Use a Beginner Lens Cleaning Kit?
Most cleaning kits are basic. They contain the essentials that you need to care for your camera and lenses. The most important thing to keep in mind is that a cleaning kit should at least contain a cleaning solution, microfiber cloths, a lens brush, and a gentle air blower to maintain your equipment.
How Do You Use a Lens Cleaning Kit for Lens Cleaning?
The first step is to use an air blower to remove debris from the lens and wipe it with a microfiber cloth. You may use the lens cleaning solution if you notice any fingerprints or smudges by spraying it on a microfiber cloth. Allow the solution to air dry before using it.
How to Clean the Inside of My Lens?
If you see dust or debris inside your lens and it is causing problems, you need to have it professionally checked. Don't try to fix it yourself. You may end up completely damaging your lens. Remember, lenses are more expensive than letting a professional repair them.
Final Thoughts
As a camera owner, you have a responsibility to maintain and care for your investment. Proper equipment care will ensure your quality and long-lasting use. You have to maintain a camera cleaning schedule to avoid dealing with delays or problems when you are using it.
The best cleaning kit is your partner in creating great pictures and videos. When not in use, it is best to keep your kit inside a camera bag. With a cleaning kit, you can maintain your camera and lenses as if they are still brand new. Your cleaning kit will be useless if you don't regularly maintain your camera. So, get into the habit of regular cleaning!