Ricketts Glen State Park in northeastern Pennsylvania is well known for its waterfalls. The park is home to 24 named waterfalls. Most of the waterfalls (21 of them) are visible from a loop trail that is roughly 5 miles long. Another major waterfall is easily accessible from a parking lot. With that many waterfalls in a small area, as you can imagine, Ricketts Glen is very popular with hikers and photographers.
This page will serve as a guide to show you what Ricketts Glen has to offer, and to help you plan and prepare if you will be visiting. I'll provide details on the locations and details of the hike.
I've lived in Pennsylvania most of my life, and Ricketts Glen is definitely a highlight of the state. In late May I had the opportunity to spend a morning in the park photographing the waterfalls and surroundings. I had been to the park before, but it's been many years, so I was anxious to get back. Spring is a great time to go because the water is flowing strong and all the plants are green and vibrant. Fall is also a great time to visit the park, especially for photography.
→ See More of The Best Places to Photograph in Pennsylvania
The photos shown on this page were taken with:
Adams Falls
As I mentioned in the intro, most of the falls are visible from a loop hike. The one noteworthy exception is Adams Falls. Fortunately Adams Falls is easy to access. Actually, it's the easiest of any of the falls to access. It sits next to a parking lot. You just need to take a short trail from the parking lot to the falls. The GPS coordinates of the parking lot are: 41.299377, -76.274661.
From the parking lot you can hear the water. Follow the short trail and you'll have a nice view of Adams Falls. This is one of my favorite falls in the park, and certainly one of the most distinct.
→ Related reading: 10 Tips for Fabulous Waterfall Photography
There is a rock ledge that you can walk out on to get a nice view of the falls. With a wide angle lens you can also get a view of a smaller drop that is pretty much right below you. The photo below was shot with a Canon 16-35mm f/4 lens.
There is even another drop past where I am for this photo, but if you cross the creek to capture the lower falls you really can't see the upper falls.
After photographing Adams Falls I headed a few miles to a separate area of the park that provides access to the Falls Trail. Across the street from Adams Falls there is a trail that also leads to the Falls Trail, but by following the directions here you can still see all of the falls while cutting more than two miles off the hike. If you hike from Adams Falls you will be walking more than 7 miles to see all of the falls.
The Falls Trail
To access the falls trail, head to the Lake Rose Trailhead Parking. The GPS coordinates are: 41.330195, -76.292250
From Adams Falls all you need to do is go west on PA Highway 118 and then turn right (north) onto PA Highway 487. After a few miles the park entrance will be on your right.
The trail is right beside the parking lot. I recommend also printing the official trail map from the state park and taking it with you. The trails are very well marked, but the map is helpful for knowing where each waterfall is.
From this map below you'll be starting near the top left where it says Lake Rose Trailhead Parking.
There are basically 3 sections of falls on this loop trail. There are 10 falls on Ganoga Glen, 8 falls on Glen Leigh, and then 3 more falls below Waters Meet, which is the spot where Ganoga Glen and Glen Leigh meet. The Falls Trail runs right along side Ganoga Glen and Glen Leigh. You will be going down one way and up the other. If you want to see all the falls on the trail you will need to break off the loop a little bit at Waters Meet and follow the trail south to see the 3 falls there. Then you will backtrack and pickup the loop again.
On the Falls Trail you can either go down Ganoga Glen and up Glen Leigh, or reversed. It doesn't make a big difference which way you go. Glen Leigh is slightly steeper, but since you are stopping very frequently to photograph the falls you will get plenty of chances to rest going either direction.
For my hike I chose to go down Ganoga Glen and up Glen Leigh, so this article will be presented in that order. If you choose to go the other direction everything will be reversed.
Details of the Falls Trail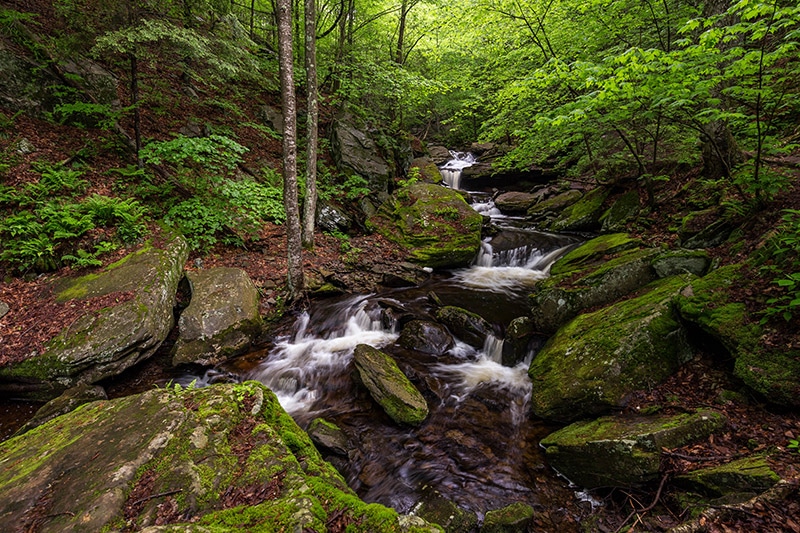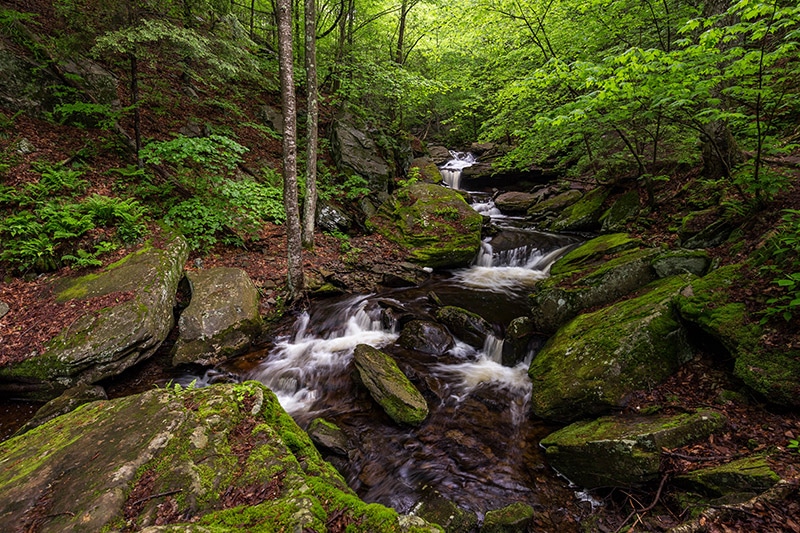 It is Rated as Moderate or Difficult – Depending on what website you look at, the fails trail is considered either a moderate or difficult hike. Any trail that leads you past so many waterfalls, as you can imagine, will have a lot of change in elevation. Not much of the trail is level. In some places there are a lot of stone stairs. The good news is with waterfalls so close together you will be stopping very frequently to take photos. This gives you plenty of rest and makes the hike a lot easier.
If you were to do the loop trail without stopping I imagine it would be pretty challenging. But in reality, no one does that. I thought the trail felt a lot shorter than 4 or 5 miles. The last stretch of my hike was 1+ miles on the Highland Trail heading back to the parking lot. This is the most uneventful part of the hike, even though the forest is beautiful, and the only time I felt tired. If you're in reasonably decent shape I wouldn't worry about the trail being too difficult.
It is Potentially Dangerous – The trail runs right beside the water and very close to some of the falls. In some places there are stone stairs, and in other places you'll be stepping over stones to get the view that you want. You may even be stepping on stones in the water to get a better perspective for a photo. The stones can be extremely slippery. It's very easy to lose your footing. In addition to the wet and slippery stones, there are some places where the trail is next to a steep drop. The combination of all of these factors means that there is some danger on this trail.
I don't want to oversell the risk and discourage people from hiking this trail. My point is, you need to be careful and pay attention. Wear hiking shoes or boots with good grip and use common sense. Don't take unnecessary risks. I never felt in any danger on the trail, but I did slip a little a few times, even with good hiking shoes. If you are careful and you respect the possibility of danger on the trail you should be fine.
Endless Photo Opportunities – The trail features 21 waterfalls, but there is plenty more to see. The endless cascades, surrounding forest, foot bridges, rocks, and more will give you endless possibilities. You could probably spend as much time as you wanted on this trail.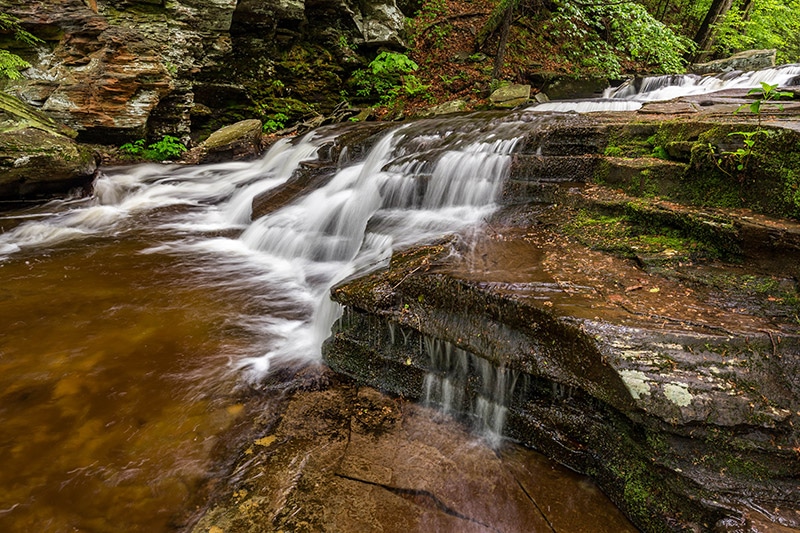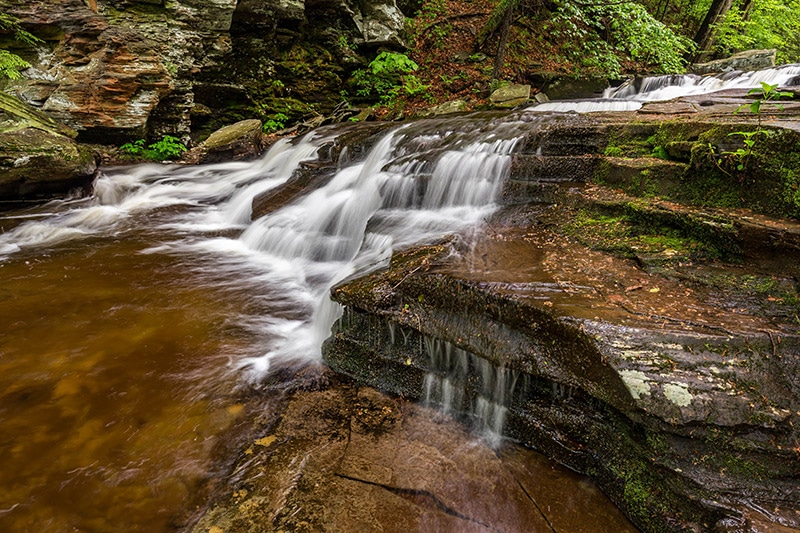 It's Popular – Even though this is a longer hike, it is very popular. Expect to see other people at the falls. At the end of the article in the "recommendations" I will share a few tips for minimizing this.
Naming – Most of the falls on the trail are named after people or after Native American tribes. The exception is Ozone Falls, which I have read was named after the Ozone Hiking Club. The falls were named by R. Bruce Ricketts.
Heights – All of the waterfall heights listed in this article are based on the heights provided by Ricketts Glen State Park on the official trail map.
Photographing – You'll have a view of almost all of the falls from the trail. In many cases you'll take a few steps off the trail to get the best view. There are many obvious paths that other visitors have taken to find these viewing areas. Be careful as the wet rocks are very slippery, and sometimes the rocks are loose.
Hiking the Falls Trail
Ok, now that we've covered the details, let's move on. As I mentioned earlier, I started at the Lake Rose Trailhead and went down Ganoga Glen. Everything mentioned from here on is based on the direction that I went. To head down Ganoga Glen you will pass the option to take the Highlands Trail to the left (you'll be returning this way at the end of your hike). You'll hike a short distance before you come to the first waterfall.
All photos in this post were processed with the Landscape Legend Lightroom Presets. Learn more about how Landscape Legend can help you to save time and process your photos more effectively.
Mohawk Falls
The first waterfall is Mohawk Falls. This is a 37-foot waterfall, but there are no large drops along that path. Still, it's a picturesque waterfall and you can safely get a nice view next to the trail.
Oneida Falls
After Mohawk Falls the cascades continue and before too long you'll come to Oneida Falls. At 13-feet it is one of the smaller falls in the park, but still beautiful. The water flows nicely over the ledge before continuing on downstream. You can get a view of Oneida Falls from the side or downstream a little further.
Cayuga Falls
Next up is the 11-foot Cayuga Falls. This one is honestly my least favorite, at least from a photography perspective. There are two drops separated by a large boulder. It is far from the most photogenic of the falls at Ricketts Glen.
Ganoga Falls
Next up is the highest fall in the park, and one of the taller waterfalls in all of Pennsylvania. At 94-feet, Ganoga Falls is an impressive, powerful waterfall. It's also one of the most popular falls in the park.
This one can put off a good bit of spray if you're getting close to the falls. While you can get a pretty good view of Ganoga Falls, the top of the waterfall is a little bit hidden.
This area can get a bit crowded at peak times.
Seneca Falls
Seneca Falls is listed as a 12-foot waterfall. I actually walked past it without noticing it. From looking at other photos online it is more like a series of cascades. There are constant cascades on the trail, so I guess Seneca Falls didn't really stand out to me.
Delaware Falls
Delaware Falls is almost immediately after Seneca Falls. This is listed at 37-feet, but that is a combination of drops. This is an interesting fall, but there was a lot of debris in the area that I found to be distracting, and it made it challenging to get a decent photo.
Mohican Falls
Just a short distance from Delaware Falls is Mohican Falls. This 39-foot waterfall can be photographed from the trail, or downstream just a short distance you can get a nice view. In the photo below you can see how the trail runs right beside the waterfall.
Conestoga Falls
Conestoga Falls is probably the most difficult to see and photograph. From the trail it is kind of hidden behind some rocks. When I was in the park the water level was very high, and I wasn't able to get a decent view of this 17-foot waterfall (it's more of a series of cascades). When the water level is a lower you can step out onto some rocks to get a view of the falls.
Tuscarora Falls
At 47-feet, Tuscarora Falls is one of the highest in Ganoga Glen. Only Ganoga Falls at 94-feet is higher. But Tuscarora Falls has more to offer than just height. It is one of the more picturesque falls in the park, and is my personal favorite. There are a series of drops and a split on the final drop. The rocks at the bottom make it possible to get a nice view. There's not much room to operate on these rocks though, at least when the water level is high.
Erie Falls
The final waterfall in Ganoga Glen is another 47-footer, Erie Falls. This waterfall provides a fitting end to an impressive stretch of falls.
Waters Meet
Shortly after Erie Falls, you will come to Waters Meet where Ganoga Glen and Glen Leigh converge. You'll have to option to cross the bridge and head up Glen Lehigh to continue on the loop trail, or continue straight on the trail. There are 3 waterfalls a short distance below Waters Meet, so I recommend continuing straight on the trail. It adds a short distance to the hike, but not that much. After viewing the three falls you can backtrack to Waters Meet and head up Glen Leigh
There are some nice photo opportunities at Waters Meet. From here you can look upstream and catch a view of Erie Falls or Wyandot Falls. You can also photograph the bridge.
Harrison Wright Falls
Continuing downstream from Waters Meet, Harrison Wright Falls is the first that you will come to. This 27-foot waterfall is quite picturesque and is a favorite of many visitors. When I was in the park there was more mist at Harrison Wright than any of the other falls, making it a challenge to get a good photo. But getting a good view is pretty easy here. Although is not one of the higher falls in the park, it is one main drop, so it feels a little larger.
Sheldon Reynolds Falls
Just beyond Harrison Wright Falls is Sheldon Reynolds Falls. Listed at 36-feet, this is the highest of the 3 falls on this stretch below Waters Meet. I would have liked this one a lot more if it weren't for the large, white foaming pool at the bottom left of the falls.
Murray Reynolds Falls
The last of the 3 waterfalls below Waters Meet is Murray Reynolds Falls. After an impressive string of falls this 16-foot waterfall gets overshadowed, although it has a unique way of flowing around a large rock.
After Murray Reynolds Falls you can turn around and hike upstream back to Waters Meet. Cross the bridge and you will be heading up Glen Lehigh to see the final 8 waterfalls on the trail.
Wyandot Falls
The first waterfall that you come to will be Wyandot Falls. You can actually see it from Waters Meet. At only 15 feet this is one of the shorter falls in the park, but there is something about Wyandot Falls that I like. It's nice and wide, and you can get a good vantage point by stepping down from the trail.
B. Reynolds Falls
Just upstream from Wyandot Falls is B. Reynolds Falls (40 feet high). There is a bridge crossing just before the falls. You can get a nice view from the bridge, or cross the bridge and get a view from the rocks on the other side.
R.B. Ricketts Falls
Next up is the 36-foot R.B. Ricketts Falls, named after Mr. Ricketts himself.
Ozone Falls
Next is the 60-foot Ozone Falls. This is the tallest of the Glen Leigh waterfalls, and second-tallest in the park behind only Ganoga Falls. Not only is Ozone Falls very high, it's also beautiful. You can see it from a distance downstream. There are several different vantage points, depending on how close you want to get to the falls. Ozone Falls is one of my personal favorites in the park, and the highlight of Glen Leigh, in my opinion.
Huron Falls
After admiring Ozone Falls for a while, I thought the final few falls might feel a little underwhelming. But the 41-foot Huron Falls is also quite photogenic. It falls in a series of drops and cascades, but adds up to a nice waterfall.
Shawnee Falls
Shawnee Falls is just upstream from Huron Falls. And like Huron Falls, I found the 30-foot Shawnee Falls to be very nice. In this stretch of the trail there are a lot of stone steps. Be careful here as they can be wet and slippery.
F.L. Ricketts Falls
After Shawnee Falls you'll hike a little ways and come to F.L. Ricketts Falls. This 38-foot waterfall is best viewed from some rocks in front of the waterfall and a little off the trail.
Onondaga Falls
After you pass F.L. Ricketts Falls you'll see a trail off to the left that says "shortcut to Highland Trail". Skip this shortcut, because there is one more waterfall to see on the main trail. Continue on to the 15-foot Onondaga Falls. It doesn't add much distance to the hike as compared to taking the shortcut.
Highland Trail
Continue on past Onondaga Falls and in a short distance you will come to the Highland Trail. Follow signs to take the Highland Trail back to the Lake Rose Trailhead and parking lot where you started. I think this stretch is listed at 1.2 miles. It is more flat than most of the Falls Trail, but there is still some elevation gain.
Halfway through the Highland Trail you will come to Midway Cavasse. Here the trail goes through a large rock formation.
That completes the hike! You're now back to the parking lot and you've seen more than 20 waterfalls.
Recommendations for Photographing Ricketts Glen State Park
Go at Off-Peak Times – This is a very popular park. At times there are many people on the trail and at the falls. It doesn't even take a lot of people, just a few people can be a challenge that you have to work around if you want to avoid people in your shots. Most visitors like to get a picture of themselves in front of the falls, so you could be waiting for a while to get a clean shot.
I would recommend avoiding weekends, and definitely avoid the summer. Spring and fall are the best times to photograph anyway, so there is really not much of a reason to visit in the summer if you can avoid it. A weekday when schools are in session will give you the best chance of having the falls to yourself.
Also, go early. I got to Adams Falls around 6:00 am and started on the Falls Trail by 6:30. I didn't see anyone on the trails till after 8:30. Between 8:30 and 10:30 I saw a number of people (this was a Friday in May), and I'm sure the numbers continued to increase later in the day.
The park opens at sunrise. If you call the park there is a recording stating if the trails are open and listing the hours. If you arrive early you should have a couple of hours before most people will be arriving.
Plan Your Route – You can take the loop down Ganoga Glen or Glen Leigh. I chose Ganoga Glen because Tuscarora Falls was my top priority and I wanted to get this one early in the day when I expected to be alone on the trail. So if there is a particular waterfall that you want to photograph without people, get there early and take the path that gets you to that waterfall first.
Don't Skip the Waterfalls Below Waters Meet – Many visitors take the loop trail but don't continue own downstream of Waters Meet. This stretch doesn't add a lot of distance to the hike, and all 3 waterfalls here are worth seeing. The first one, Harrison Wright Falls, is often considered one of the most beautiful in the park.
Be Careful – I've mentioned it several times already, but it's important to be careful on this trail. if you're in reasonably decent shape, have proper footwear, and you're careful, there is nothing to worry about with this trail. But if you are careless there are plenty of places that could be trouble.
Don't Ignore the Small Details – Waterfalls are the stars of the Falls Trail, but there are plenty of other things to photograph. The small cascades and rocks in the water are a great subject. There are also picturesque bridges along the way.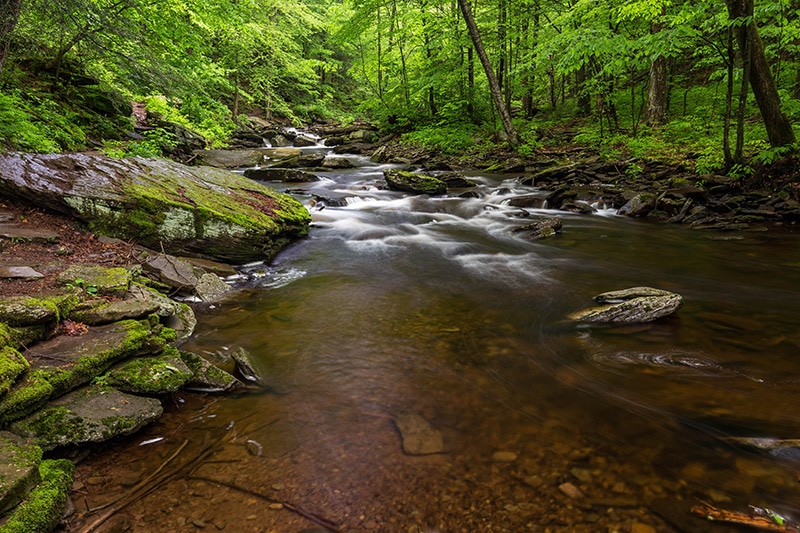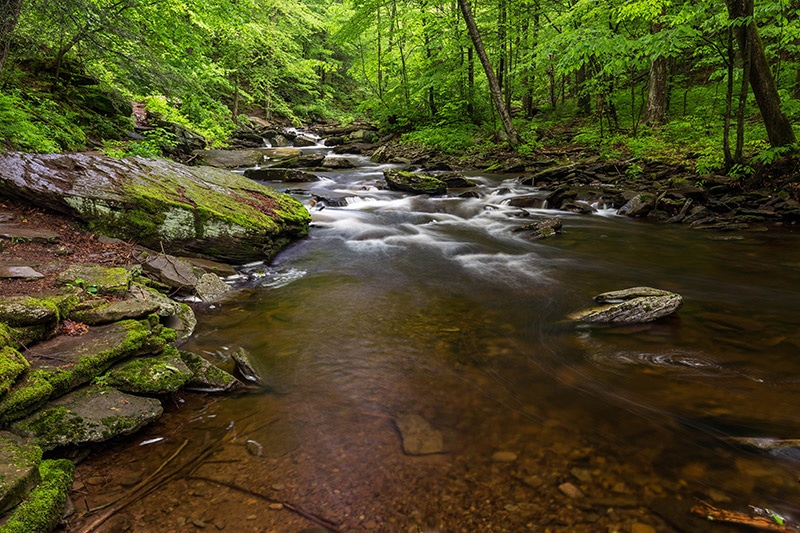 Recommended Gear
If you're heading to Ricketts Glen, hear are the things I recommend having with you.
Tripod – A tripod is essential for getting good waterfall photos. Slow down the shutter speed a little to get a nice blur to the water. For this longer hike you'll also want a lightweight tripod.
Wide Angle Lens – In many places you will be pretty close to the waterfalls that you are photographing. I used a wide angle lens (Canon 16-35mm f/4) for the majority of my photos. See our Reviews of the Best Wide Angle Lenses for Canon DSLRs and Reviews of the Best Wide Angle Lenses for Nikon DSLRs.
Polarizer – A polarizer will reduce the glare coming from water and wet rocks. You'll definitely want a polarizer here.
Neutral Density Filters (optional) – Neutral density filters reduce the amount of light getting to the cameras sensor, allowing you to use slower shutter speeds. This can be helpful for blurring the water of a waterfall. You may or may not need them to get the effect that you want. I only used a neutral density filter for a few shots all day. With the overcast weather, a low ISO and a polarizer, I didn't need to slow down the shutter speed in most cases. On a brighter day I might have gotten more use out of an ND filter.
Lens Wipes – Photographing more than 20 waterfalls, you are bound to get some spray on your lens. You'll need a good cloth or some lens wipes to clean the lens from time-to-time. I use and recommend these lens wipes from Zeiss.