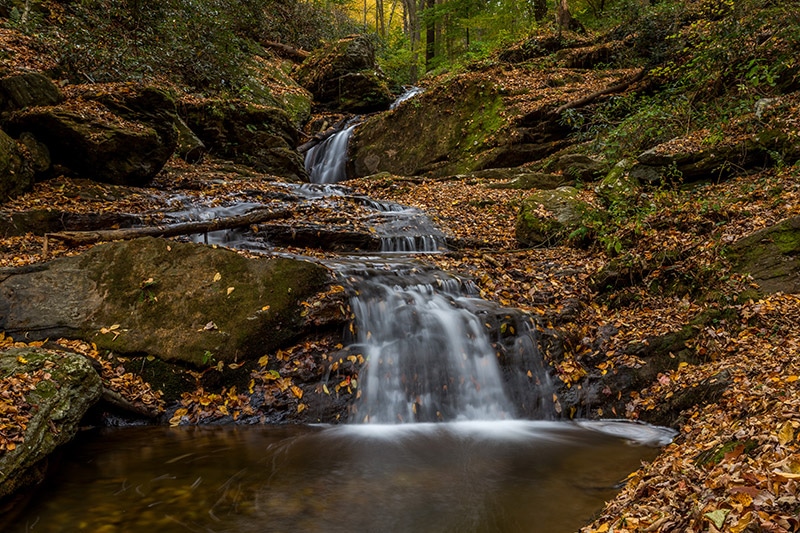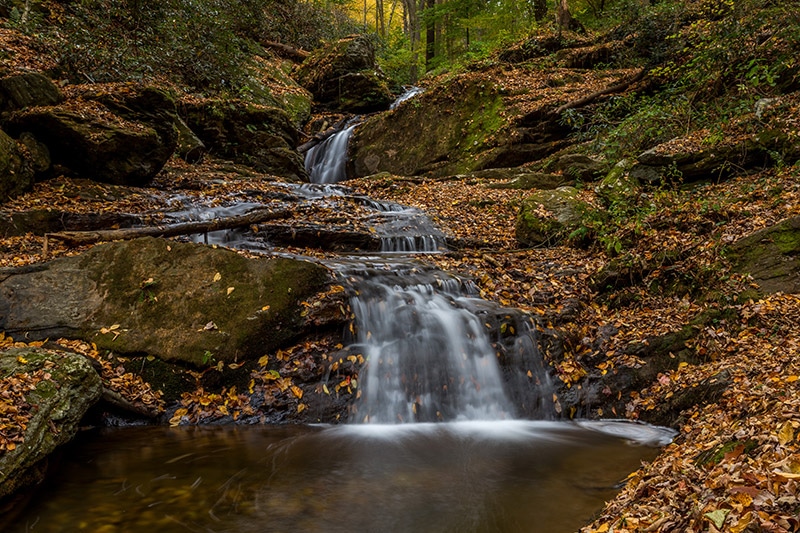 There are at least two waterfalls in Pennsylvania named Mill Creek Falls, but the one covered in this article is located in southern York County, just a short distance from northern Maryland. While it is not as well known as some other waterfalls in Pennsylvania (like the falls at Ricketts Glen State Park, Bushkill Falls, or the Delaware Water Gap), it is extremely picturesque.
South central Pennsylvania isn't loaded with waterfalls like some other parts of the state, so for those of us who live in the area, or if you are visiting the area, Mill Creek Falls is certainly worth visiting. It is also just over an hour from Baltimore and less than two hours from Philadelphia.
→ See more of the best places to photograph in Pennsylvania.
Mill Creek Falls is located on the Mason-Dixon Trail, a popular hiking trail. It is also located very close to the Susquehanna River. Just a few hundred feet downstream from the falls the creek flows into the Susquehanna.
All photos in this post were processed with the Landscape Legend Lightroom Presets. Learn more about how Landscape Legend can help you to save time and process your photos more effectively.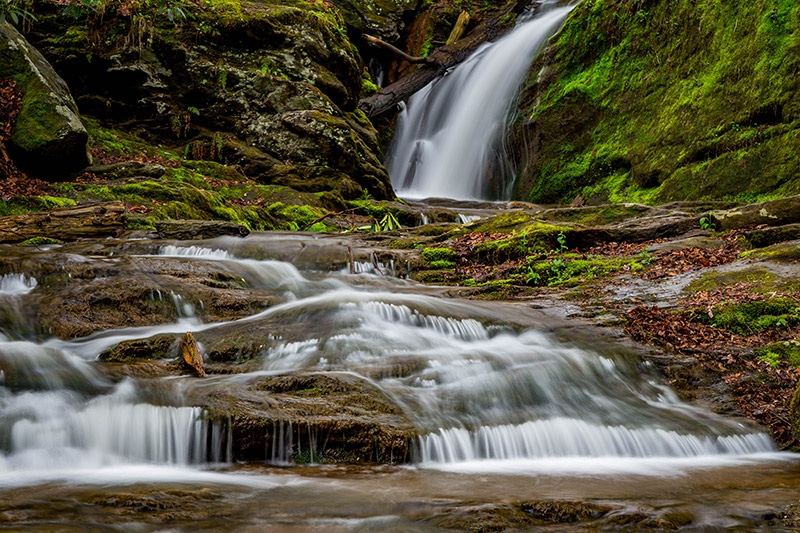 One of the reasons I love Mill Creek Falls is because it is in a very tranquil setting and you will often be alone when you visit. Aside from those who hike the Mason-Dixon Trail, most people in the area don't know the falls exist. It is not hard to reach, but there are no signs so you kind of need to know where you are going before you get there.
The easiest way to find it is to use the GPS coordinates of the trailhead, which are 39.81919, -76.33614.
The trailhead is located on an unpaved road, but you won't need a 4-wheel-drive or high clearance vehicle on this road. As long as it is dry, any vehicle will be just fine on this road. There are a few places within a hundred yards or so in both directions from the trailhead where you can park.
The trailhead will be on the opposite side of the road than the river. It is right next to a small bridge that passes over the creek downstream from the falls. Once you reach the trailhead you will almost immediately hear the rushing water of the falls, and with just a very short walk you will arrive at the falls.
→ Related reading: 10 Tips for Fabulous Waterfall Photography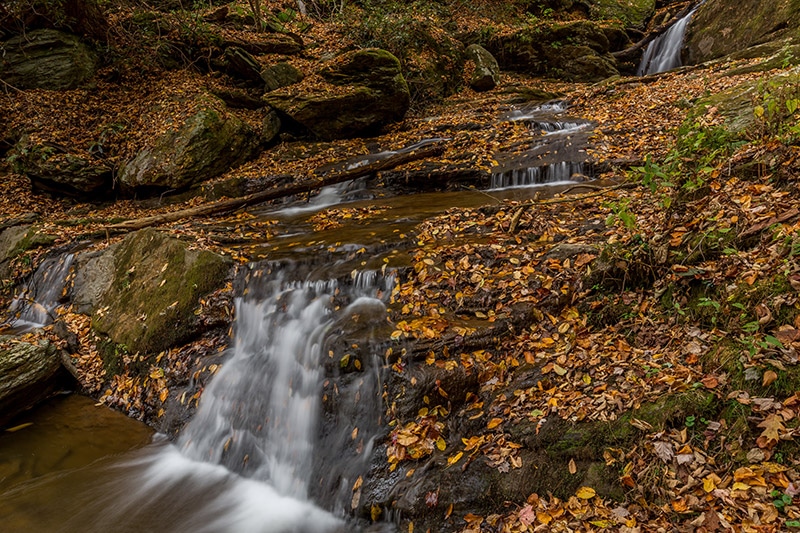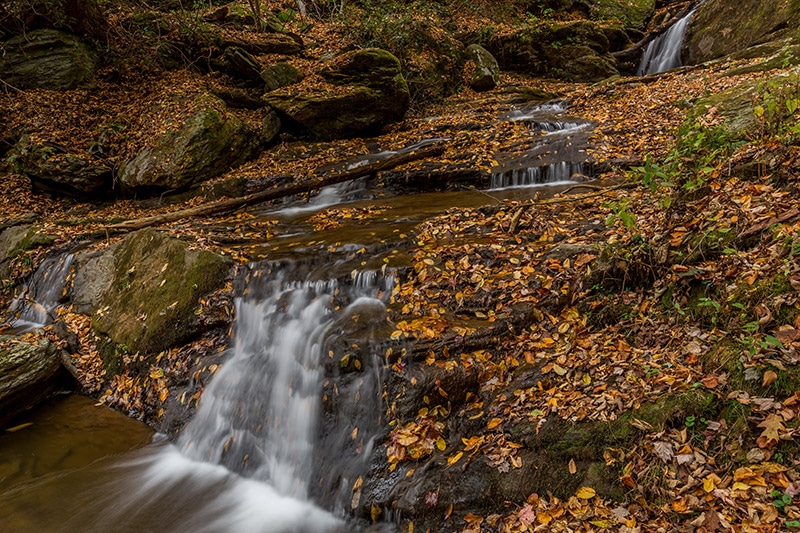 The trail is a good 15-20 feet above the creek. You can get a nice view from the trail, but if you want the best view you can climb down the rocks and get to creek level. Be sure to dress appropriately. Hiking boots or hiking shoes are recommended. This is a very rocky area, and the rocks near the creek and the falls will be wet and slippery. Many of the rocks are also loose. There are a number of places where you can climb down and back up, but wherever you choose you will need to be very careful.
Mill Creek Falls includes several different drops that total about 20-25 feet. Upstream there are countless cascades that are also ideal for photographing. I find these cascades to be equally as interesting as the falls. As you hike on the trail for a short distance upstream of Mill Creek Falls you will be able to find other spots where you can climb down the rocks to get to the creek. Upstream of the falls not as much of a climb is needed.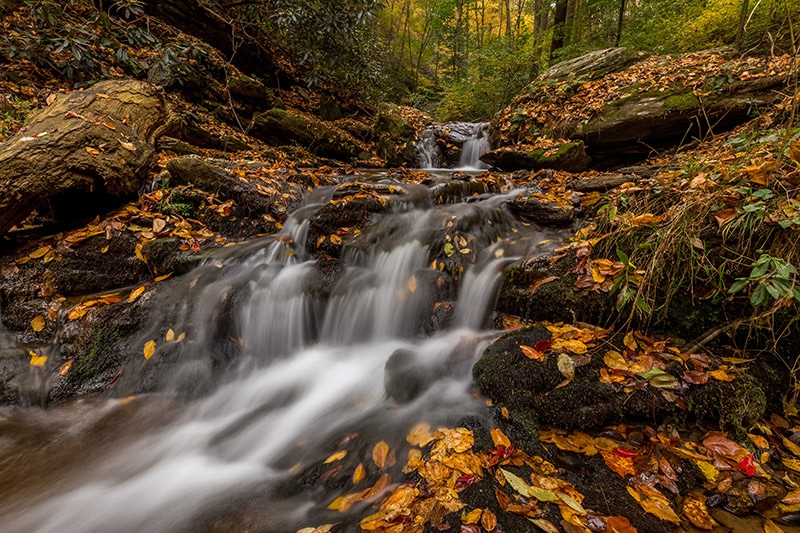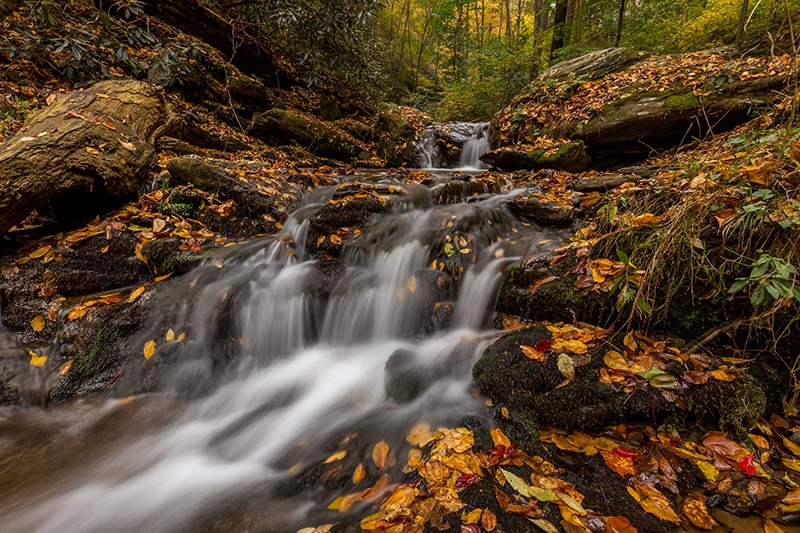 As you continue upstream for a few hundred yards you will reach a fork in the creek. The trail goes off to the right, but if you head to the left there is another interesting waterfall. This is called Upper Mill Creek Falls (pictured below). It is more difficult to reach. You'll need to climb over some rocks and downed trees, and depending on the water level you may also need to wade through a small amount of water if you want to get a good picture of these falls.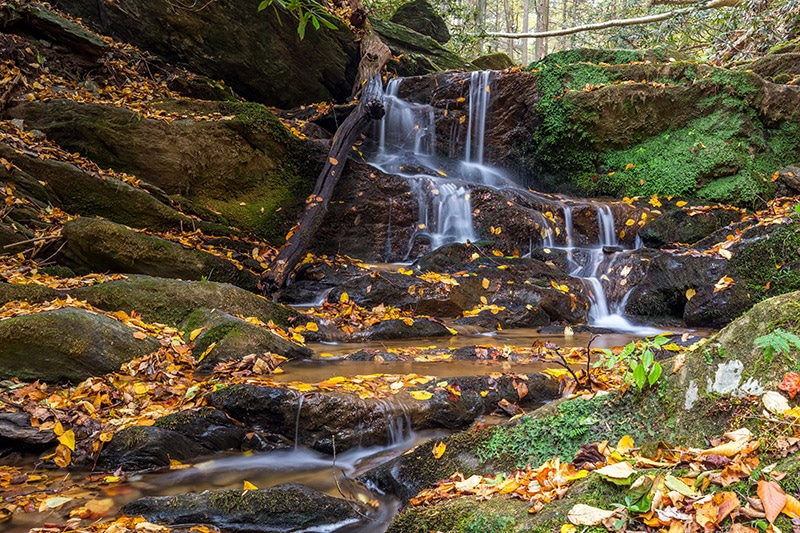 When to Visit
I've been to Mill Creek Falls a few different times and I have found fall to be by far my favorite. The creek and waterfall are magnificent when surrounded by the autumn leaves. This year I went a little past peak season, but with the leaves already fallen and on the rocks I think it was ideal. I would recommend any time in October, but especially mid-to-late October if possible. Spring is also a good time because the water level tends to be higher.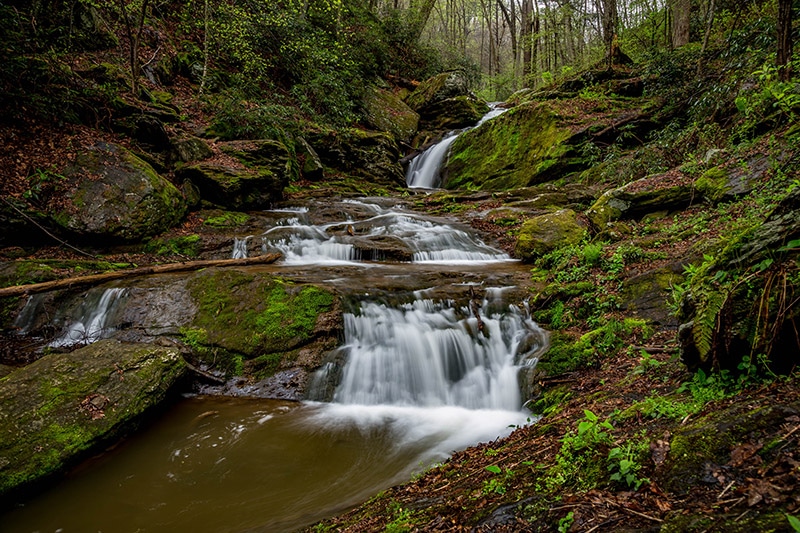 You'll get the best results on a very cloudy, overcast day when there will be no sun reflecting off the water or rocks.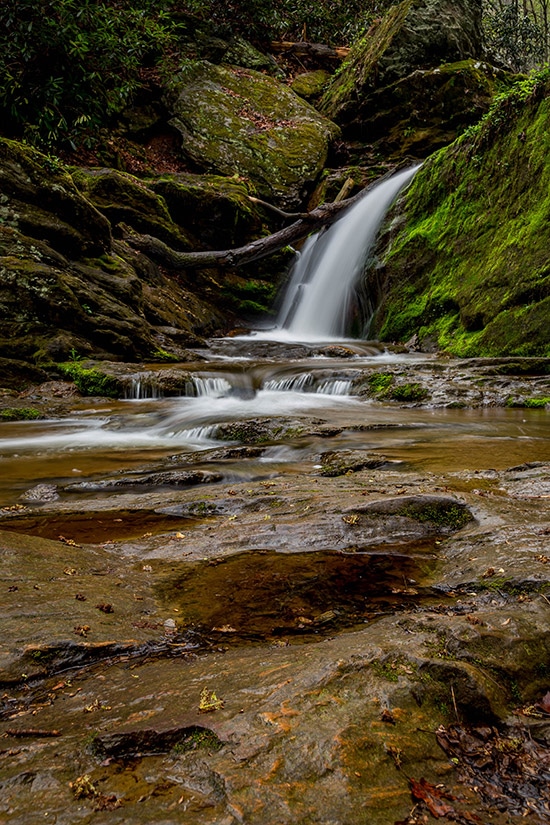 It's also best if you're able to photograph when the wind is calm, especially if you are going to be photographing from the trail and not climbing down to creek level. If you're photographing the falls from the trail you'll have some trees and plants in the foreground. If you slow down your shutter speed to get a blurred look with the waterfall and blowing trees or plants will be blurry in your photos.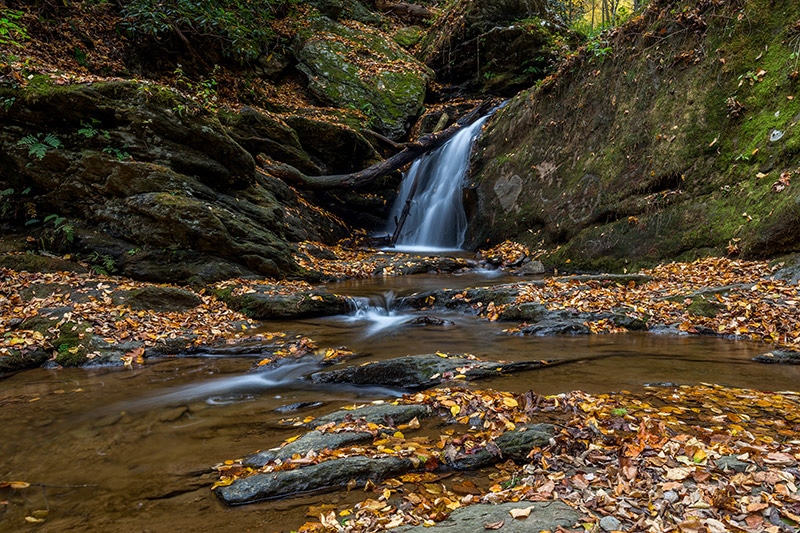 Recommended Gear
Wide Angle Lens – You will be able to get pretty close to the falls and cascades, so you won't need a telephoto lens. I used my Canon 16-35 f/4 exclusively on my most recent visit to Mill Creek Falls.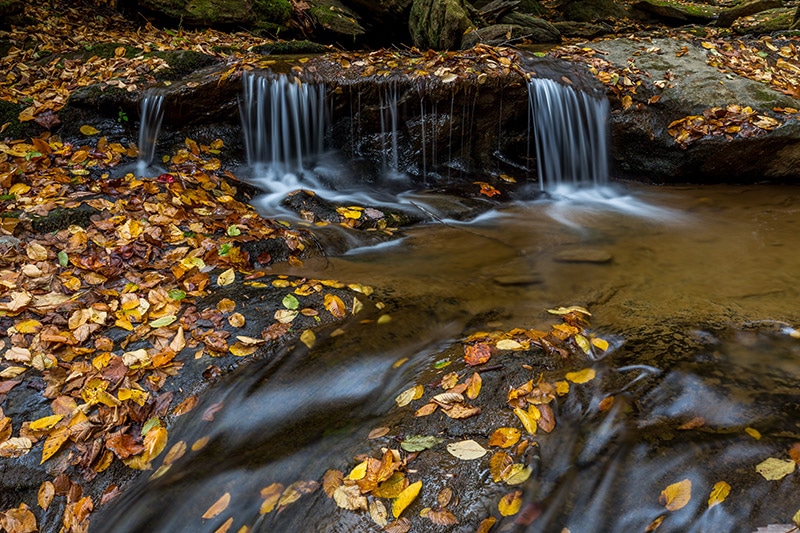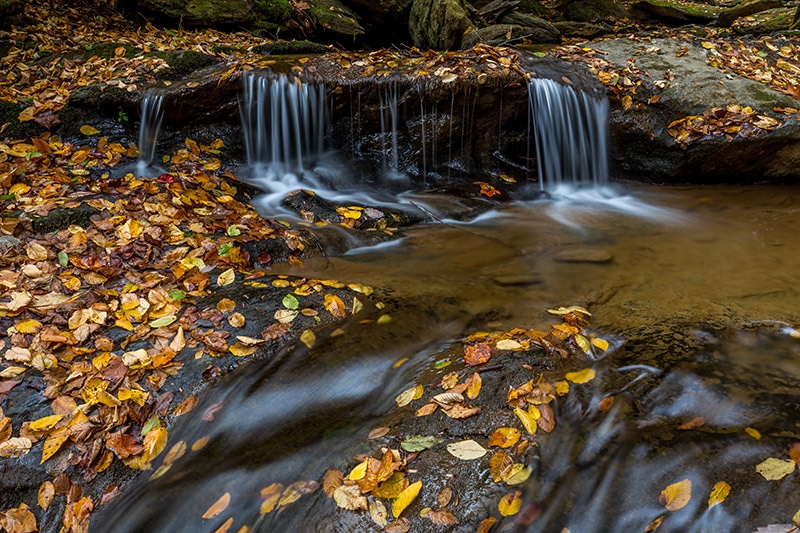 Tripod – You will definitely need a tripod to get the best photos of the falls, especially on an overcast day when there isn't a lot of sunlight.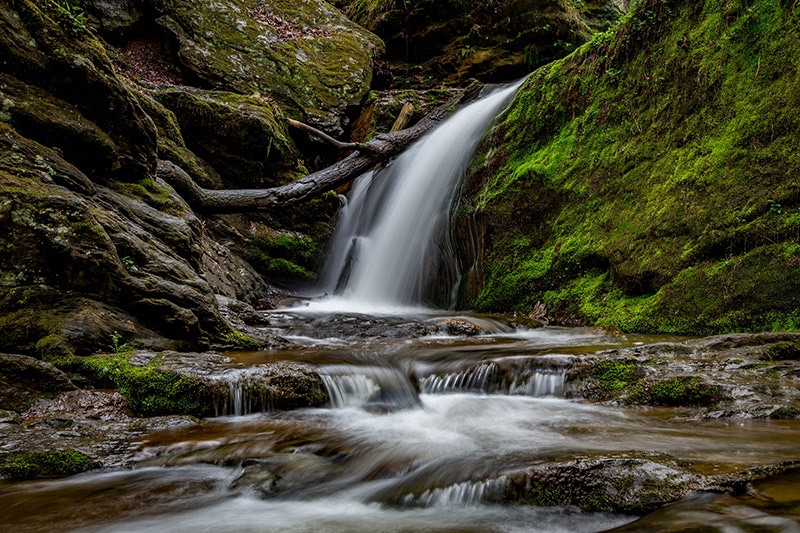 Polarizer – A polarizer is recommended to help with cutting down on glare or reflection on the water and rocks.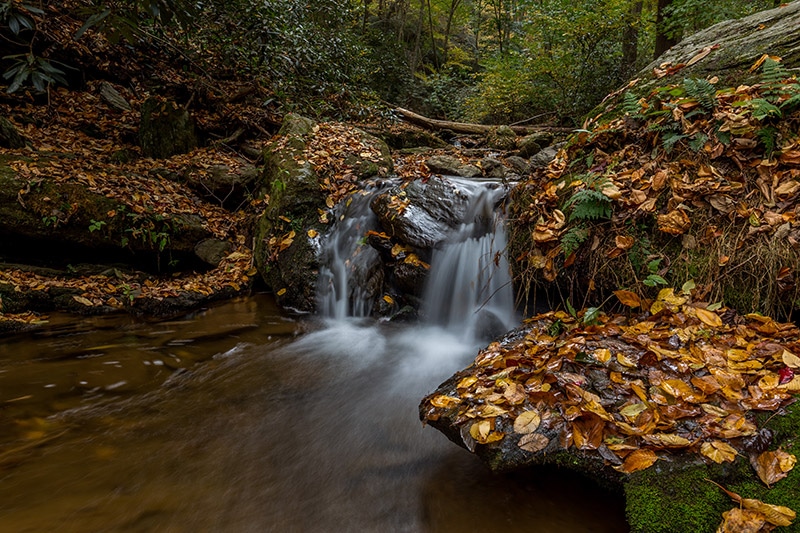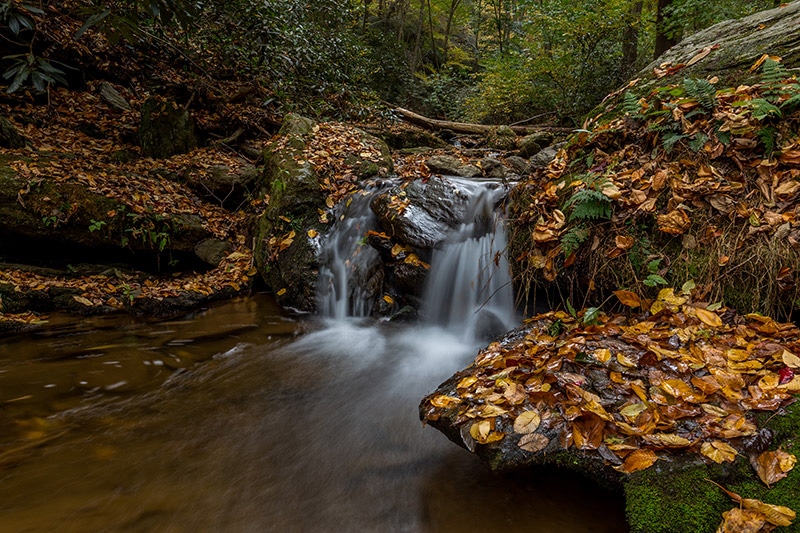 Hiking Boots or Hiking Shoes – If you plan to go off the trail I highly recommend that you wear good hiking boots or shoes. Even with good shoes you will still need to be careful.
Landscape Legend Lightroom Presets – For processing your photos we recommend our own Landscape Legend Lightroom Presets, which is the most comprehensive collection of Lightroom presets created specifically for landscape and nature photos.