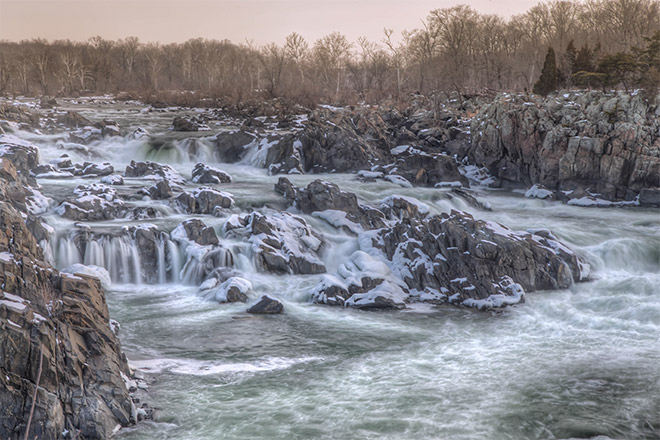 At 800+ acres, Great Falls Park in McLean, Virginia is a not a huge park, but it is home to some beautiful scenery. If you're in the Washington, DC area and looking for a great location for landscape photography you should visit Great Falls. The park is managed by the National Park Service but not technically classified as a national park.
Living just about 2 hours from the park, I have been there a few times, and in different seasons. I always enjoy the park and the easy access to great views.
→ See more of the Best Places to Photograph in Virginia and Washington, DC
Intro to Great Falls National Park
McLean, Virginia is located just outside of Washington, DC. The park is within a 30 minute drive of downtown DC (depending on traffic). Obviously, in a major metropolitan area there are not as many great locations for landscape photography as there would be in more wide open areas of the country, so Great Falls is kind of unique just because of its location. The main feature of the park is the view of the falls and rapids on the Potomac River. There is a short trail that leads to these amazing views, and the park also includes 15 miles of hiking trails and 5 miles of biking trails.
The park is open daily from 7:00 AM to sunset and there is a $10 (per vehicle) entrance fee. The fee is $5 if you are entering on foot or bike. There is no camping allowed in the park, so you will need to come and go on the same day. (The fees can increase from time-to-time, so check the park's website for fee info before your visit.)
→ Related reading: 10 Tips for Fabulous Waterfall Photography
Landscape Legend Lightroom Presets
: Save time and get amazing results with our presets! Landscape Legend is the most comprehensive collection of Lightroom presets specifically created for landscape and nature photos.
Learn more
.
The Three Overlooks
When you enter the park there is a visitor's center and a parking lot. Behind the visitor's center you can access a trail that will lead you to 3 different scenic overlooks of the falls. If you are facing the front of the visitor's center you'll take the trail heading to your right. It's a very short walk to the first overlook. It's probably no more than a few hundred yards in total to get to all 3 overlooks.
When I was there in winter the first overlook was closed due to icy conditions. This overlook is on a rocky area and I can see why it would be closed off when it is icy. This overlook will give you the closest view of the falls. When I was there most recently (May of 2017) the vegetation was a bit in the way of the view, as you can see in the photo below.
Having the leaves in view isn't so bad, but if there is any wind it will limit what you can do with slow shutter speeds if you don't want to have blurry leaves in the foreground. Maybe these branches will be trimmed down, because it hasn't been an issue for me on past visits.
The second and third overlooks are just a little farther downstream, and a little farther from the falls.
On my most recent visit the obstruction of view from foliage was really bad at the 2nd overlook, to the point that I didn't attempt a photo at all.
I typically visit first thing in the morning on a weekday, so I have plenty of room to get the view I want and to set up a tripod. At more popular times I would imagine the overlooks can get quite crowded and finding space to set up a tripod may not be as easy. The overlooks are a decent size, but to get the best view for a photo there are really only a few specific places that you will want to be. If the park is crowded it may be hard to claim that space.
The third overlook is a longer distance from the falls, but it does have a nice vantage point.
On my most recent trip almost all of my photos came from this spot because it offered the only unobstructed view.
From the 3rd overlook you can use a wide angle lens to photograph the full width of the river. Or use a telephoto lens to capture more details.
Visiting Great Falls Park
There are a few things to be aware of when planning a trip to Great Falls. First, the park is small and so is the parking lot. I've never seen the park busy because I go at off-peak time. From what I have read the parking lot can fill up very quickly in the summer and on weekends. The park's website mentions that there is usually a line to enter the park on nice weekends. They recommend arriving early or late in the day to avoid the biggest crowds. That is good news for photographers who prefer those hours anyway.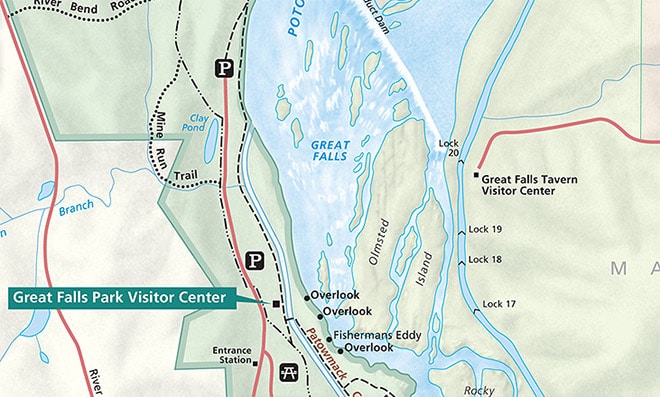 The Maryland side of the Potomac River is home to C&O Canal National Historic Park, which also includes a view from Olmsted Island. Although the Maryland side does have a good view, the better views are from Virginia and Great Falls Park. While you are in McLean you may also want to visit Scott's Run Nature Preserve, which is only a few miles away.