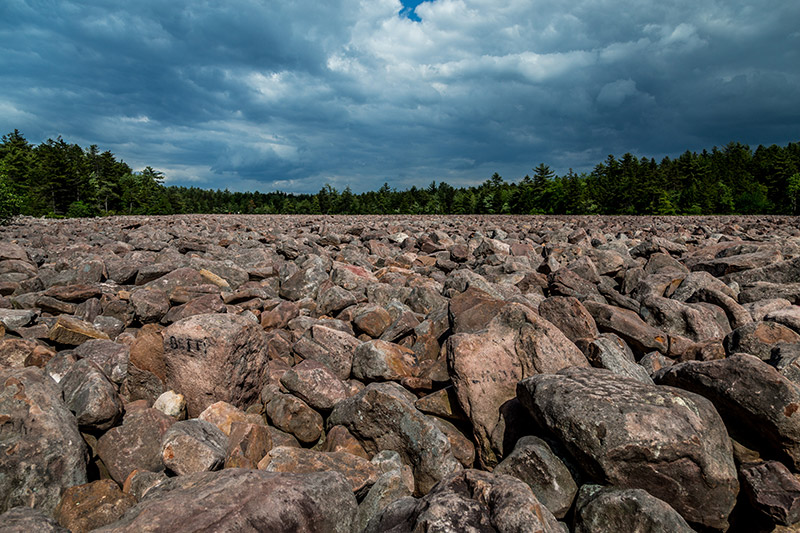 Hickory Run State Park in eastern Pennsylvania is home to an 18-acre boulder field that is quite unusual and amazing. The boulder field was designated as a National Natural Landmark by the National Park Service and is one of the main attractions in the park. See this park brochure for more information on the boulder field.
If you are in the area of the Pocono Mountains, a popular vacation area, Hickory Run State Park is just a short drive away. Other destinations for photographers in the area include the Delaware Water Gap and Bushkill Falls.
→ See more of the best places to photograph in Pennsylvania.
You can reach the boulder field by hiking a trail from within the park, or, the more popular way to reach the boulder field is by car, From State Route 534 there is a rough, bumpy road that leads a few miles to a parking lot next to the boulder field. While the road is rough, you won't need a four-wheel-drive. You could take any car on the road (in good weather conditions), you'll just need to drive slowly.
The parking lot is just steps away from the boulder field. From there you can walk over the boulders to explore the area. Be careful on the boulders as some of them will move. Wear shoes or hiking boots with good grip, and ankle support would be good too.
The boulder field can be a popular area, so at times when there are a lot of people it can be a little challenging to get the photos that you want without including people. If you walk around a little you can get the right views. Most visitors stay relatively close to the parking lot.