The lofty mountains of Switzerland are a rewarding destination for nature photographers throughout the whole year. Geared with different lenses, photo filters, tripod and other useful photo equipment, you can take photos in every valley, gulch and gorge or on every mountaintop, pasture and glacier.
You will find gorgeous scenery with lakes reflecting surrounding mountains in their clear waters on sunny days, whooshing creeks and waterfalls, small villages with stone-covered cottages, winding roads and trails, and "railroaders" will discover great locations for taking photos of trains and railroad bridges.
Sometimes wafts of mist ascend the mountainsides and clouds drag over crests and lift up after rain, a rainbow appears in the dark sky after a thunderstorm and millions of stars sparkle in a clear and chilly night.
There are snow-covered summits in winter and plenty of beautiful flowers and seas of blossoms in spring and summer. Curious trees or weird dead wood appear in foggy mornings in fall.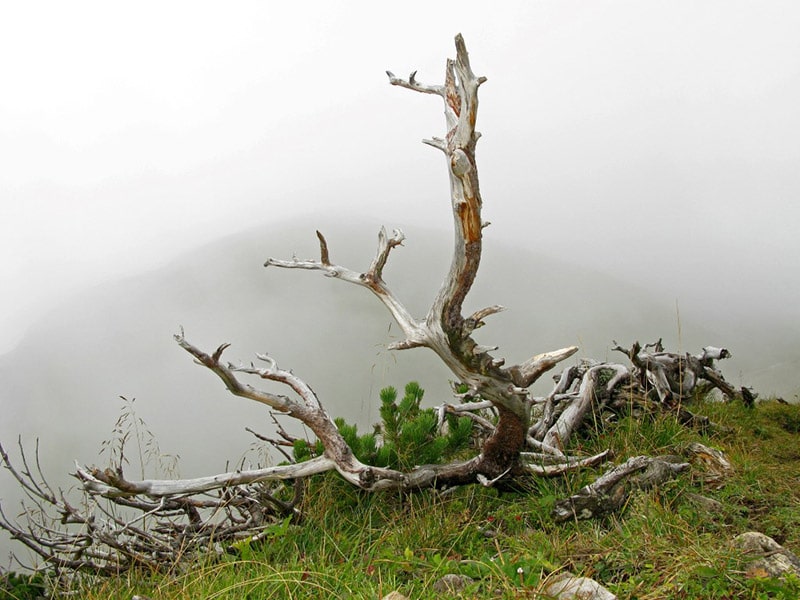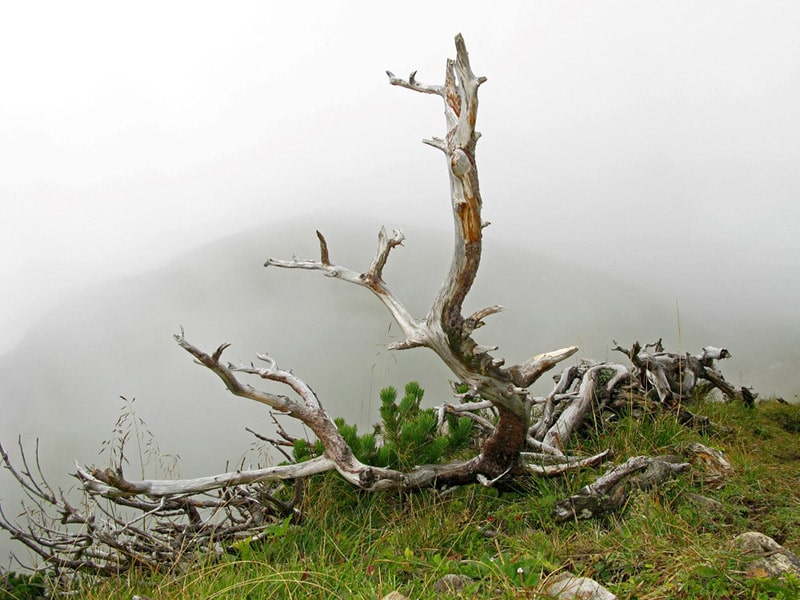 Butterflies and other insects refresh themselves on dewdrops and bloom, grimly looking cows with huge bells around their neck rest sluggishly on pastures after meal, and with some good luck and wind blowing from ahead, you might get a marmot, having breakfast next to its den, in front of your camera.
Here are some nice places to visit for taking photos.
Glaciers
Trift Glacier near the town of Gadmen in the east of canton Berne lies on the north side of mount Winterberg (10,826 feet). It craggily slumps with a decline of 60 percent over a rock face 1,300 feet tall and ends in a glacier lake at an altitude of 5,500 feet. The creek under Trift Glacier Bridge flows in the river Aare near Innertkirchen. The rope bridge is 185 yards long and spans the valley in 330 feet. It is one of the longest and highest suspension footbridges in the Alps and was built according to Nepalese design in 2009. It consists of 5,470 yards of steel rope, 340 timber planks and 6,500 screws.
Saas-Fee, called the "Pearl of Alps", lies on a plateau surrounded by a mountain range with eleven summits over 13,120 feet high. In 1850, Fee Glacier came down to the boundary of village in 6,160 feet. In recent decades, however, glacier retreated to an altitude of about 8,500 feet. Today, its rim can be reached by cable car and a narrow hiking trail winding up the slope.
Rhone Glacier is the origin of river Rhone in the northeast of canton Wallis. It is about five miles long and covers a surface of six square miles. The glacier is the most easily accessible one, as it lies next to the Furka Pass Road, a popular road through the Swiss Alps. From the parking site of Hotel Belvedere leads a short footpath to an ice tunnel of about hundred yards that can be visited from late June to early October.
Juf
Juf near Avers in canton Graubünden is the highest located Swiss village, inhabited all-year-round. It lies at an altitude of 6,975 feet above timberline and consists of thirty cottages, a guesthouse, several vacation homes and a mailroom. It is a good starting point for long-distance hiking or skiing to Pass Septimer, Splügen, Julier and San Bernardino.
Railroad Lines
Bergün/Bravuogn is a picturesque place with painted houses of the 16th to 18th century in the Albula valley of canton Graubünden. It lies at an altitude of 4,485 feet at the pass road and railroad line to Engadin and Davos. The track was built with several spectacular viaducts, spiral overpasses and helical tunnels, leading to Preda at 5,870 feet at the north entrance of the Albula-Tunnel.
When the Albula Pass is closed from early winter to late spring, the road serves as the longest natural coasting slide of Europe and folks can get by train to Preda with their sleds. From Preda to Bergün, a four-mile-long informative natural trail tells everything about the Albula railroad line and its tunnel, built from 1898 to 1903 by Italian workers. The valley between the stations of Bergün and Preda is only four miles long. However, to conquer the difference of 1,368 feet at a permitted rise of 35 per mill, the rail track had to be extended by double-loops to seven and a half miles.
Viaduct of Punt Ota is about 100 yards long and 95 feet tall
Furka steam line is a cog railroad from Oberwald (4,480 feet) in canton Wallis to Realp (5,040 feet) in canton Uri, run by volunteers and an association of about 7,500 supporters from Switzerland, Germany, Belgium and the Netherlands today. Built from 1911 to 1914, it is eleven miles long with the steepest ascent of 117 per mill.
After a construction period of 16 years, the first train of the Jungfrau railroad line rode up to Jungfrau saddle at an altitude of 11,368 feet, the highest located train station of the world, on August 1, 1912. Designed by a textile manufacturer from Zurich, who spent his vacation in the mountains and watched the trains running from Grindelwald up to the station of Kleine Scheidegg at 6,760 feet.
Waters
The name of Lauterbrunnen in Bernese Oberland, already mentioned as Claro Fonte (in Italian language) in the 13th century, derives from the clear springs and waters in the valley ("lauter" means pure or unsophisticated and "Brunnen" means well, spring or fountain). It is also called the "Valley of the seventy-two Waterfalls".
The upper part of valley is a nature reserve and part of the UNESCO world natural heritage of Mount Jungfrau, Aletsch and Bietschhorn. Due to the many almost vertical rocks, the valley is a paradise to base-jumpers and climbers. The Mürrenbach-Fall (1,368 feet) is considered the highest waterfall in Switzerland and the popular gorge of creek Trümmelbach can be visited by a tunnel lift. Up to 5,280 gallons water per second rush in ten falls down the gorge, which is fed by the melting ice of the Eiger, Mönch and Jungfrau Glaciers that cover almost ten square miles of mountain range.
The seven springs of river Simmen, fed by permanently flowing underground waters from Räzli Glacier, plunge down from a crevice above Lenk in Bernese Oberland and belong to the most well-known karst springs of the Swiss Alps. The community of Lenk, first mentioned in 1370, lies 35 miles south of Bern and its origin goes back into Neolithic Age when humans dwelled in animal caves at an altitude of 8,700 feet – possibly the highest situated Alpine resting place in primeval times.
Lavertezzo, Roman Bridge
Lavertezzo in canton Tessin, the Italian region of Switzerland, is a great place to start hiking tours into the valley of Pincascia, Carecchio, d'Agro and d'Orgnana. The famous bridge Ponte dei Salti (bridge of jumps) or Roman Bridge, built in the 17th century, attracts many photographers, bridge jumpers and other tourists all year round. The footpath over the bridge, following the two bows of 46 feet span width each, is just broad enough to give space for two persons passing each other. The parapet walls are only knee-high so that mules, loaded with sack and bag, had enough space to cross the river.
All Photos by Jörg M. Unger