Researching and scouting locations is critical to success as a landscape photographer. You don't have to go to iconic destinations to get great photos, but you do need to know the ins and outs of the locations that you are shooting. And finding new places to visit and photograph can help to keep things interesting.
There are a number of websites and apps that can help with research, and in this article we'll look at several of them. In addition to the sites and apps featured here you can also turn to a Google search or to any number of photography forums. If you're researching a location chances are there have been many people before you who have been interested in the same location, and some of that may be documented in forums and on blogs.
Here at Loaded Landscapes one of our primary goals is to help you find great places to photograph. Whether you are traveling to a new location, or looking for something interesting closer to home, we want to help.
Last year we compiled a list of the best places to photograph in each state in the U.S. These pages have photos and descriptions from each location, as well as a state map to show where these spots are in relation to each other. Please visit the index page, and from there you can find the page for each state. We're planning to update these pages with even more locations.
This year we also added guides for each Canadian province and territory. We're also in the process of releasing similar guides for each country in the United Kingdom. In the future we plan to compile guides for other locations as well.
We also have detailed guides to photographing specific locations, like the Grand Canyon and Acadia National Park. See our Destinations page to find more.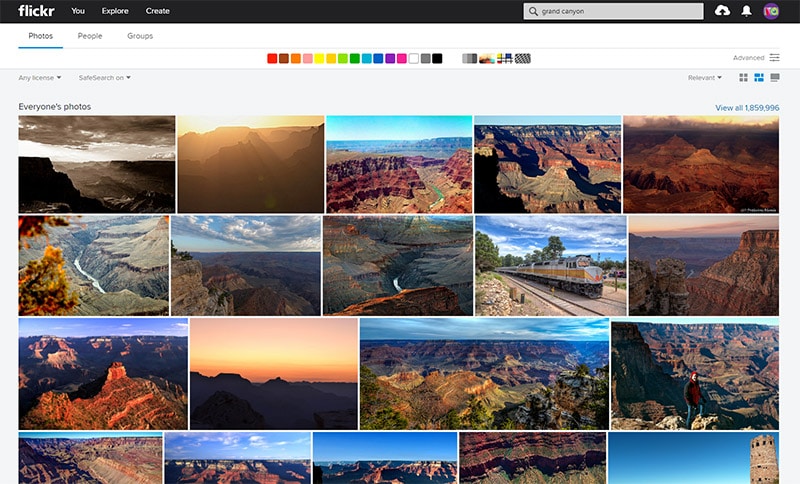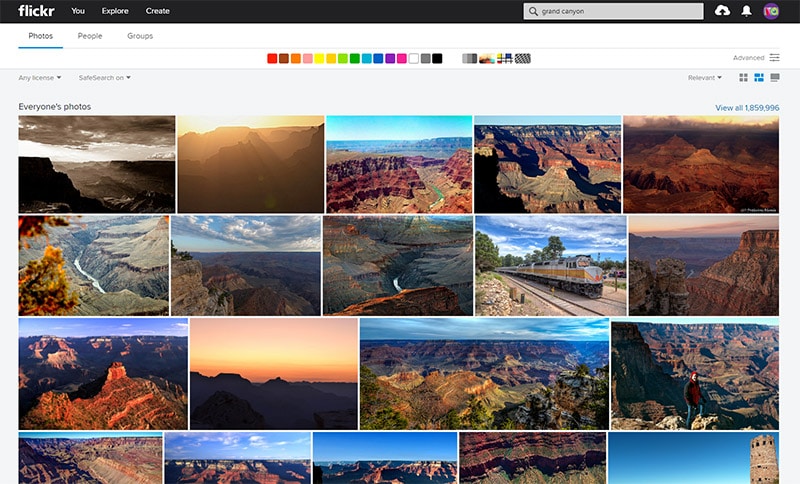 Flickr is obviously a popular photo hosting and sharing site, and with the millions of photos at Flickr it is a great resource for research. Before I go somewhere new I always search the location in Flickr to see what comes up. Many people will post details about the exact location of a shot, so this is a great way to see what subjects interest you, and then you can find out exactly where they are located.
Some photos will also have GPS data, which makes it even easier for you. If a photo is geotagged you will see the location on a map. Click the circle on the map for more detail.
A Flickr search will also help you to see the perspectives and specific shots from a huge user base, so you'll get plenty of ideas and inspiration that you can use in your own work. You'll also be able to see the location in different weather, times of day, and seasons. All very useful for scouting and planning your own trips.
Like Flickr, 500px is a great resource for browsing inspiration from other photographers. The quantity of photos is smaller at 500px, but the quality is generally higher since it is a site for serious photographers. Although there are not as many photos at 500px as there are at Flickr, there are still plenty of photos for you to get some great inspiration.
500px also has a map that can be really useful for scouting. Choose a location and browse photos on 500px that have been geotagged. Click on a photo to see its GPS coordinates. You can find the map here.
ShotHotspot also allows you to search a location and then browse photos by their location on a map. You can also browse lists of Hotspots and plan your own photo trips. Users can also add hotspots to be found by other users.
I'm not sure if ShotHotspot is still being maintained, the website is quite outdated. Still, the site can be useful for scouting. As a word of warning, but sure to check out the findings on your own. I've found several instances where photos are being shown out of places (for example, looking for locations in Massachusetts could show some locations in Rhode Island). In some cases the data is pulled in automatically, so that may be the cause of some inaccuracies.
Scoutt is a database of user-submitted photos that have been geotagged. You can create an account, sign in, and browse photos on a map. You can use Scoutt for viewing photos from other people, or to help with planning and scouting your own trips. You can add photos and set them as private, so only you see them. For example, if you are scouting during the day and looking for a good sunset location, you can take a photo and save it so only you see it. You can also use folders to organize your photos.
The downside of user-generated content for this type of app is that you may not find a lot of photos for the area you are researching.
Really Good Photo Spots is one of the newer apps for scouting and researching locations. Currently it is only available for iPhone and iPad users. There is a free version and a paid upgrade (currently $9.99 per year). The paid version allows you to save spots for offline use, as well as some additional search and filtering options.
Google Earth is a great tool for scouting locations, and even finding the best perspectives and exact spots that you want to photograph. It's amazing how much data is available on Google Earth and how you can use it to virtually explore locations all around the world. For a more detailed guide of exactly how to use it, please see How to Find the Perfect Photography Location Using Google Earth.
I know the title of this article says "7 Sites and Apps", but I updated it since it was originally published, so now we've got 8 sites and apps listed here. This last one is one that you are probably already familiar with, but if not, be sure to check it out. The Photographer's Ephemeris will help you to plan based on the light. You can view a location on a map and see the angle (and time) of the sunrise, sunset, moonrise, and moonset. It is available for iOS, Android, and as a desktop app. The desktop version is free, but there is a fee for the iOS and Android apps.
Any Other Suggestions?
Are there any other apps or sites that you rely on for researching locations?