If you want to give your images a film look, then we have just the product for you! Introducing the Film Looks for Travel & Landscape Photography! This preset pack has 32 film presets featuring Agfa, Fuji, Ilford, and Kodak. There are also over 40 adjustment presets available in this pack.
Aside from sparking your creativity and taking your images to the next level, this preset pack will streamline your workflow and produce beautiful results. This collection digitally emulates popular film looks such as Kodak, Fuji, Agfa, and Ilford film. Create a variety of unique film looks that are perfect for all types of photography. With this, you can easily produce stunning film-like images with a few simple clicks!
Get the Film Looks for Travel & Landscape Photography now!
In this article, we're going to discuss some of the film stocks that are in the Film Looks for Travel & Landscape Photography. We're briefly discussing the features of each and in what situations they're appropriate for. We'll take some of the guesswork out of choosing a film, so you can spend less time online and more time outside. Let's start!
Agfa Vista 100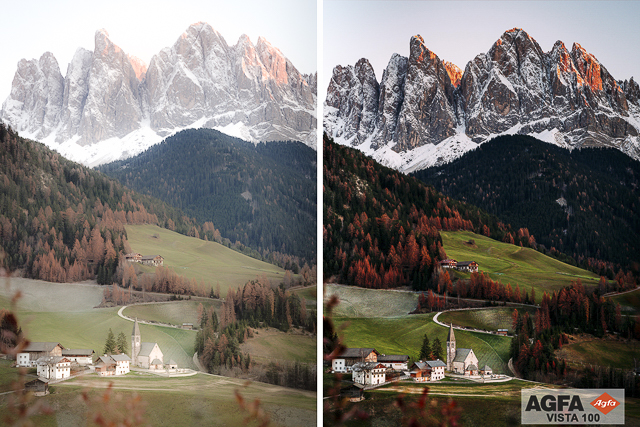 Agfa Vista 100 is an enormously flexible film. It is suitable for all light conditions and captures fast movements safely on film. Even when conditions are not ideal – you always get the best possible results. This is ideal for sport and leisure activities, sunshine and clouds, with and without flash, and for freezing movement.
Agfa Vista 800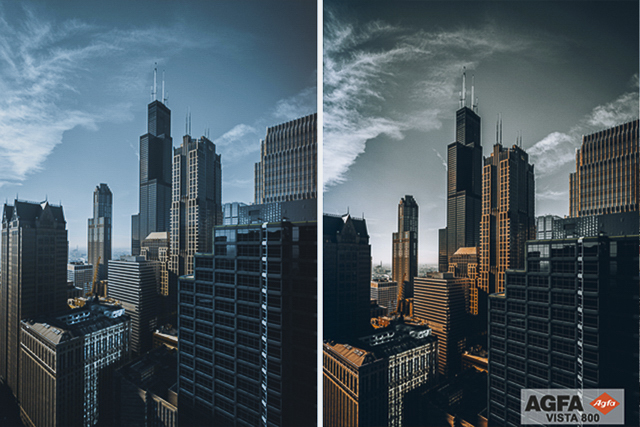 The innovative Agfa Vista 800 shows life from its most attractive side: roses so finely structured that you would like to pluck them right out of the picture and violets that are really blue without the infamous red tinge. But that is not all! Thanks to the improved color shading, the pictures seem more vivid, realistic, and even more lively.
Fujifilm 160C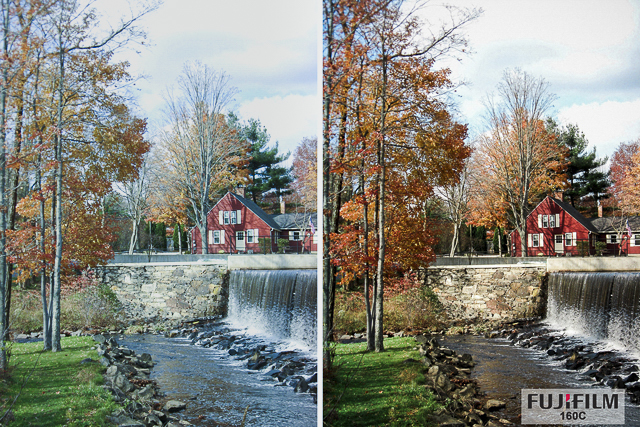 This is a professional-quality, medium-speed, daylight-type, extremely fine grain, higher contrast color negative film that is suited to a wide range of photographic applications, including portrait, commercial work, fashion, architectural and interior photography.
Fujifilm Pro 400h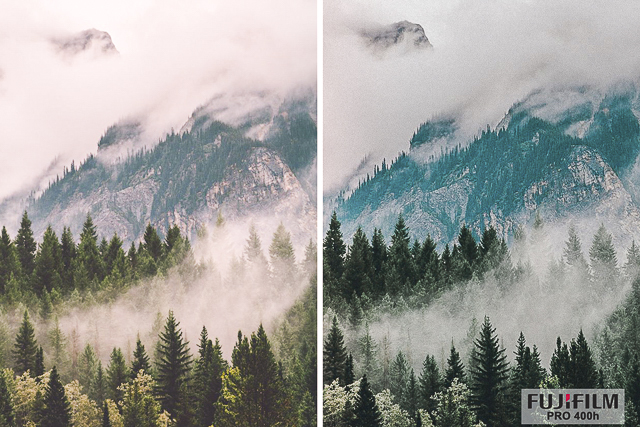 This is a professional-quality, high-speed, daylight-type, fine grain, color-negative film, incorporating Fuji's proprietary 4th color layer. This is most commonly used for wedding, portrait, and fashion photography where an accurate rendition of the subject is essential, but this will work just as well on travel and landscape photography.

Fujifilm C200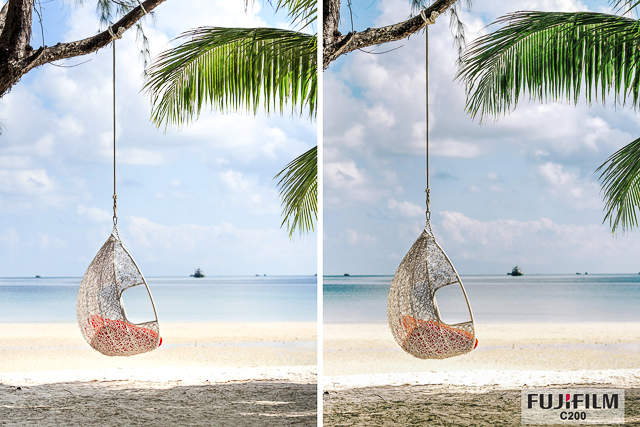 This is designed for flexibility and ease of use and works equally well outdoors in daylight or indoors with flash.
Fujifilm Acros 100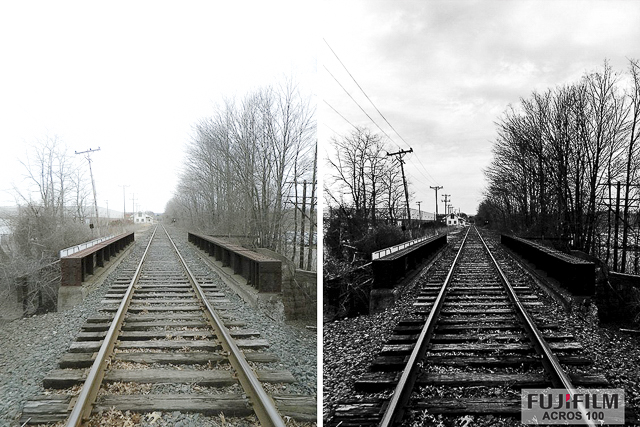 Fujifilm Acros 100 is the company's last black and white film emulsion, and for many photographers, it was an absolute favorite. Acros 100 is a very fine grain film considering how it's also a fairly slow film.
Fujifilm Neopan 1600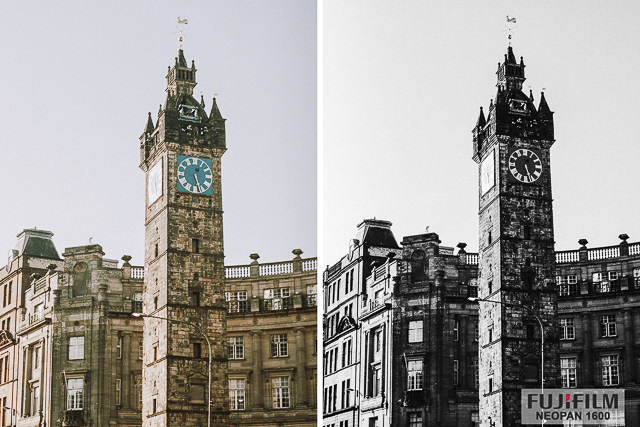 This is a high-speed, ISO 1600 black-and-white film that is designed for rapid auto-processing, processing time is equal to that of Neopan 400, allowing the two films to be processed simultaneously. This is adaptable to a wide range of speeds with excellent push/pull characteristics.
Fujifilm Superia 800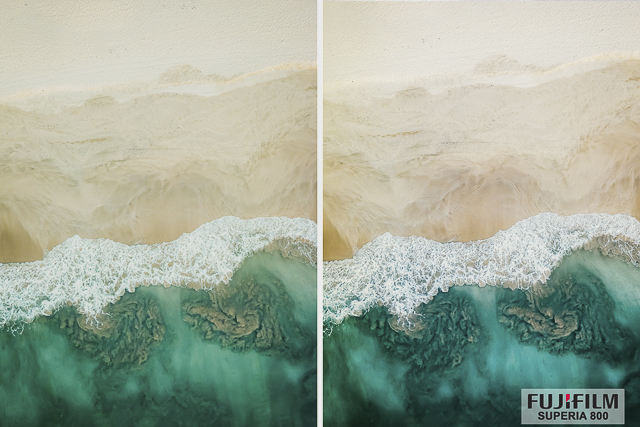 Fujicolor Superia 800 is a high-speed daylight-balanced color negative film offering a vivid tonal palette with accurate color reproduction in a variety of lighting conditions. It features a nominal sensitivity of ISO 800/30° along with a wide exposure latitude for use in an array of conditions, even under fluorescent lighting. The fine grain structure and high degree sharpness are well-suited to scanning and enlarging for printing purposes.
Ilford HP5 Plus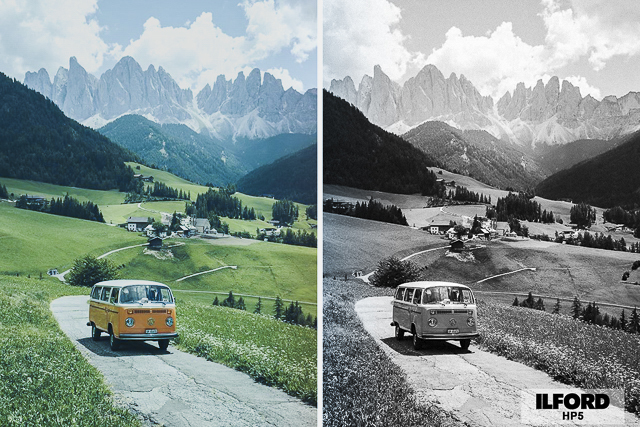 Ilford HP5 Plus is a high speed, fine grain, medium contrast black & white film making it an excellent choice for journalism, documentary, travel, sports, action, and indoor available light photography.
Ilford Delta 3200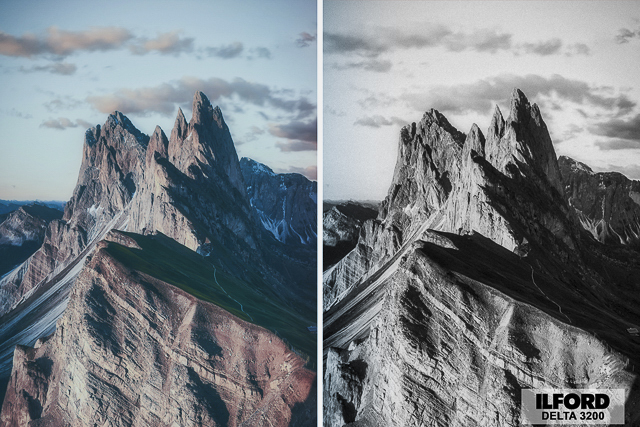 Ilford's Delta 3200 Professional is a high-speed black and white negative film for producing prints using a traditional black and white process. The film exhibits a nominal sensitivity of ISO 3200/36°, making it ideal for use in difficult lighting conditions, indoor scenes, and for fast-moving subjects. But looks great on any landscape and outdoor scenes as well.

Kodak Ektar 100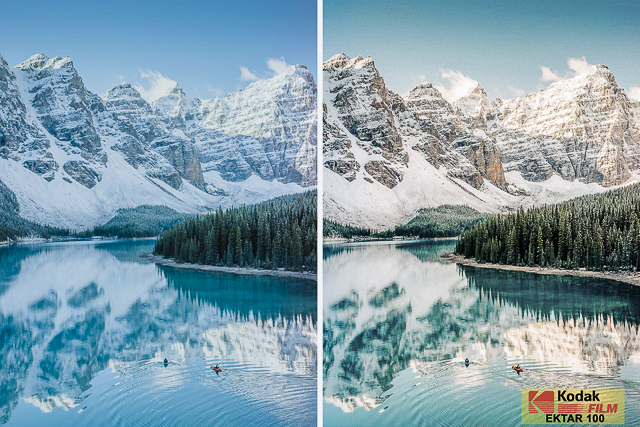 Kodak Ektar 100 is a preferred color film to take on midday adventures. With bright light, it can produce vivid colors and make images visually interesting, with high saturation and crisp captures.
Kodak Gold 200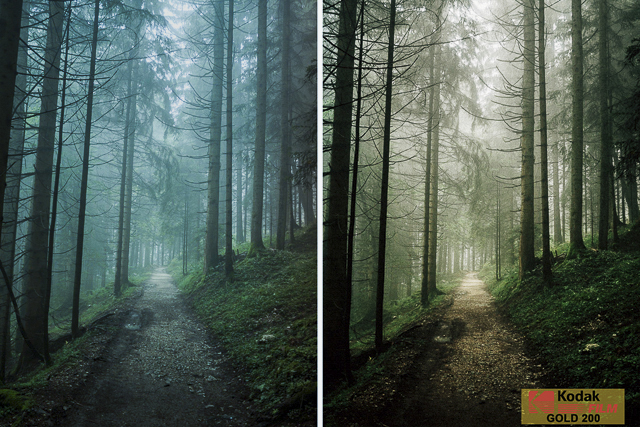 Kodak Gold 200 is a widely available and impressively affordable film, perfect for the landscape photographer on a budget. This is perfect for big summer road trips because it does so well in bright, sunny places. This film has a bit of a vintage feel, with its warm undertones and rich colors. If you're trying to capture a sense of nostalgia, Kodak Gold 200 is it.
Kodak Portra 400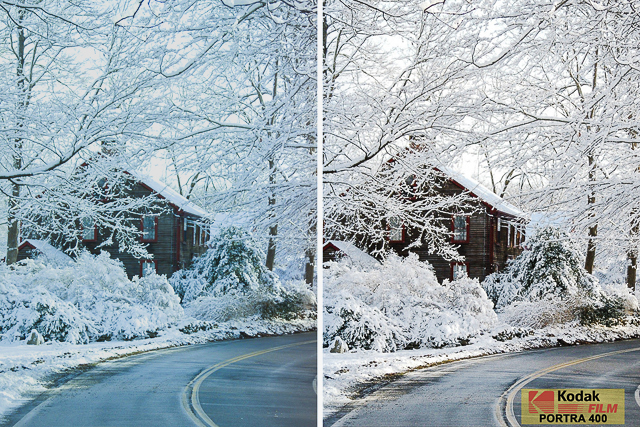 Kodak Portra 400 is a popular film for landscape photographers, known for its fine grain and high quality. The low contrast and high color saturation are incredibly challenging to replicate on a digital camera, making this a unique film for photographing landscapes. Though it's not as flexible as Portra 800, you can still push or pull this film by one stop.
Kodak Portra 800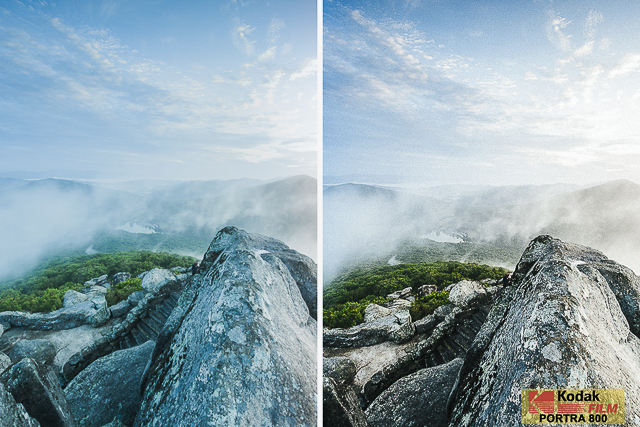 Kodak Portra 800 is a high-speed film, perfect for photographers who are trying to capture moving subjects. It's an excellent and versatile film to use if you are photographing events with lots of motion, or in low-light environments, such as aerial flights, golden/blue hour, festivals, or natural events, such as waves, storms, and so on. Photographing landscapes with this also works like a charm.

Kodak Royal Gold 400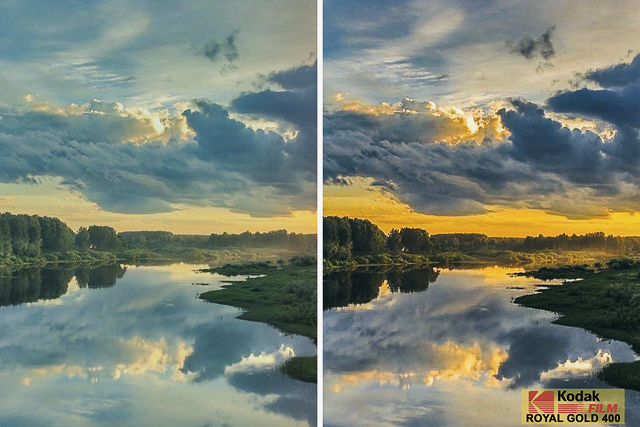 With its high speed, Kodak Royal Gold film has the ability to capture sports and other high-action shots. The fine grain and sharpness of detail available with this film show a marked improvement in enlargements. Although this multipurpose film is designed for exposure with daylight or electronic flash, pleasing results are possible–without the use of filters– under most light sources.
Kodak UltraMax 800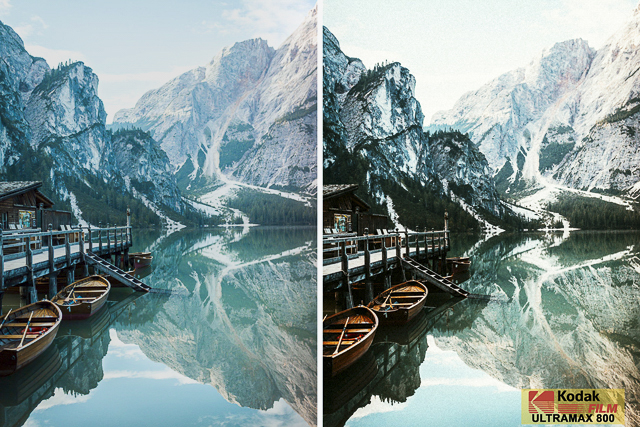 Kodak UltraMax 800 brings picture quality to a new level by combining the color quality, fine detail, and picture clarity of low-speed films with the benefits of high-speed films. This film delivers extra sharpness and unsurpassed fine grain for crisper, clearer pictures—even when enlarged.
Here is a complete list of films included:
Color: Agfa Vista 100, Agfa Vista 400, Agfa Vista 800, Fuji 160C, Fuji Pro 400H, Fuji 800Z, Fuji C200, Fuji Superia 100, Fuji Superia 400, Fuji Superia 800, Fuji Superia 1600, Kodak Ektar 100, Kodak Gold 100, Kodak Gold 200, Kodak Max 800, Kodak Max 800 Alt, Kodak Portra 160, Kodak Portra 400, Kodak Portra 800, Kodak Royal Gold 400, Kodak UltraMax 400, Kodak UltraMax 800
Black & White: Fuji Acros 100, Fuji Neopan 400, Fuji Neopan 1600, ILFORD Delta 3200, ILFORD HP5, ILFORD Pan F, Kodak BW400CN, Kodak T-MAX 3200, Kodak TRI-X 400, Kodak TRIX-1

The Film Looks will give you 32 main presets and 41 one-click adjustment presets which amount to 72 total presets!
Frequently Asked Questions
When will I get access to the presets? Immediately after the purchase is successfully processed you will be led to a download page. You'll also receive an email with a download link.
Can I use the presets for commercial purposes? Yes. You can use the presets on photos that you will sell or license. The preset files themselves cannot be re-sold or re-distributed, but you are welcome to use them in the processing of photos that you will sell.
What software is required to use the presets? You will need Adobe Photoshop Lightroom. The presets are compatible with Lightroom versions 4 and up (Classic CC) and Lightroom Mobile. The presets are also compatible with Adobe Camera Raw in Photoshop.
Do they work on a Mac/PC? Yes, they work on both Mac and PC. We have installation instructions for both Mac and PC.
Do they work with both RAW and JPG files? Yes, they can be used with either.
Are instructions included? Yes. You will get access to documentation/videos that demonstrate how to use the presets. The case studies are also helpful.
If you have any other questions please contact us.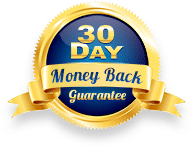 When you purchase our All-Season Presets Pack today you will have a full 30 days to try them out. If for any reason you are unhappy with the purchase, simply email us for a full refund. We're confident that you will love them.
Get Our NEW Film Looks Presets for
 Just $34

!

With this purchase you'll get over 70 presets and the right to use them on personal or commercial photos for as long as you would like. You will also get free access to any future updates of the presets.