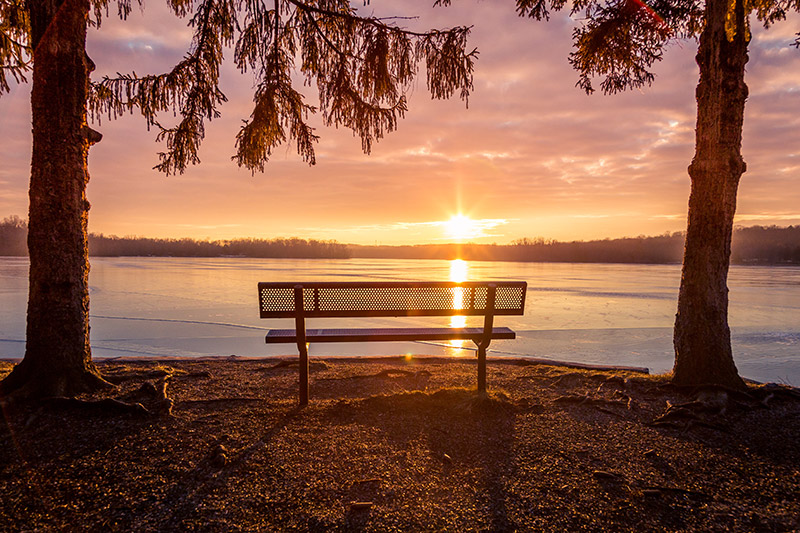 If you're like me you are always interested in finding new places for landscape and nature photography. Maybe it is a local destination that you can easily get to, or maybe it is a far off destination that requires some planning and a trip. Regardless, being able to see and experience new locations is fun and exciting. However, there are also a lot of benefits to re-visiting the same locations multiple times. In this article we'll look at eight of those reasons.
This is especially important for considering those locations that are close to you, the ones that you can visit over and over again without the need for a long, expensive trip. You may be hesitant to devote too much time or effort to a location that you have already photographed, but as you will see in this article there are some convincing reasons why re-visiting the same locations is a good practice.
1. Seasonal Changes
Seasonal changes throughout the year can have a huge impact on the results of your landscape photography. Visit a location in summer, then return in the winter and you will find a drastically different scene. Of course the colors of autumn or a white snowy winter will have a significant impact on any photographs produced. The flowing water from spring runoff can make creeks and waterfalls much more dramatic, as can the colors of spring/summer wildflowers. Each season has its own unique characteristics, and locations that benefit from seasonal changes are well worth visiting at different times throughout the year.
The two photos below illustrate the difference seasonal changes can make on a scene by showing two photos of the Grand Canyon's Desert View Watchtower.
2. Weather and Lighting Changes
Weather and lighting can, of course, be impacted by the seasons, but weather and lighting can also change drastically within the same season. If you photograph the same location under different circumstances with the weather and lighting your photos will be much different, even if you are shooting the same scene. Pay attention to the weather forecasts and make an effort to experience a location in different situations to mix up the end result of your photos of the area.
The two photos below were both taken along Confederate Avenue at the Gettysburg battlefield during an autumn sunrise. The photos from a clear morning have a much different look than the photos from a foggy morning.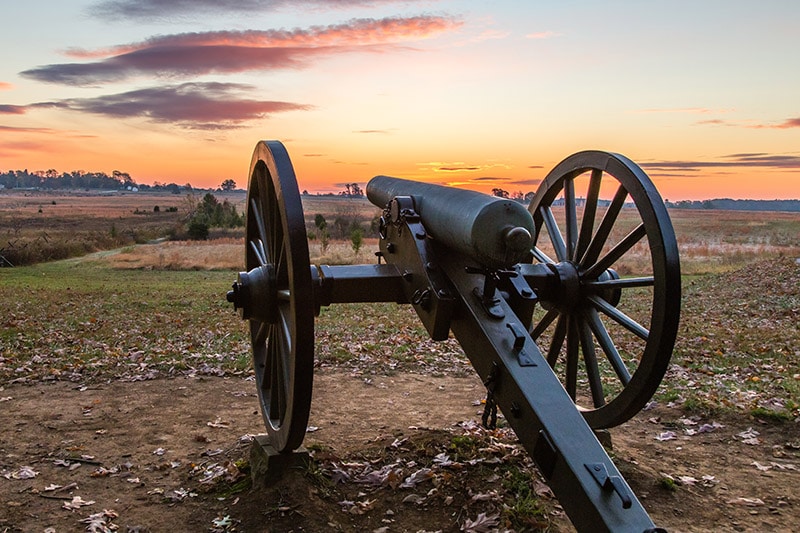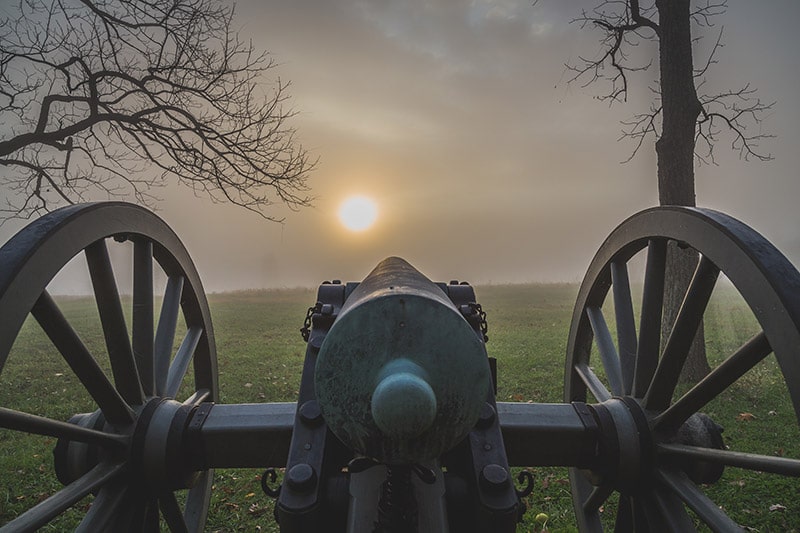 The two photos below show the same bench, both photographed in winter. The first was an overcast day with snow on the ground and the second was a colorful sunset with no snow, but a frozen lake.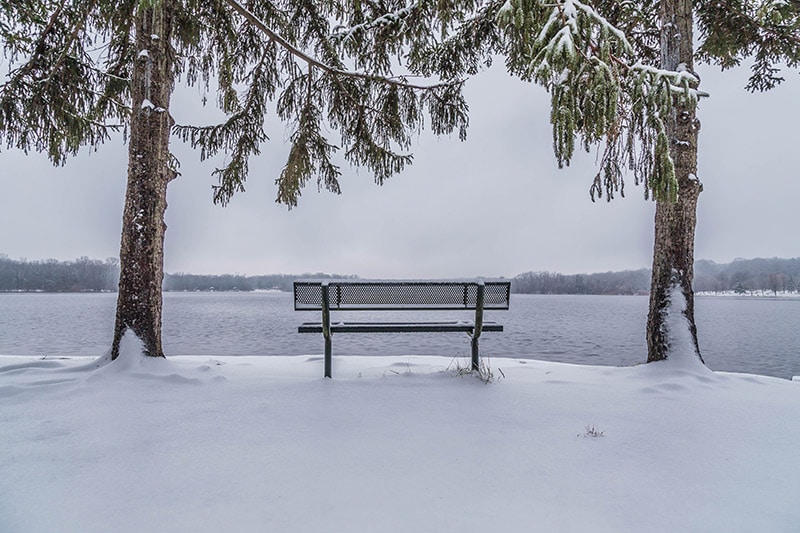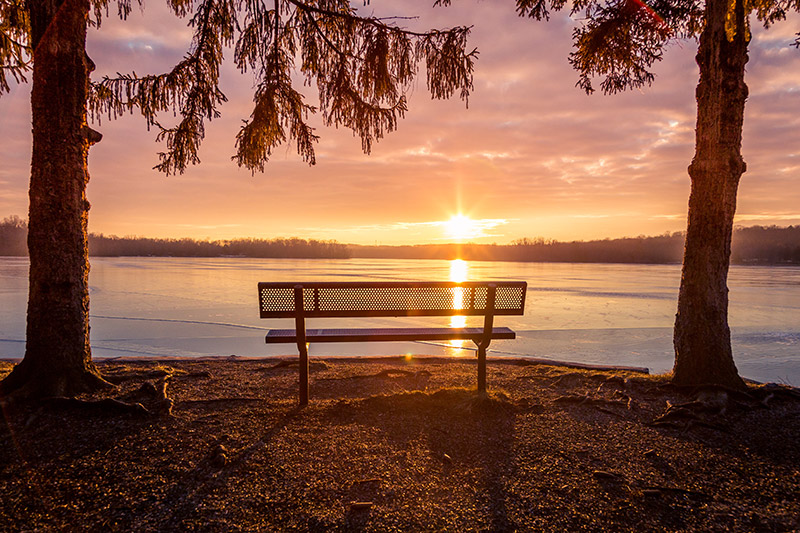 3. Your Improved Skills
Regardless of what level you are at with your photography, chances are your skills are improving. You may have photographed a particular destination a year ago, but if your skills have improved since then you may find that it is worth re-visiting to get new, better, photos. I know for me personally many of the places I have visited in the past are right back on my list of places to go, because as I look back at my old photos I feel like I will be able to do a better job with practice and some improved skills.
4. You Know the Location Better
Knowing the location you are shooting can be a huge advantage. The better you know the area the easier it will be to find the best spots, to know what weather will produce the best results, to know what seasons or times of the year are ideal, and you can also get around faster and shoot more.
Shooting a new location can involve a lot of research and planning. As you get to know the area that will decrease and you can rely more on your familiarity with the location. As you re-visit the same locations you will probably find that your photos improve simply from having a better knowledge of the area.
5. Get a Different Perspective
Re-visiting the same location can give you a chance to capture the same place from a different perspective. Getting a different perspective can have a significant impact on the end result, and give you photos that are much different from your first visit.
At Zion National Park the view looks drastically different from the top of Angel's Landing than it does from the bottom of the canyon. If you are re-visiting a location think about how you can get photos from a different perspective.
6. Focus on the Details
When you visit a new location you will likely want to capture the overall scenes that show as much of the location as possible. When you re-visit you may already have those shots down, so now you can focus on the details that may have been overlooked on your first visit. It's easy to overlook fine details on a first visit because you are busy taking in the scene since it is new to you.
On your first visit to Great Smoky Mountains National Park you will likely want to capture the beautiful mountain views. A return trip could give you the opportunity to explore the miles of trails and photograph the details.
7. Create a Collection or Series
Re-visiting the same locations over and over again can allow you to build up a collection or series of photographs of the same area. When you have captured the location in different weather throughout the various seasons you will have a really comprehensive collection of photos of that area. You could use that collection or series to brand yourself as one of the go-to photographers for that location. This is a great way to approach locations that are close to you that you can easily photograph over and over again.
8. You Can't See Everything in One Trip
With some locations it doesn't matter what you do on your first visit, you'll never be able to capture everything the first time. Epic destinations like the Grand Canyon, Zion National Park, or Great Smoky Mountains National Park could fall into this category. It will be worth the time and effort to make repeat visits because there will always be more to shoot.
Photo license links: CC BY 2.0, CC BY-SA 3.0, CC BY-SA 4.0