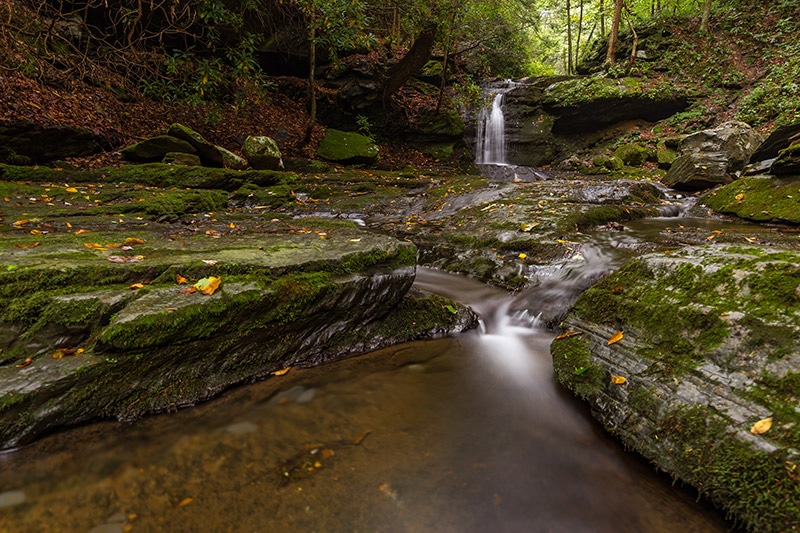 The Delaware Water Gap National Recreation Area in Pennsylvania and New Jersey is an amazing place for photographing waterfalls. Many tributaries tumble down into the Delaware River, leaving plenty of scenic beauty.
While many visitors know about the popular falls like Dingmans Falls and Raymondskill Falls, there are plenty of other waterfalls in the area that are relatively unknown. Some of these waterfalls are along official trails, like the Hornbeck's Creek Trail. Others are reachable by unofficial trails.
There are a few waterfalls along Slateford Creek that are unknown to most people who visit the area. Although they are mostly unknown, they are quite beautiful. I recently made my first trip to visit Slateford Creek, and I wasn't disappointed.
The trail along Slateford Creek is unofficial, as far as I can tell. It does not seem to be maintained by the National Park Service, but it's pretty easy to find if you know where to look. In my opinion, this is a hidden gem that gets overlooked because there are so many other waterfalls in the Pocono Mountains of Pennsylvania.
→ See More of the Best Places to Photograph in Pennsylvania
Getting to Slateford Creek
Slateford Creek is located at the very southern edge of the Pennsylvania side of the Delaware Water Gap National Recreation Area. From US 209 you can turn onto National Park Drive and go just a short distance before you reach an area where you can pull off the side of the road and park. The GPS coordinates for this parking area are: 40.946441, -75.116055
There is enough room for just a few cars to park here. After you park you'll walk beyond the guardrail and you will see a small trail that leads into the forest. The trail leads up a small hill and then in just a very short distance you'll reach the first waterfall. You can see the waterfall off to your left.
The Waterfalls
The creek and waterfall are down in a gorge, well below the trail. While you can get a decent view from above, to get the best vantage point for photos you will need to make your way down the gorge to water level. The gorge is pretty steep, and descending can be tricky. There is no real trail to the bottom, but you can see paths in a few areas where other people have gone before.
It's important to be very careful here if you are attempting to make it down into the gorge. If it is muddy you could easily slip and fall, and even in dry conditions it can be difficult. I wouldn't recommend attempting this unless you are comfortable with some scrambling, and have shoes or boots with very good grip. I'd also recommend having someone with you, if possible.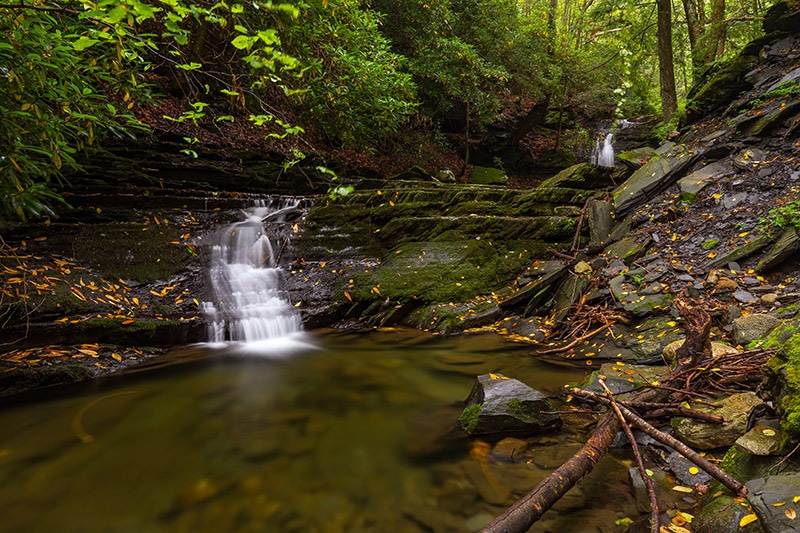 I had no problems making it down to the bottom or making it back out, but I did take my time and try to find a path that was safe.
This waterfall is actually a three separate drops. The largest is the furthest upstream, and the smallest is the furthest downstream. I made my way down into the gorge between the upper and middle tiers. Then, from the creek level I worked my way down to the bottom tier. The rocks along the creek can be pretty slippery, so be careful. If you fall and get injured down here it could be a while until anyone else comes along.
The multiple drops/tiers give you a lot of different possibilities for photos. The depth of the gorge keeps this area in shadow most of the time. On my recent visit I arrived only about 20 minutes after sunrise and it was VERY dark at the waterfalls. Next time I go back I will not get there so close to sunrise.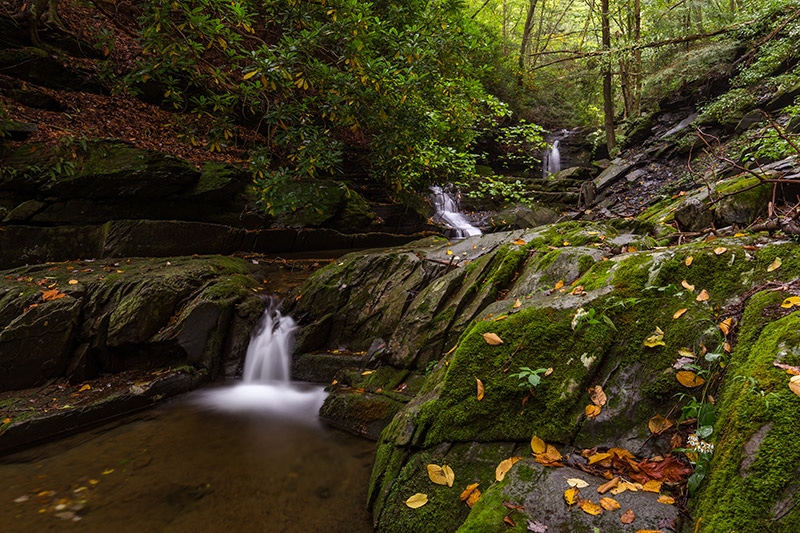 Slateford Creek doesn't have the highest volume of water flowing, so the waterfalls here are not powerful or impressive in that way. But the waterfalls and the gorge are quite picturesque, and when combine that with the fact that most people have never heard of the location, it's a pretty special place.
After you're done photographing this waterfall you can slowly and carefully make your way back to the top of the gorge. From here you can continue on the trail to reach another waterfall. I actually turned back shortly after this first waterfall because the trail was very overgrown and I didn't want to bushwhack since I had several other places to visit that day. But from what I have read and photographs that I have seen, the next waterfall is accessible after hiking about another 5 – 10 minutes on the trail. I hope to make it to this other waterfall on a future visit. At another time of year the growth of plants might not be so bad and the trail may be more accessible.
Upper Parking Area
So after I left here I drove a short distance to the other end of the Slateford Creek trail where there is another waterfall. This one is just a short distance from the road. Head to these GPS coordinates: 40.947095, -75.127288
Here you'll find another small pull off at the side of National Park Drive. Again, there is only room for a few cars here. You'll see a trail that heads downhill. Take that trail just a short distance and you'll come to the waterfall.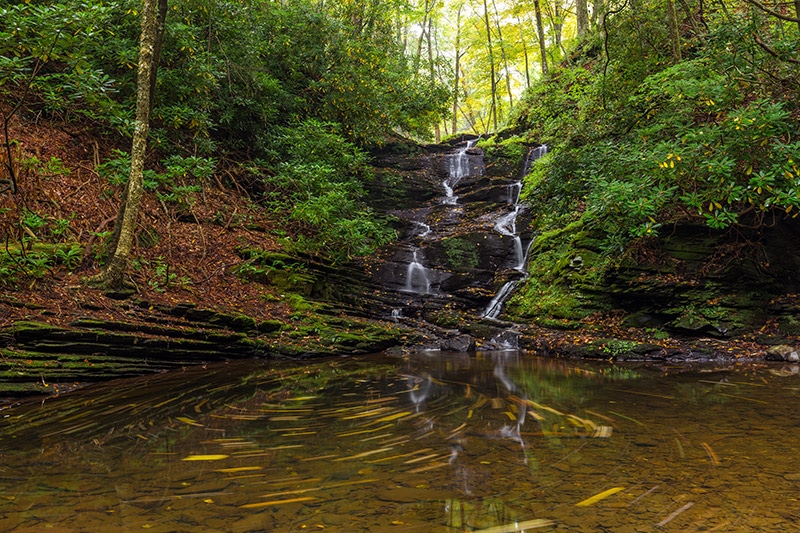 There are some rocks here that you can use to keep your feet dry while still getting a nice view. If the water level is not too high you can even get very close to the waterfall. Just be careful, because these rocks will be wet and very slippery.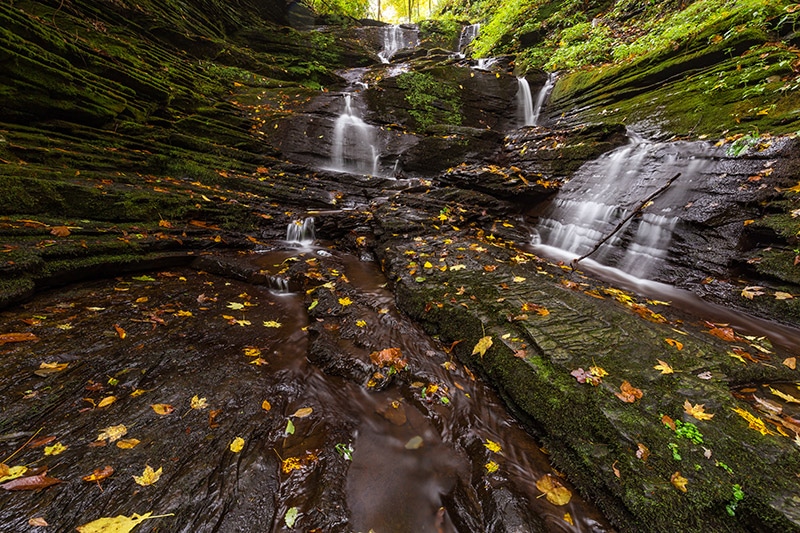 Overall, I really like the waterfalls along Slateford Creek and will definitely be back. While there are better trails and hikes in the area, if you want to see some nice waterfalls that most people don't know about, this is a great option. Again, please be careful if you do visit these waterfalls because there is some risk associated with climbing down into the gorge.